Neglected and often overlooked, laundry rooms in our homes are often dismissed as unimportant spaces. However, a little bit of attention can go a long way in creating a captivating ambiance. If you're ready to revamp or enhance the atmosphere of your laundry room, there's no better place to start than with the perfect lighting.
But why is lighting so crucial? Since the opportunity for decoration in the laundry room is limited due to existing cabinets and fixtures taking center stage, one of the best ways to achieve a vibrant and enchanting environment is through the creative use of lighting fixtures. So, without further ado, let's explore the top 20 lighting options for your laundry room!
Small and Confined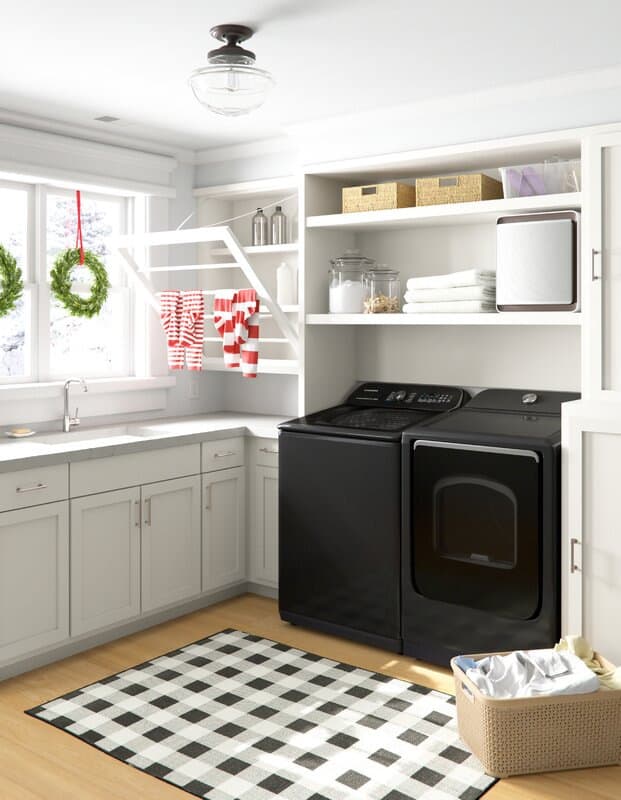 No matter the size of your laundry room, this circular and tubular ceiling light is sure to make a striking statement in your space. Its distinctive glass round base allows the light to spread beautifully throughout every corner of your laundry room.
What's more, regardless of your interior design style, this small lighting fixture effortlessly integrates with its surroundings, resulting in a polished and cohesive look.
Unique Focal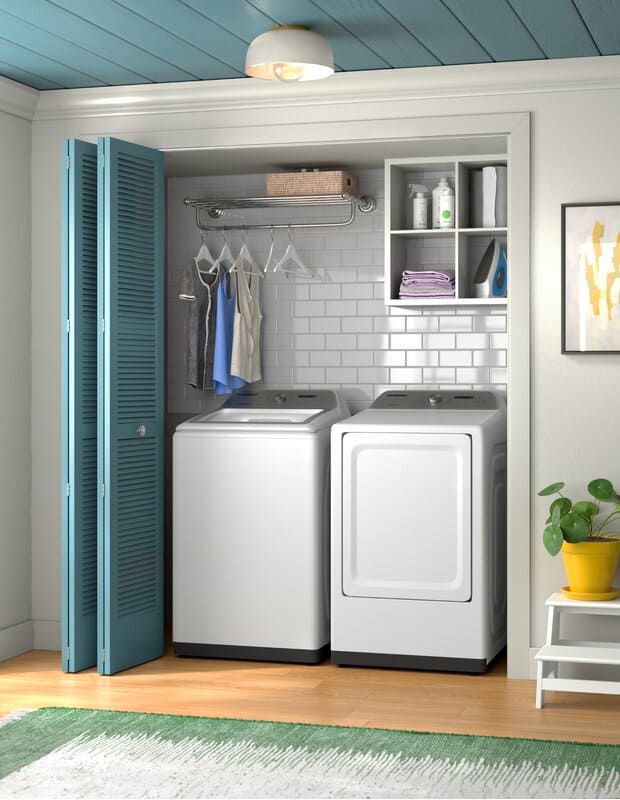 For those who appreciate a touch of artistry, consider opting for a captivating round ceiling light that becomes the center of attention. With a diverse range of colors to choose from, you can experiment with contrasts and monochromatic schemes, particularly against the walls.
The dome-shaped design of this light fixture provides direct illumination, even in laundry rooms that may be lacking brightness. It offers a creative solution to brighten up and enhance the atmosphere of dull and uninspiring laundry spaces.
The Glam One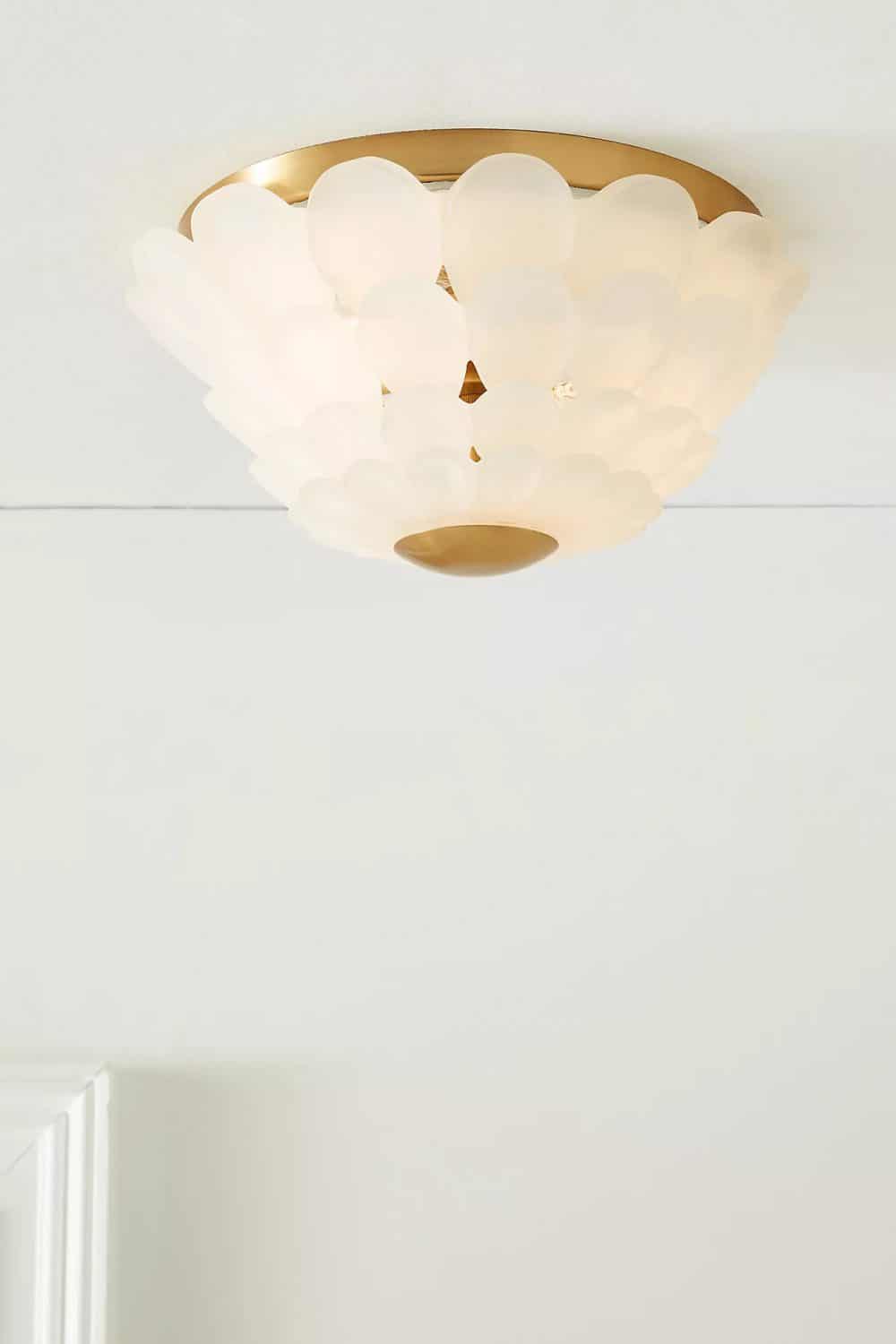 Prepare for a burst of vibrance with this glamorous flush-mounted ceiling light, designed to infuse your laundry room with a lively touch. Resembling a dahlia flower, this light fixture serves as a captivating backdrop for a laundry room that exudes sparkle and uniqueness.
Whether you opt for bright teals or eye-catching hot pinks, this utility room lighting fixture is the perfect choice for those embracing maximalist and eclectic styles. It adds a touch of flair and complements the overall aesthetic of your space.
The Woven Stories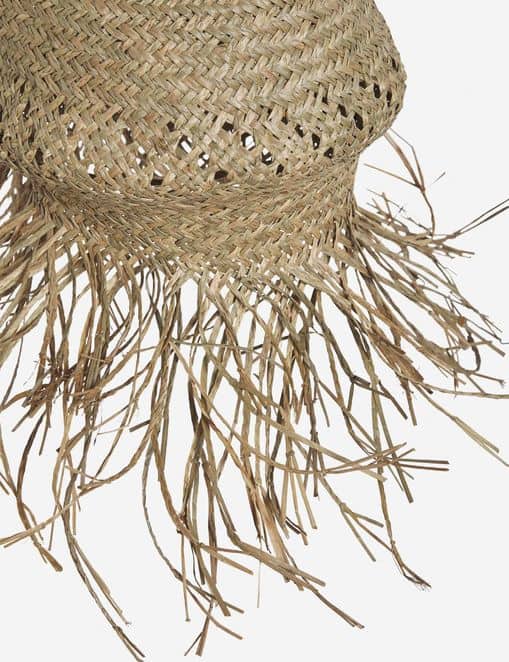 Do you find yourself gravitating towards knitted and woven fabrics in your home? If you have a Rustic Boho or Farmhouse style, chances are you have a woven basket tucked away in your laundry room. To enhance the rustic charm, consider adding this bell-shaped pendant light made of natural raffia, which brings depth and texture to your laundry room ceilings.
The unfinished ends of this pendant light contribute to its overall impact, leaving a lasting impression in your space.
Traditional Bowl Style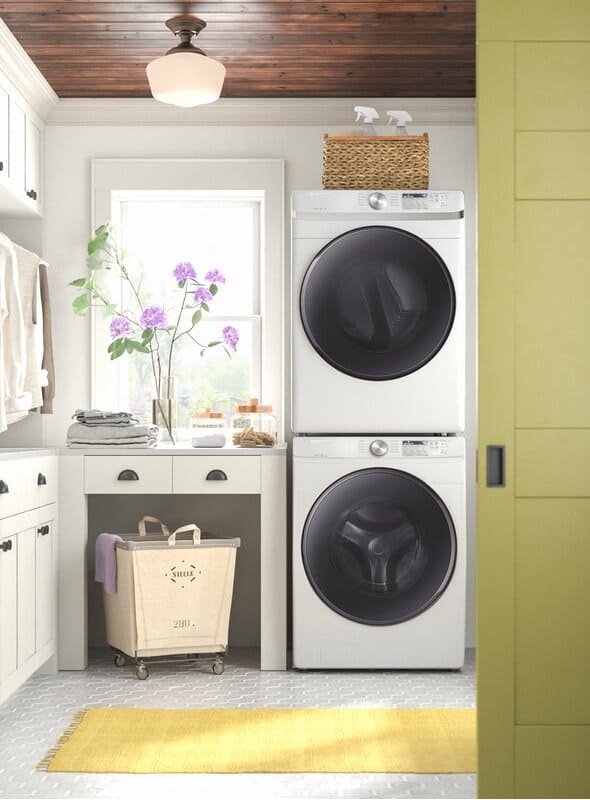 Transform your laundry room into a cozy and inviting space with these traditional-style ceiling lights. They provide the perfect finishing touch, especially when paired with oak cabinets and other wooden textures, complemented by beige or warm gray wall paint.
The indirect lighting creates a warm and inviting atmosphere in your laundry room, making you feel comfortable and cozy while going about your laundry tasks. It's time to elevate your laundry experience and enjoy a well-lit, welcoming environment.
Industrial Cage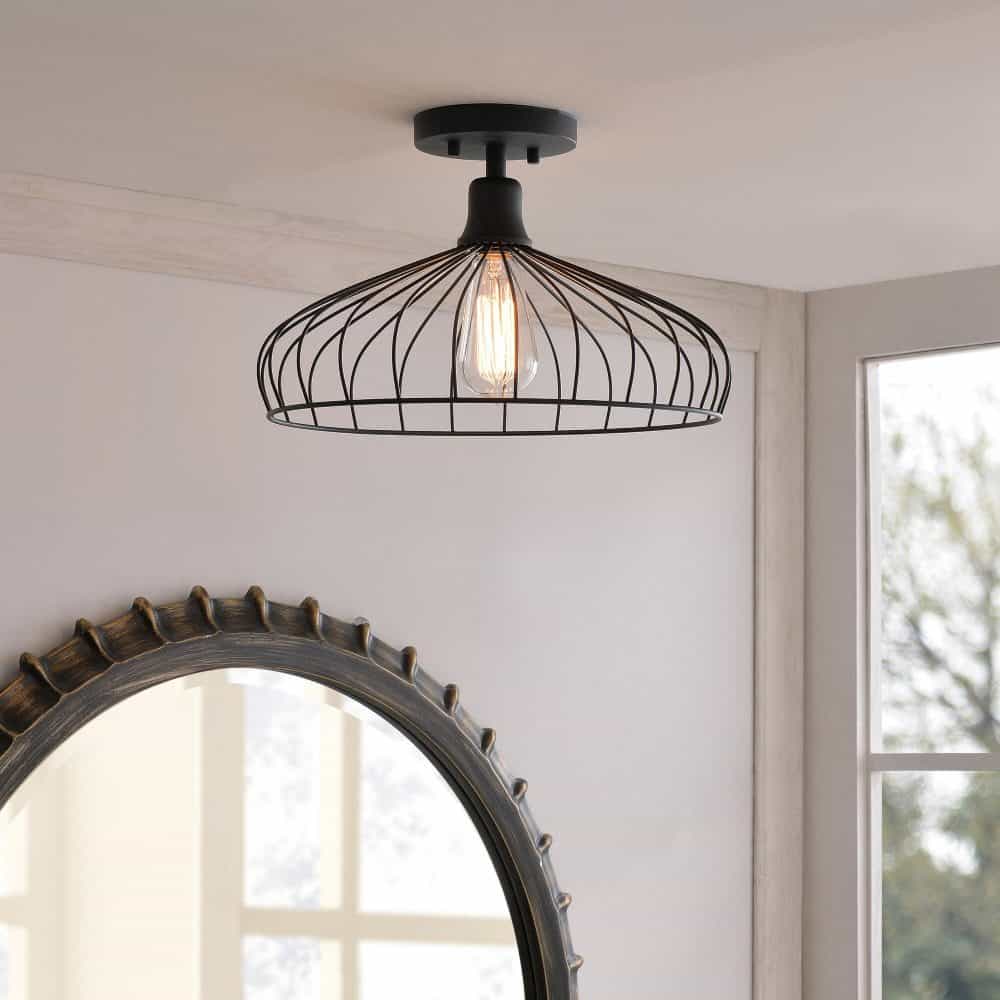 Embrace an industrial and minimalist aesthetic with this cage-style ceiling light that will infuse your laundry room with a chic and rustic charm. Its soft black metal finish adds a touch of sophistication and creates a dramatic mood and ambiance in the space.
If you have a smaller-sized laundry room, this airy lighting fixture is an excellent choice to introduce both vertical and horizontal dimensions. It effortlessly enhances the overall visual appeal and spaciousness of your laundry room.
Recessed Lighting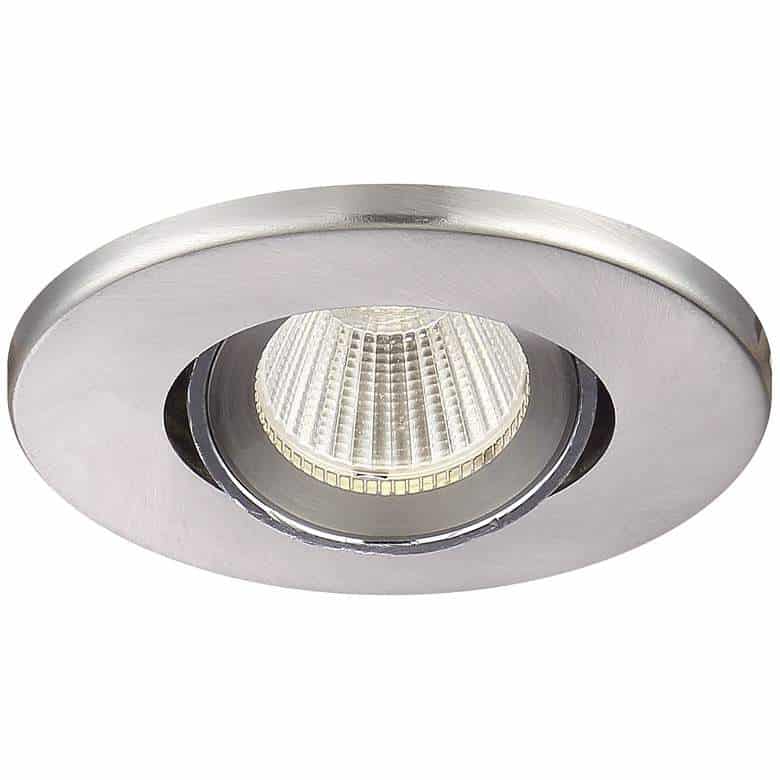 Recessed ceiling lights are a widely favored choice for laundry rooms, and it's no surprise to see them in many households. They provide ample artificial lighting, especially in spaces with limited or no natural light. And here's the best part: if you're skilled in do-it-yourself projects, you can even tackle the installation yourself!
However, it's crucial to carefully analyze the size and layout of your room and plan the lighting arrangement strategically. By considering the dimensions and perspective of your space, you can create a well-thought-out lighting plan that maximizes functionality and enhances the overall ambiance of your laundry room.
Hang the Cord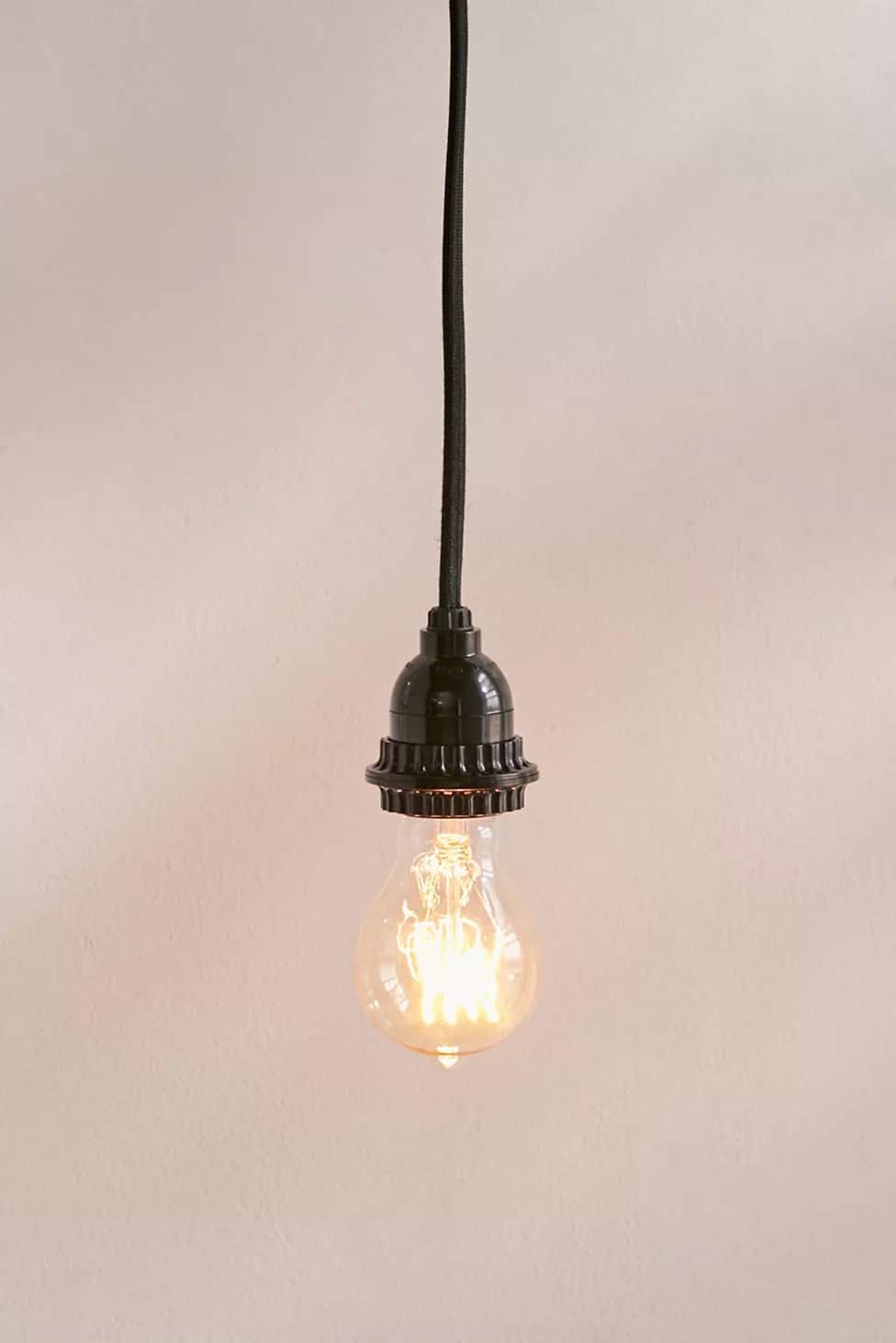 If you're looking to save space and add a stylish flair, a great option is to suspend a cord from the ceiling at a specific height. Whether it's in an empty corner or along a pathway, these Edison bulbs will make a charming statement in your space.
However, it's important to ensure that you don't accidentally bump your head against these bulbs. To avoid any mishaps, make sure the bottom tip of the cord hangs at a height above 7 feet, providing ample clearance and ensuring a safe and comfortable environment.
Modern Opulence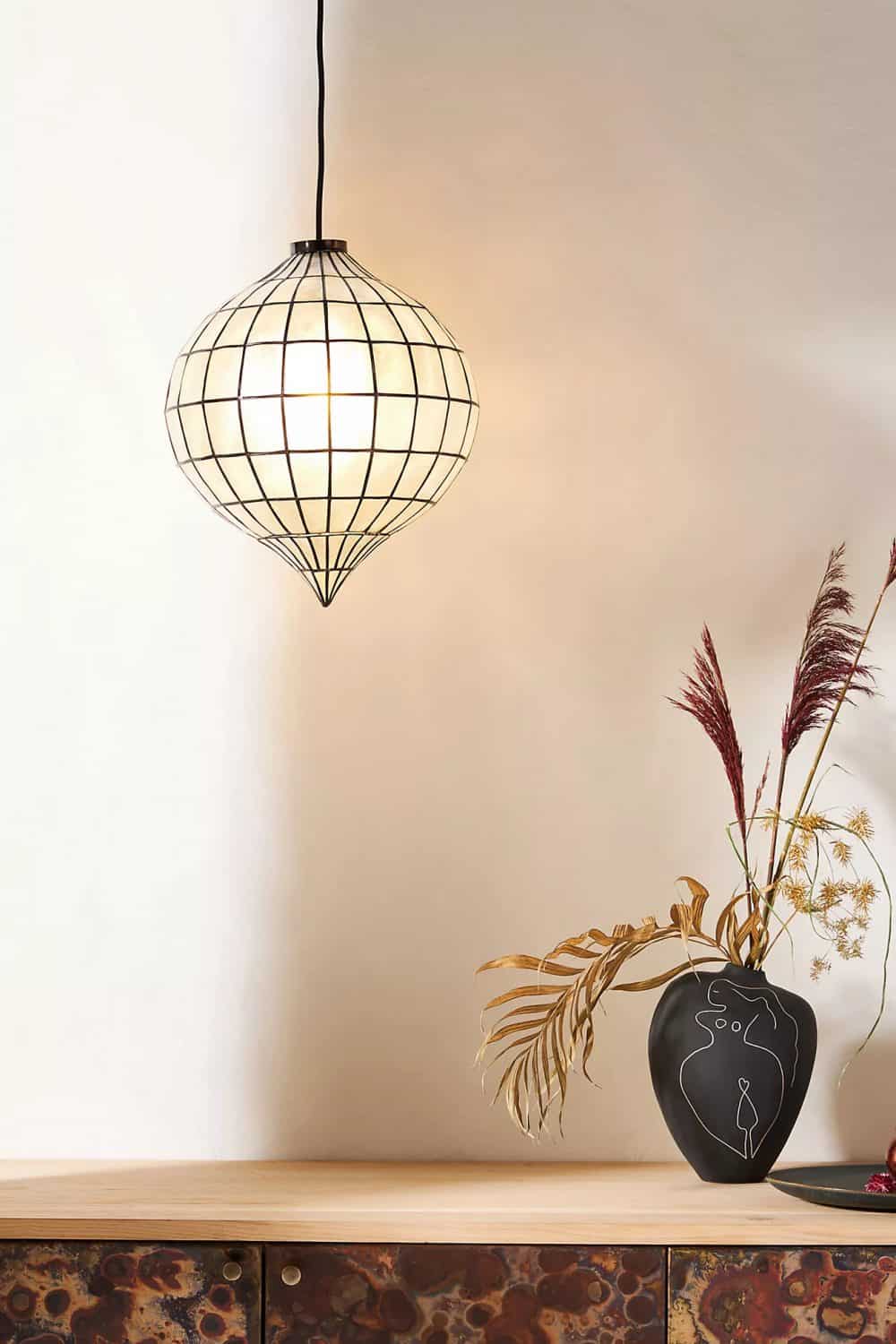 Exuding a sense of elegance with its sleek, transparent design, this pendant light brings a modern touch to laundry rooms. Its intriguing shape and texture capture attention effortlessly. With a black fabric cord and a covering designed for high condensation areas, this pendant light is also suitable for use in bathrooms and outdoor spaces.
However, it's important to consider the placement carefully. Place the pendant light in circulation passageways, ensuring there is sufficient space between it, the cabinets, and laundry equipment. This will prevent any potential obstructions and ensure the light is positioned optimally for both functionality and aesthetic appeal.
Sleek Sconce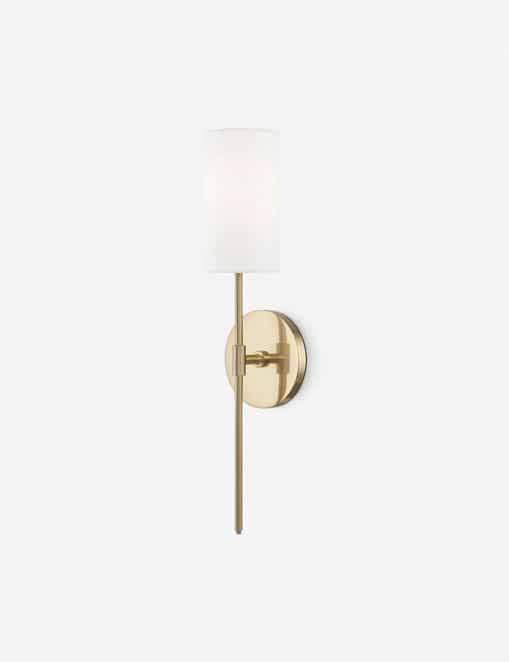 For laundry rooms with lower ceiling heights or a lack of electrical outlets, wall decoration is a viable option. Enhance your space with this elegant wall sconce featuring a slim profile and a frosted cylindrical shape, exuding a clean and modern contemporary aesthetic.
Take advantage of that empty wall space near the cabinets and install this beautiful laundry room lighting fixture. It will not only provide functional illumination but also serve as a stylish addition to elevate the overall ambiance of your laundry room.
Directional Spotlights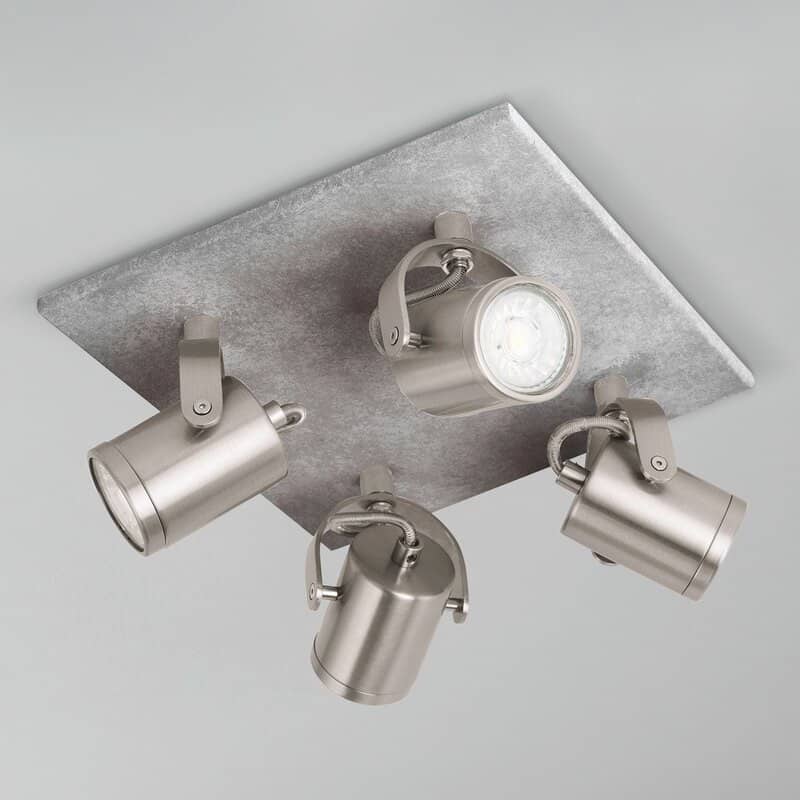 If you're dealing with an awkwardly shaped laundry room, these directional spotlights offer a fantastic solution for illuminating specific areas and fulfilling your lighting needs. You have the freedom to point them wherever necessary, making your tasks a breeze!
Perfectly suited for industrial and rustic interior design styles, this laundry room fixture features four individual spotlights, providing flexibility and ample illumination. Additionally, it's worth noting that this lighting option doesn't require much vertical space, making it an ideal choice for laundry rooms with lower ceilings or limited headroom.
Vibrant Boho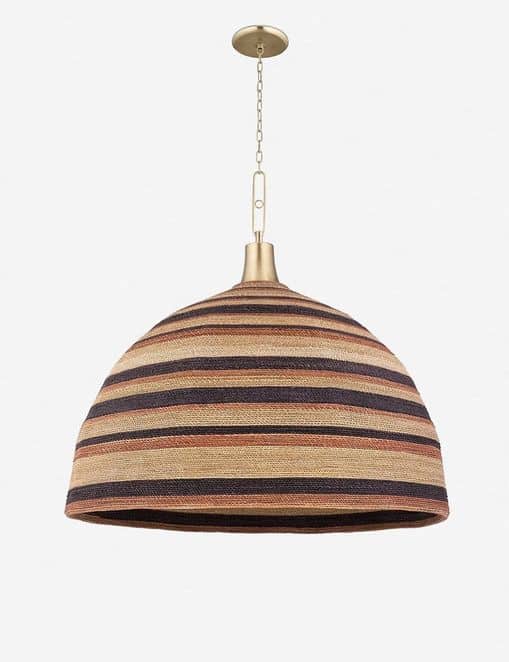 If you're aiming to infuse your laundry room with chic boho vibes, look no further than this multi-hued jute lighting. It's an excellent choice for achieving that desired aesthetic. For a fully refined look, consider pairing it with authentic jute baskets, brass pull handles, and creamy white cabinets.
To maximize the impact, consider playing with pairs of lighting fixtures. Opt for either two or three of these stylish pieces to create a harmonious and balanced arrangement in your laundry room. The combination of these elements will elevate the boho atmosphere and add a touch of sophistication to the space.
Linear Love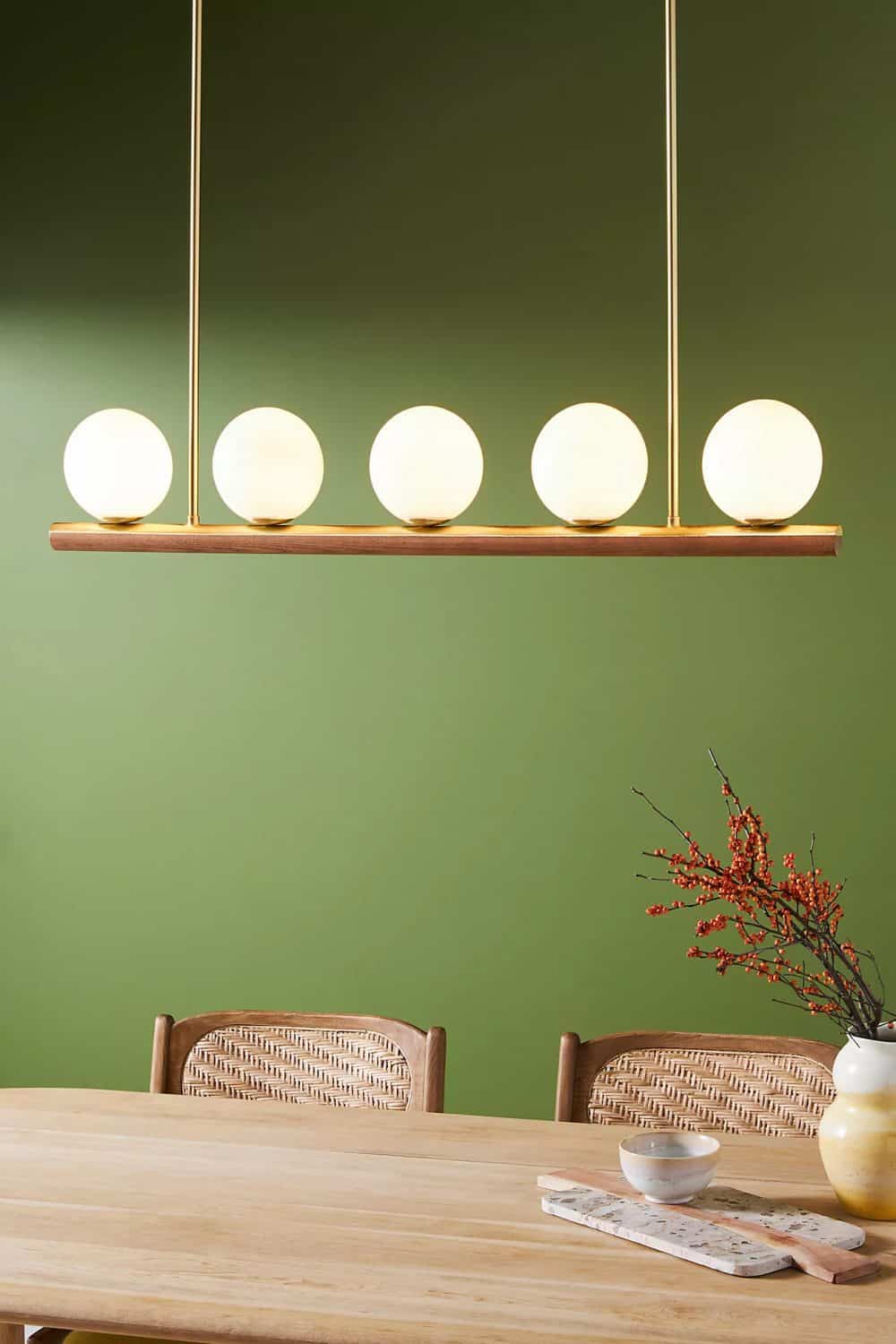 Are you dealing with an overly elongated laundry room? If so, it's crucial to ensure that every inch of the space is well-illuminated. That's where this stunning modern linear lighting idea for laundry rooms comes in!
By placing this pendant light centrally, you can ensure that every corner of your laundry room is bathed in its warm glow. This lighting option is particularly perfect for interior design styles such as Modern, Hollywood Glam, Minimalist, and Eclectic, seamlessly complementing their aesthetics. With its flawless design, this pendant light will add both functionality and style to your laundry room.
Farmhouse Chic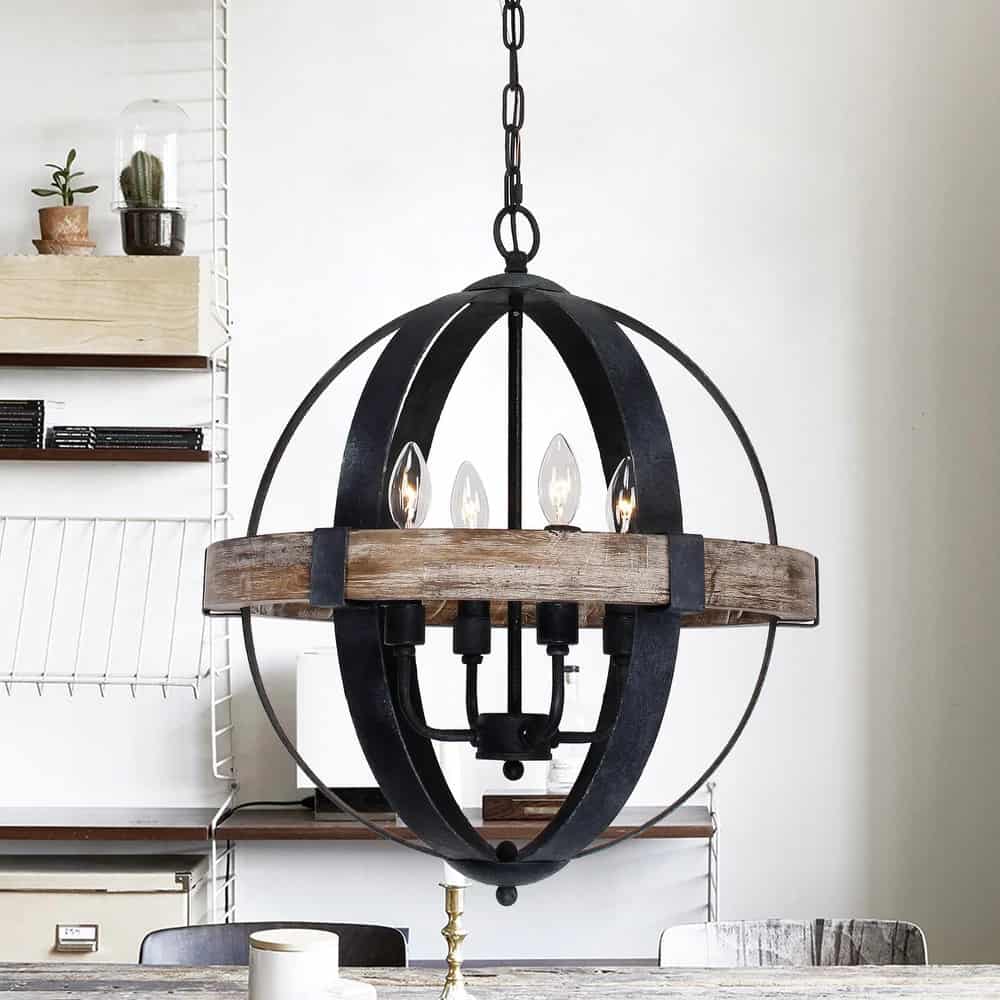 Enhance your Farmhouse-style laundry room with the rustic charm of this weathered oak wooden chandelier. Its compact size and practicality make it an ideal choice even for smaller rooms and spaces. With its patterned and dramatic lighting, this chandelier will illuminate your laundry room in a captivating manner.
A barn light, like this one, is reminiscent of something Joanna Gaines would adore, and who knows, she might even have one in her own space! Embrace the timeless appeal of this wooden chandelier and bring a touch of Joanna Gaines-inspired style to your laundry room.
Magical String Lights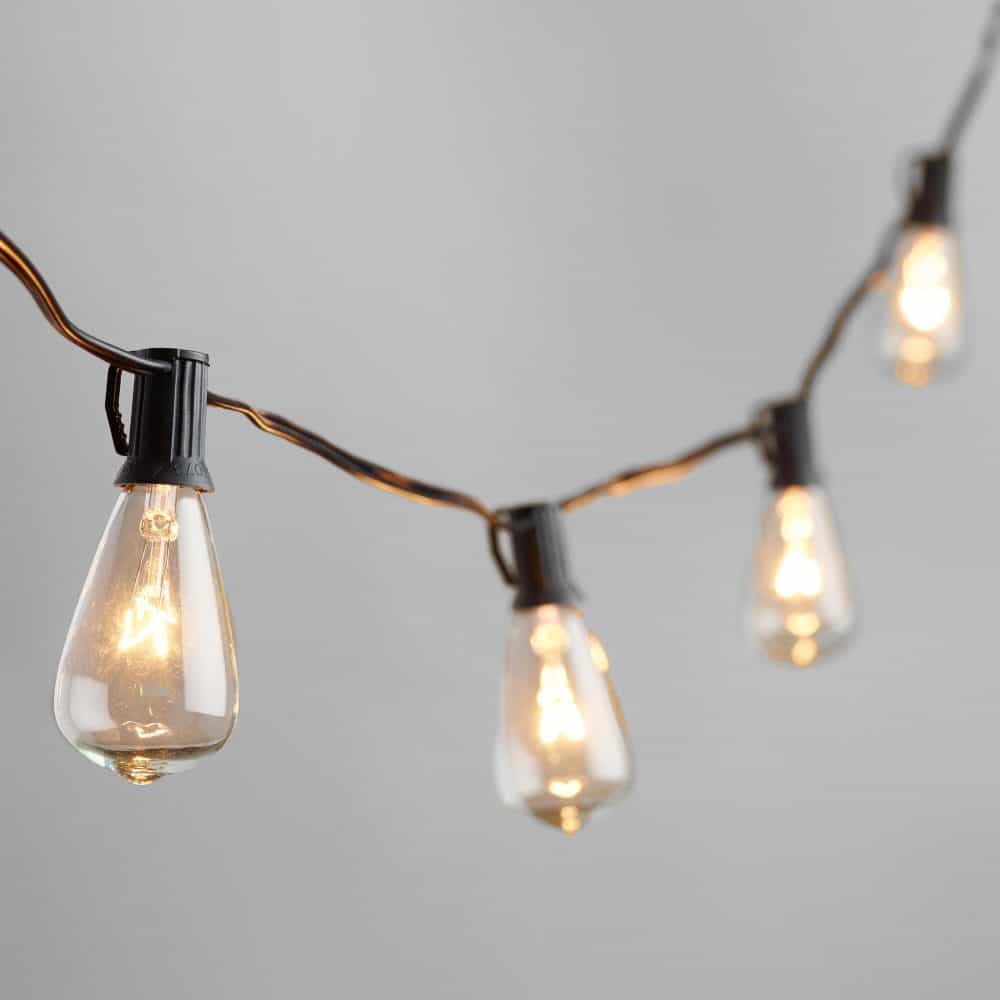 Isn't there something truly delightful about having fairy lights in your home? Well, get ready to discover a fresh way to brighten up your dull and uninspiring laundry rooms with the enchanting glow of string lights gracefully hung from one corner to another.
These magical string lights create a captivating and cozy atmosphere, offering a perfect touch of enchantment to your laundry room. And the best part? You can also utilize these fairy lights to transform other spaces, such as the living room, bedrooms, and even outdoor areas. Embrace the magic and enjoy the whimsical ambiance they bring to your entire home.
Coastal Knots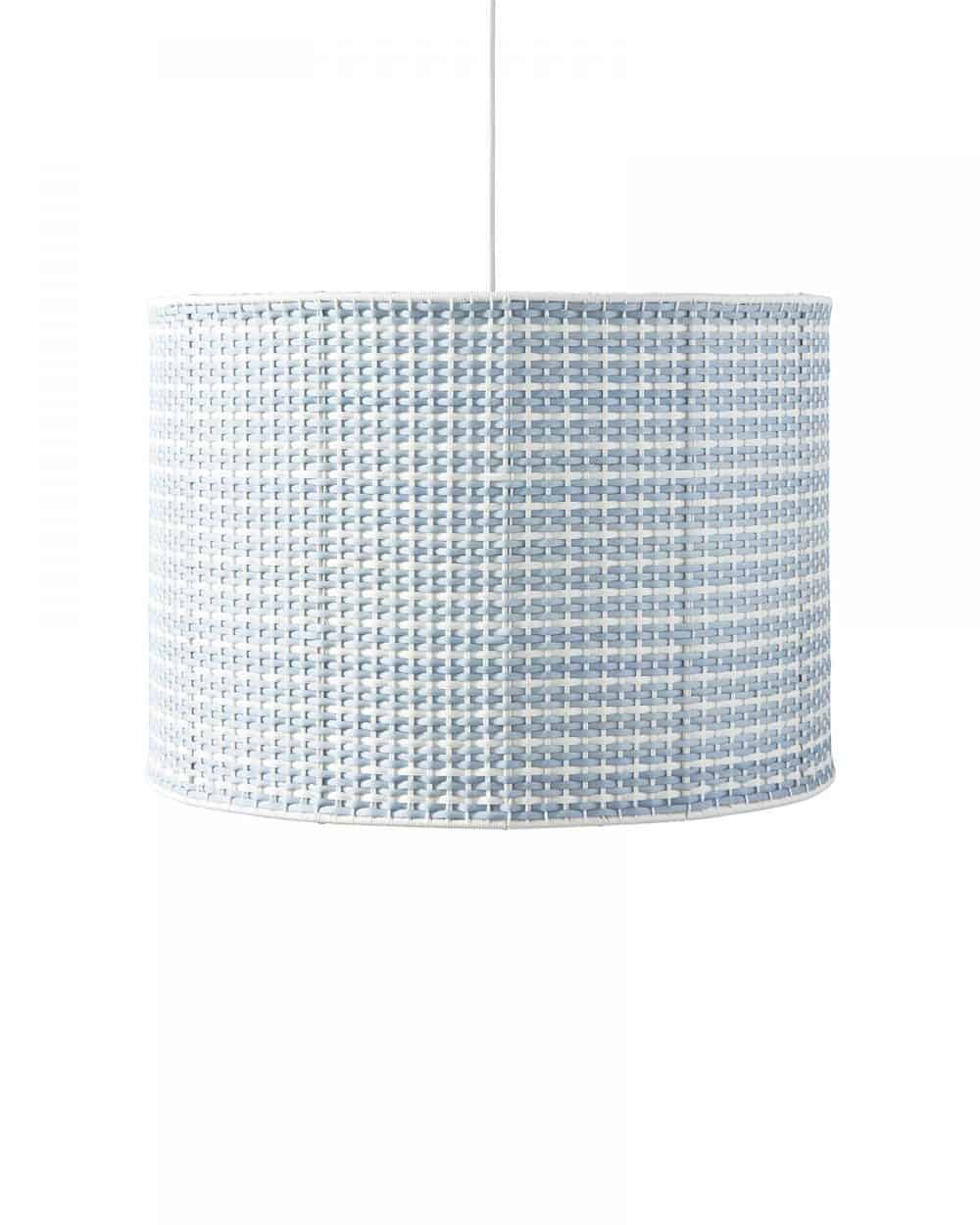 To bring a beachy ambiance into your home, consider adorning your laundry room with these coastal-style pendant lights that exude a cool and refreshing hue. Their light and airy nature not only illuminates the space but also creates an illusion of a larger and more spacious room, offering the best of both worlds.
These pendant lights epitomize timelessness with their authentic knots, a blend of shades, and an intriguing shape that seamlessly complements any design style. Furthermore, you have the opportunity to play with the backdrop, allowing the lighting piece to shine even brighter and become a focal point in your laundry room. Embrace the coastal charm and let these pendant lights infuse your space with a touch of seaside tranquility.
Embrace Threads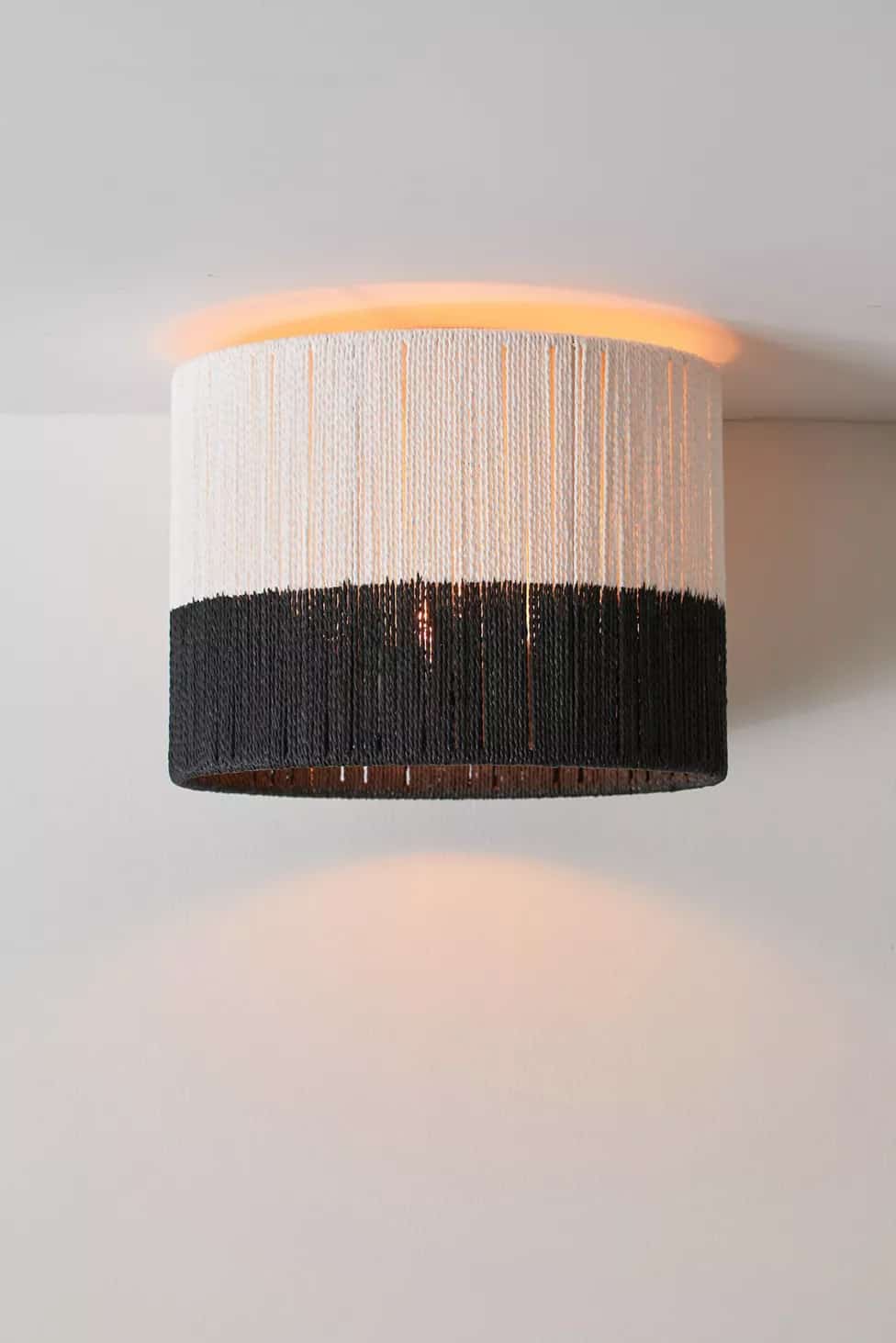 Experience the captivating allure of this bohemian-style ceiling light that effortlessly brings a contrasting textural beauty to your laundry room. Whether you choose to install a single piece or align them separately, these pendant lights have a touch of magic that transforms your space.
A notable feature of these lights is the double dye pattern on the threads, adding a timeless and sophisticated element to their design. This versatility allows them to seamlessly adapt to various interior design styles, enhancing the overall aesthetic of your laundry room. Embrace the enchanting charm of these pendant lights and let them cast a mesmerizing glow in your space.
Luxurious Patterns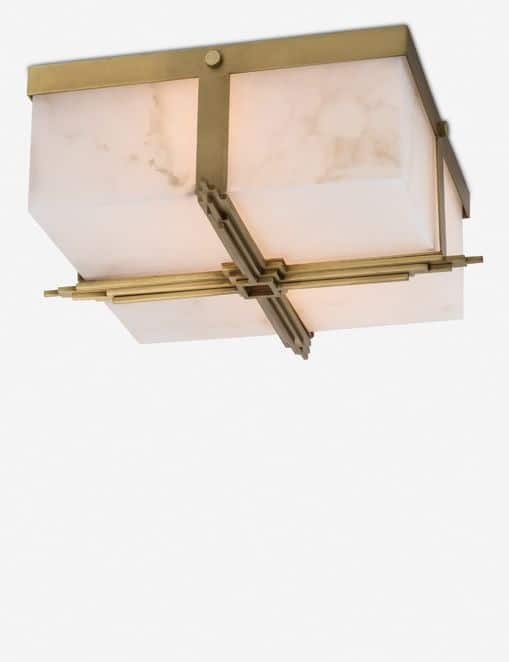 For those who appreciate intricate details and fixtures with brass or gold accents, incorporating this grandiose ceiling light will make a profound impact on the overall look of your laundry room. It's undeniable that your laundry room deserves a centerpiece as magnificent as this.
With its marble backdrop, this lighting fixture brings an unparalleled sense of luxury and sophistication to your space. From every angle, it exudes opulence and elevates the ambiance of your laundry room to new heights. Embrace the transformative power of this majestic ceiling light and revel in the elevated aesthetic it brings to your space.
Scandinavian Wicker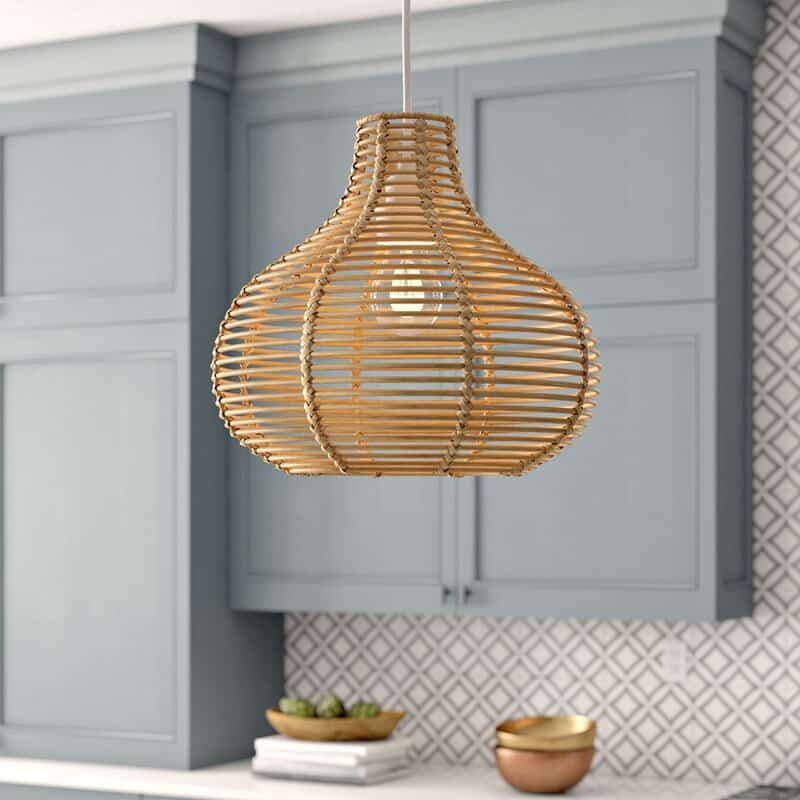 Elevate your Bohemian and Scandinavian-styled laundry rooms with the addition of this wicker pear-shaped pendant lighting. Its graceful curves and intriguing form bring a touch of brightness and enlightenment to the space.
Whether you opt for a clean white backdrop or infuse pops of vibrant hues, this pendant light allows you to play with contrasting elements for an eye-catching effect. Additionally, this lighting fixture casts intriguing shadow patterns on both the walls and the floor, adding an extra layer of visual interest to your laundry room. Embrace the unique charm of this wicker pendant light and let it create a captivating atmosphere in your space.
Geometric Chandelier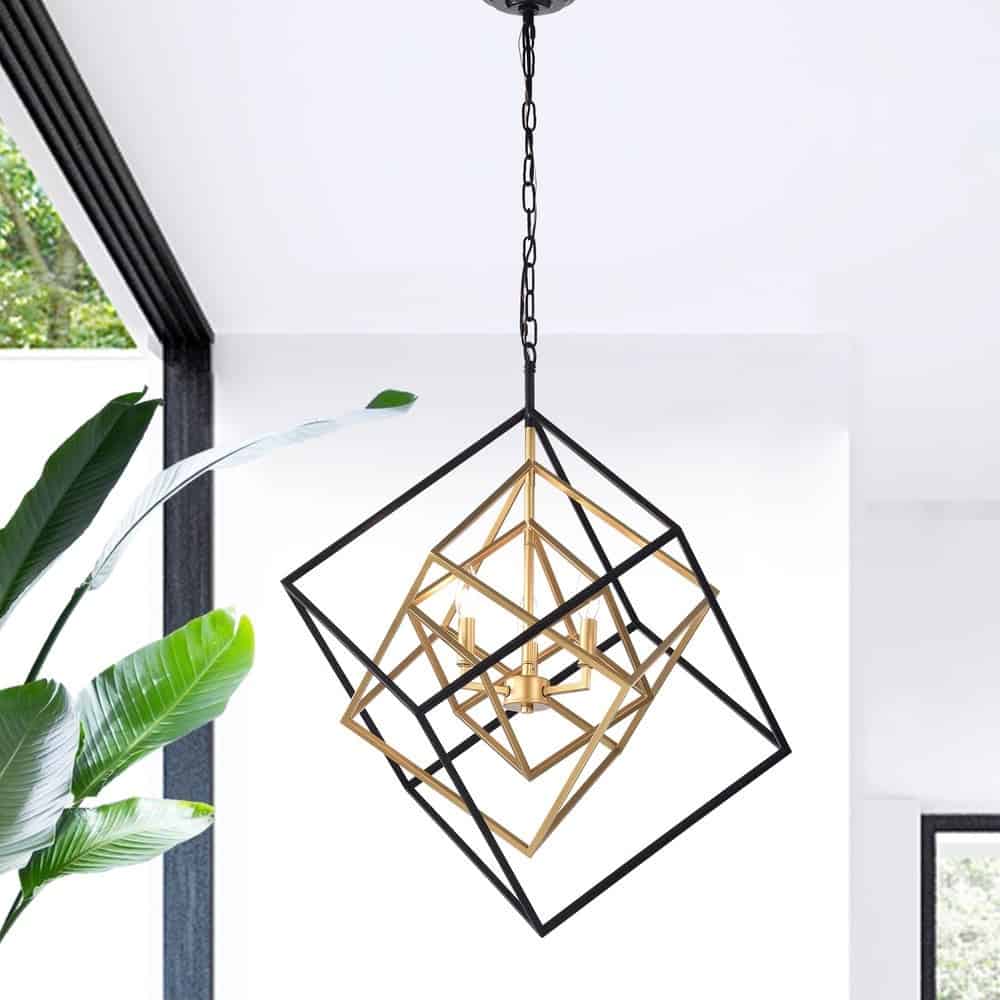 Explore the realm of geometry with these captivating chandelier pieces that bring a striking contrast and depth to your space. With their nesting pattern, they make a bold visual statement while providing abundant artificial light to illuminate your laundry room.
Whether you choose to install a set of two chandeliers or opt for a single piece, these versatile options cater to both larger and smaller laundry rooms. Embrace the geometric allure and let these chandeliers become the focal point that enhances the aesthetic appeal of your space while ensuring ample illumination.
Summing it Up
Choosing the perfect lighting for your laundry room involves considering key factors such as the level of activity, your interior design preferences, and the amount of natural light available. Have you discovered a lighting fixture that meets your specific needs and requirements? I'm curious to hear your thoughts on this article. Feel free to share your comments below!