Grey is a color that exudes timeless elegance and sophistication, making it a popular choice among homeowners. Imagine a blank canvas where shades of grey dominate your space. With such a versatile base, you have countless color combinations to explore.
From warm neutrals like reds, burnt oranges, and mustard yellows to cooler tones like blues and blacks, the possibilities are endless. These color palettes offer you a wide range of choices to complement your grey-themed room.
When it comes to decorating, an area rug plays a vital role in tying your space together. It allows you to define the character of your room by selecting a rug that complements your grey couch. To help you in your search, here is a curated list of 20 stunning area rugs to consider.
Fringed Medallion Rug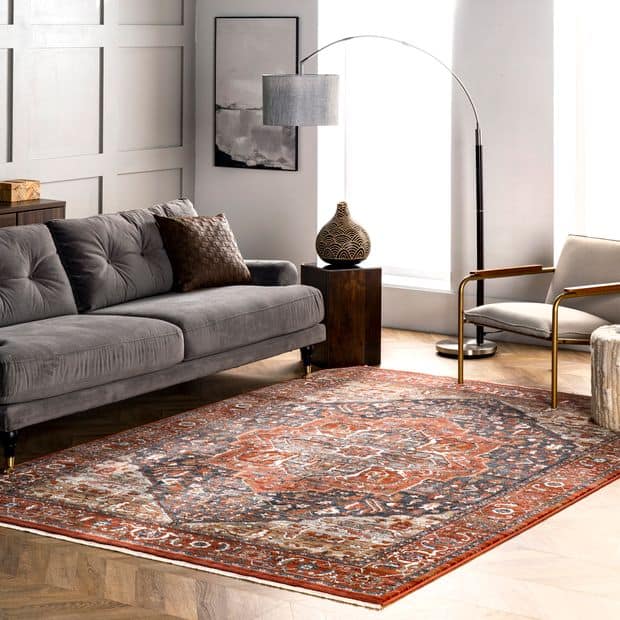 Experience the epitome of elegance with a captivating medallion rug that beautifully contrasts against the cool tones of your grey couch. This rug exudes warmth and intricate charm, instantly becoming the focal point of your space and captivating the attention of your guests.
Embracing a vintage aesthetic, this area rug adds a touch of nostalgia and character to your room. Its unique combination of hues provides an opportunity to introduce traditional-style throw pillows and cushions, further enhancing the overall palette and completing the harmonious look.
Monochrome Grey Rug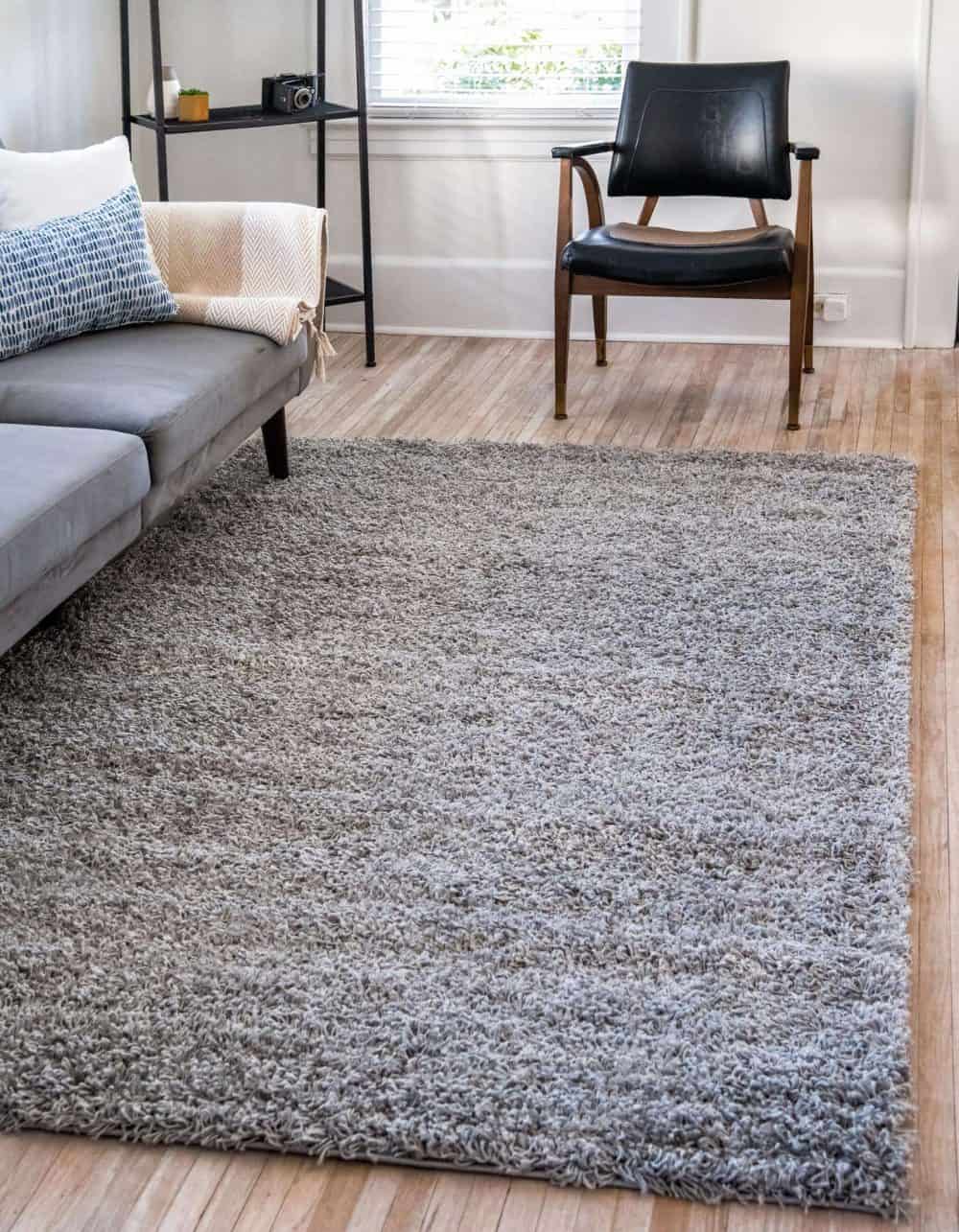 When it comes to the color grey, finding the perfect balance is key. However, don't be afraid to embrace a monochromatic palette that creates a sense of unity and cohesion in your living room. This is particularly suitable for modern, contemporary, and minimalist interior design styles.
While an all-grey space may initially seem dull, incorporating touches of white, black, and various shades of grey can result in a stunning visual impact. Experimenting with plaid and check patterns can add an interesting twist and further elevate the overall aesthetic.
Leopard Rug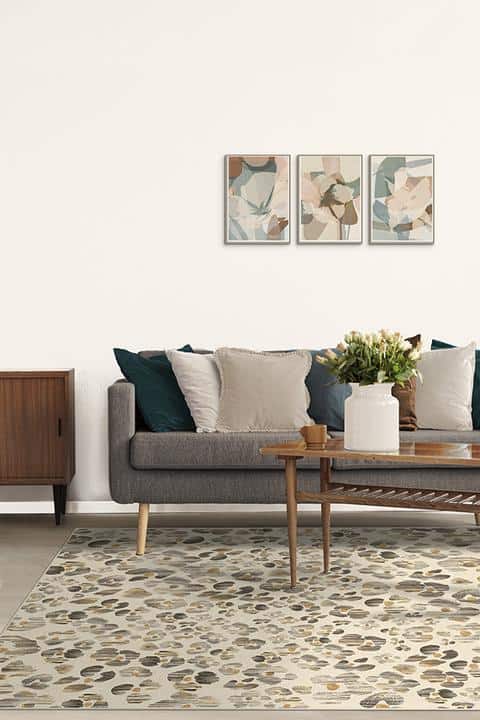 Indulge in the captivating allure of a contemporary rug adorned with exquisite leopard blooms. Designed to perfectly complement your grey couch, this rug showcases a harmonious blend of colors, including light cream, coriander, dark walnut, and goldenrod.
With its lifelike patterns and intricate textures, this rug adds depth and visual interest to your space, enhancing the interpretation of your chosen color palette. Additionally, its easy maintenance and cleaning make it a practical choice for households with kids and pets. Embrace both style and functionality with this stunning rug.
Jute Border Rug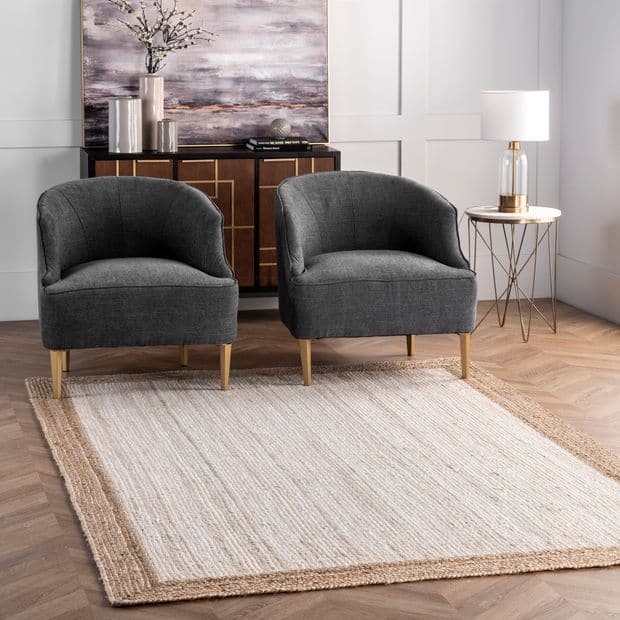 Embrace the blissful combination of grey and beige, a timeless contrast that exudes elegance. As you gaze upon the captivating image above, you can't help but be mesmerized by the simplicity and sophistication of the palette. Not only is this area rug gentle and comfortable underfoot, but it is also pet-friendly, making it a perfect addition to your space alongside your grey sofa.
In choosing this area rug, you can take pride in the fact that you are making an eco-conscious decision, as it is crafted from organic and natural materials, contributing to the healing of our planet. Transform your home with this organic and stylish decor piece, and indulge in the beauty of sustainable living.
Moroccan Printed Rug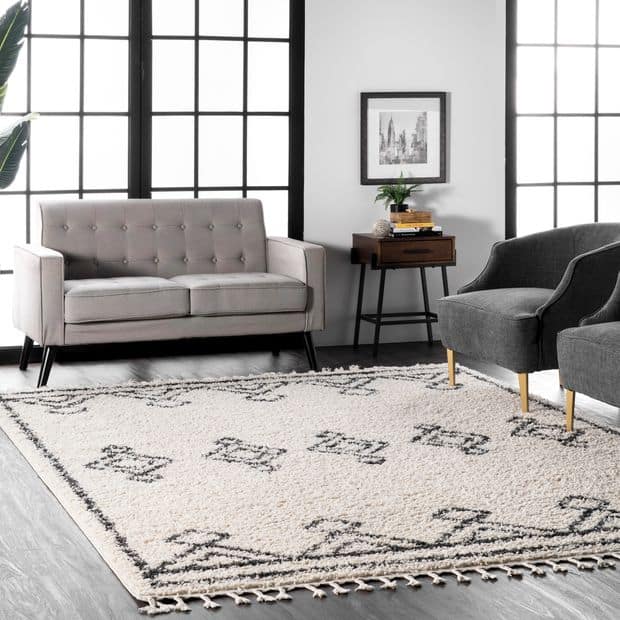 Allow me to share a secret with you: the combination of black and off-white is a perfect match for your grey furniture. This color blend creates a beautiful contrast that not only complements your living room but also gives it a spacious and airy feel.
With its soft and cozy texture, this area rug invites you to experience true comfort. The adorable tassels adorning the edges add a touch of charm, guiding you towards a tranquil and soothing ambiance. Walking barefoot on this rug is a delightful sensation that further enhances your relaxation.
Abstract Orange Rug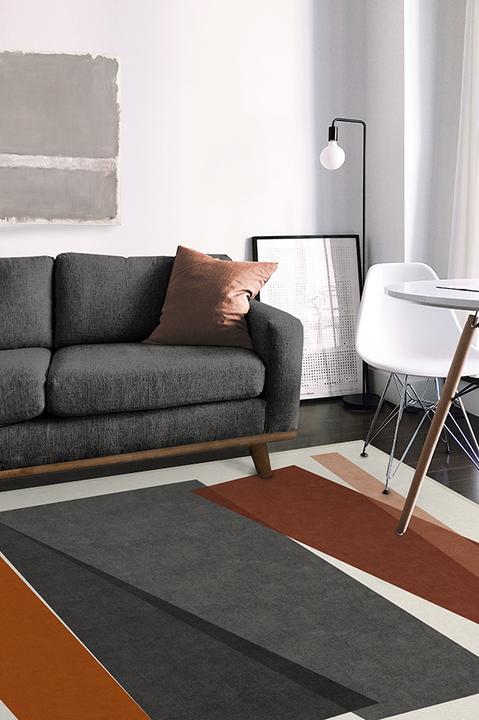 Drawing inspiration from the world of abstract art expressionism, this vibrant area rug in warm shades of orange and red brings a trendy and eye-catching statement to your living room. With its contemporary and transitional design, it becomes a focal point that enhances the overall aesthetic of your space. The presence of grey undertones in the rug further complements the grey couch, creating a harmonious color scheme.
To amplify the impact of this warm and inviting burnt orange tone, you can incorporate it into other elements of your décor. Consider adding accents of this color on your throw pillows, cushions, artwork, and even curtains to create a cohesive and visually appealing look.
Sea Blue-Green Rug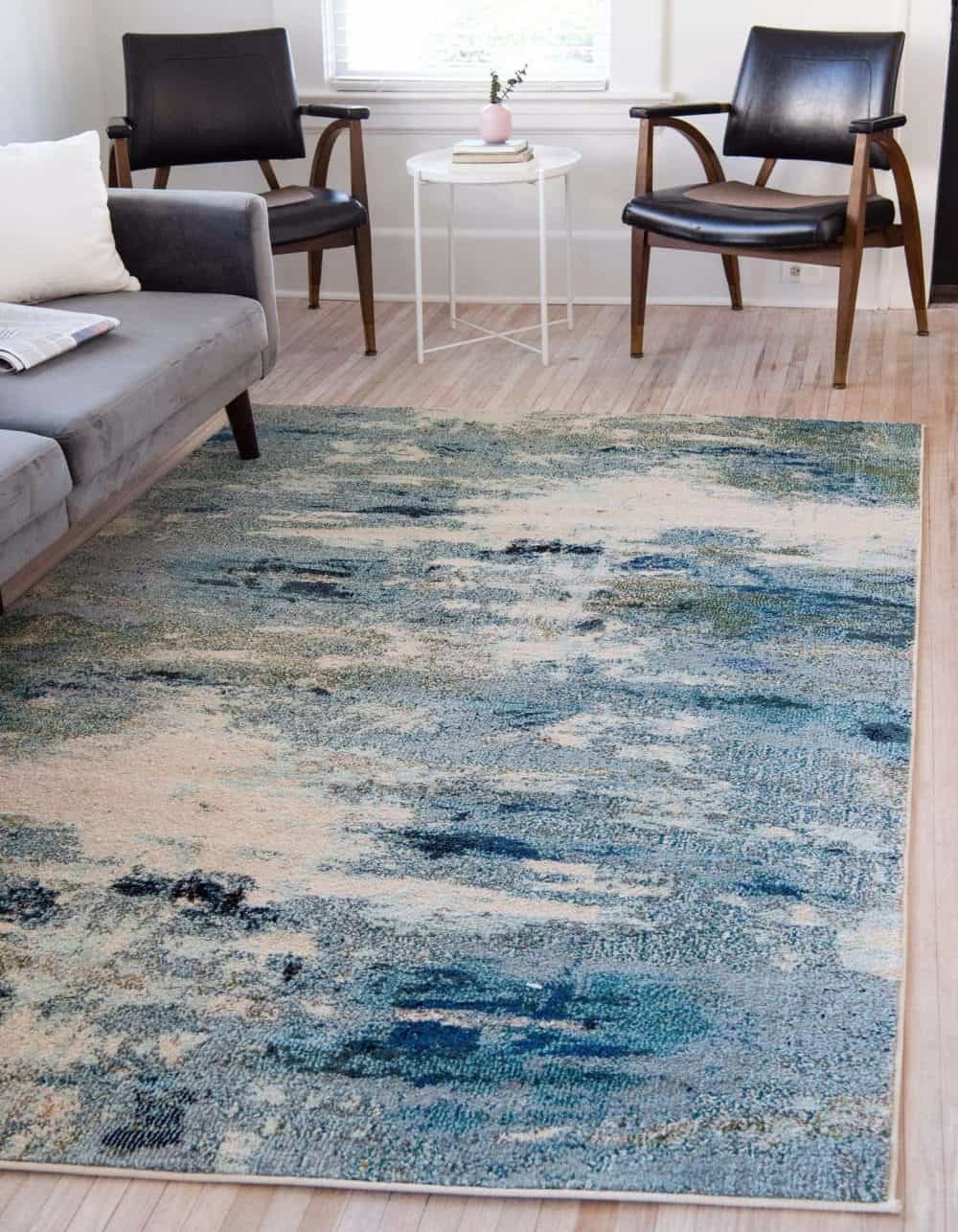 It's important to keep in mind that various shades of blue and green can beautifully complement your grey couch. Opting for cooler tones in your color palette will always be advantageous. By combining sea blue, navy blue, green, and ivory, you will create a stunning visual effect.
When your living space is blessed with abundant natural light, this area rug will appear even lighter and brighter, exuding a sense of freshness and tranquility. With its colors mimicking the hues of the sea and oceans, this area rug brings a refreshing vibe to your room, creating a serene and inviting atmosphere.
Dark Wood Rug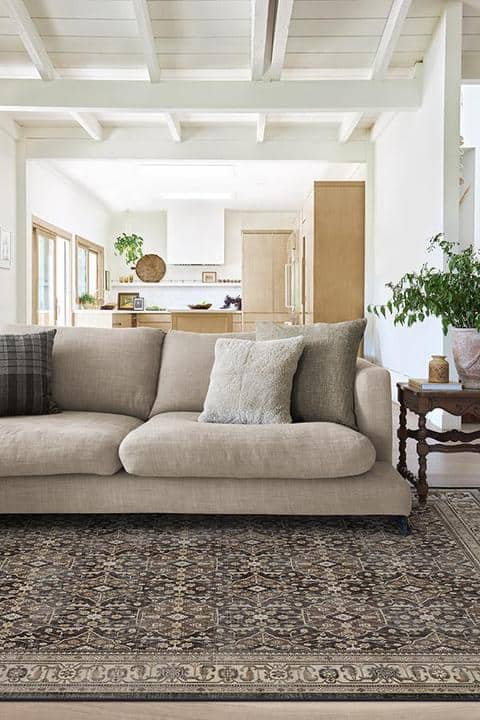 Immerse yourself in the luxurious beauty of this vintage-inspired area rug, adorned with rich walnut browns, espresso hues, and coffee tones. The opulent floral design takes center stage, while subtle hints of gold and beige add depth and character to the rug. The trendy border further enhances the overall aesthetic, creating a harmonious and balanced look.
This rug is a perfect choice for those who appreciate Vintage, Modern Farmhouse, and Traditional interior design styles. Not only does it exude timeless charm, but it also offers practical benefits such as stain resistance and water resistance, making it easy to maintain. To achieve the perfect balance, consider pairing this rug with lighter tones of grey in your space.
Floral Patterned Rug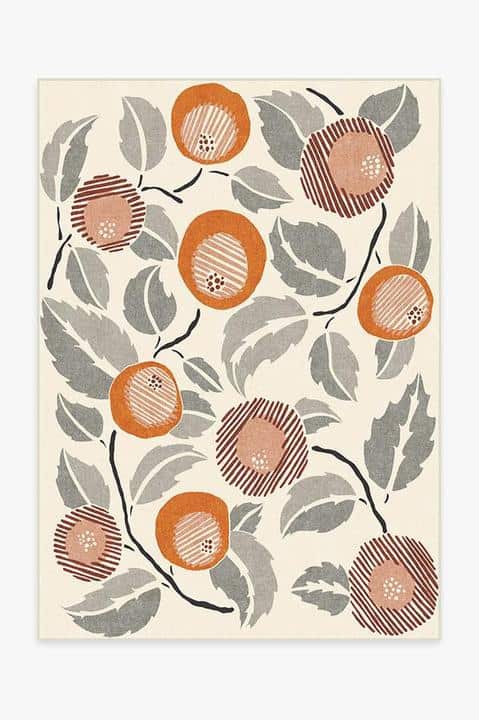 Indulge in the captivating charm of this modern-retro floral area rug, adorned with delightful shades of light and dark orange, red, and grey. It effortlessly complements your grey couch, infusing a sense of vibrancy and eclectic flair into your space. With its eye-catching design, this rug has the potential to become a captivating focal point in your room.
To further enhance the cohesive look, consider incorporating coordinating elements such as throw pillows, indoor plant holders, curtains, and artworks in the same color palette. This will create a harmonious and inviting atmosphere, evoking a warm and cozy ambiance that will make your space even more inviting.
Gray Hazy Waves Rug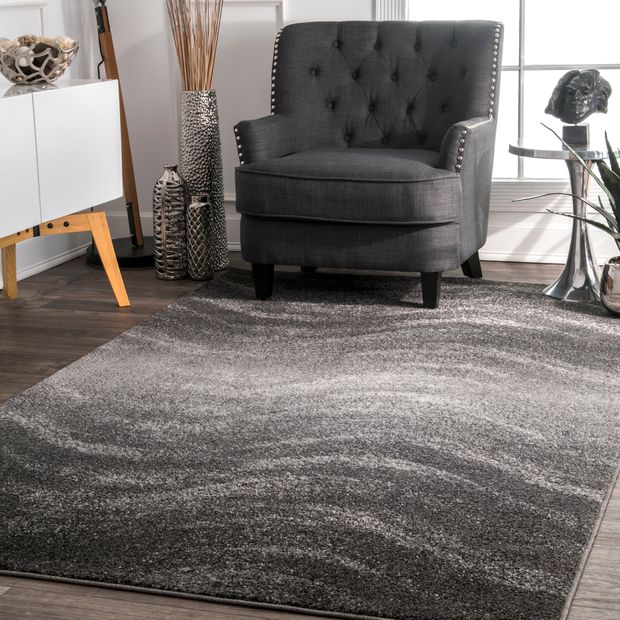 Don't believe the notion that black and grey can't coexist harmoniously! Embrace the elegance and sophistication of this dark grey area rug that effortlessly complements your space. Rather than appearing overly coordinated, it creates a seamless and cohesive look. The combination of subtle grey and black shades adds a touch of drama and imbues your room with a bold and daring aesthetic.
To balance the darker tones and prevent the space from feeling too dim, consider incorporating lighter elements such as throw cushions, curtains, textured walls, and plenty of indoor plants. Mirrors can also be strategically placed to enhance reflectivity and create a brighter ambiance. This combination will strike the perfect balance between dark and light, resulting in a well-rounded and visually appealing room.
Purple Contemporary Rug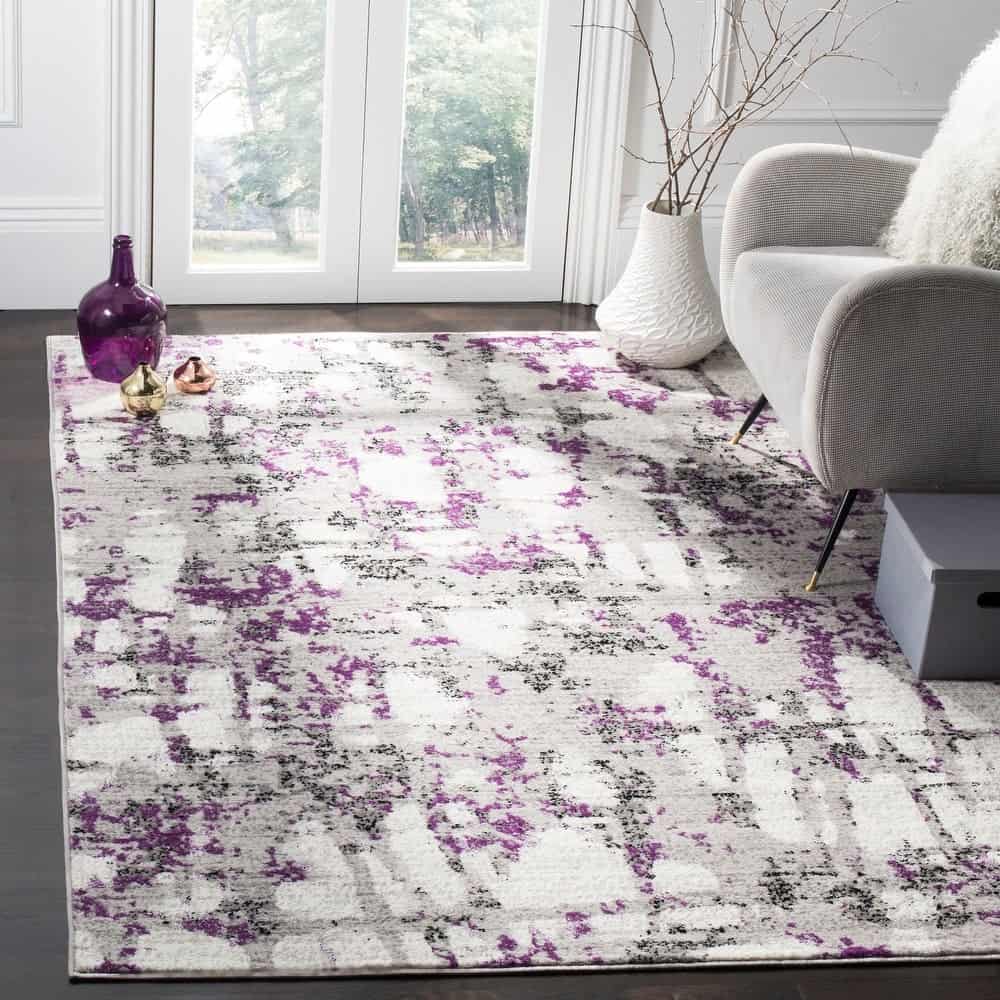 Exuding a distinctive and striking allure, this contemporary purple rug seamlessly combines shades of grey, wine, and purple. Its unique color palette adds a captivating touch to your space, making it a focal point of interest. To complement this rug, consider incorporating shades of purples, yellows, and greys in your overall color scheme, creating a visually stunning and cohesive look.
Whether your grey couch is lighter or darker in shade, this versatile and fashionable rug will effortlessly enhance its appeal. With its timeless design, it offers a one-stop solution for adding a touch of elegance to your living space. If you're drawn to the beauty of purples, this gorgeous rug is definitely worth considering as a standout addition to your home.
Diamond Patterned Rug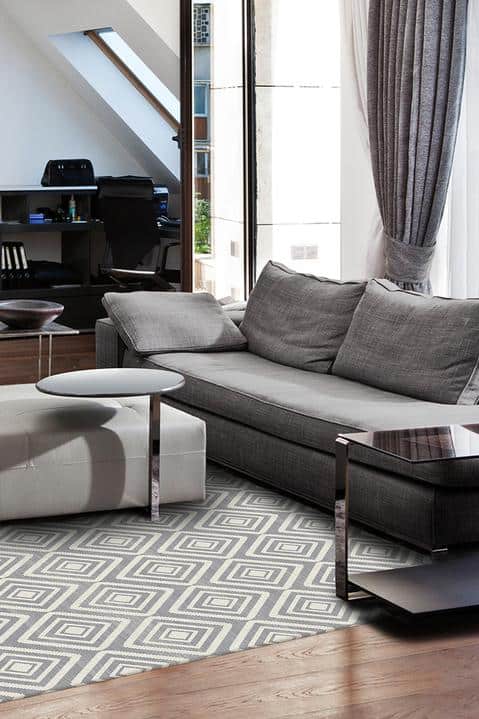 Embrace the timeless appeal of patterns, particularly when they come in the form of grey and white diamond motifs on an area rug. This blend of classical and modern design elements is a perfect complement to your grey couch. With its seamless integration of various shades of grey, the rug's prominent diamond patterns add a subtle yet captivating focal point to your space.
The area rug effortlessly captivates attention from every dimension and angle, showcasing its geometric and angular motifs in a truly mesmerizing way. The overall experience it creates is truly worthwhile, infusing your living area with a sense of sophistication and visual intrigue.
Silver Splatter Area Rug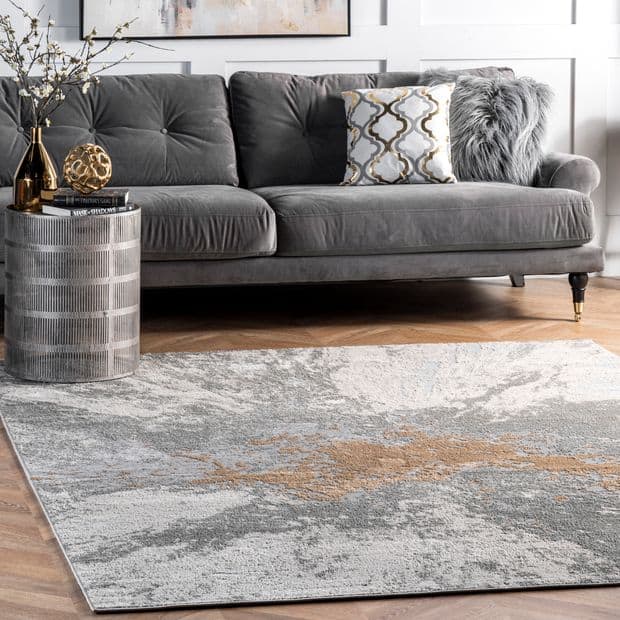 Elevate your living space with an added touch of comfort, luxury, and opulence by introducing this exquisite silver-tinted rug that perfectly complements your grey couch. Designed to harmonize with contemporary and modern interior design styles, this rug boasts a captivating splash of bronze, adding a captivating visual element to the overall aesthetic.
The attention to detail is truly remarkable, as the intricate patterns on the rug beautifully complement the design of the throw pillows on the couch. This thoughtful and extraordinary arrangement creates a space that is both visually stunning and harmoniously coordinated, leaving a lasting impression on anyone who enters the room.
Vintage Motif Rug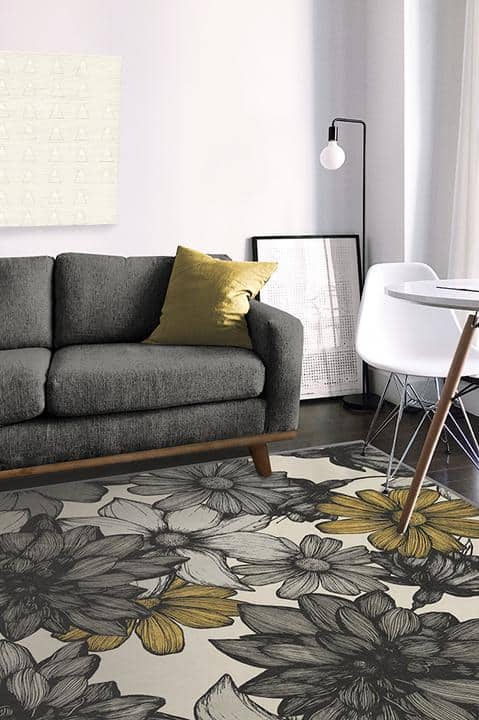 If you're aiming to create a flawlessly focal point with your area rug, consider incorporating an intriguing piece like the one shown above, especially if you have a simple grey upholstered couch. This rug adds a captivating sense of dimension and scale to the space, utilizing neutral greys and yellows that seamlessly transition from the focal point to the backdrop of the couch.
Not only does this rug bring a touch of magnificence to the room, but it also serves as a clever solution for hiding any imperfections on old hardwood floors. Its versatility extends beyond the living room, as it can be utilized in formal living areas, grand lobbies, and even bedrooms, allowing you to fully appreciate its beauty throughout your home.
Multi Striped Rug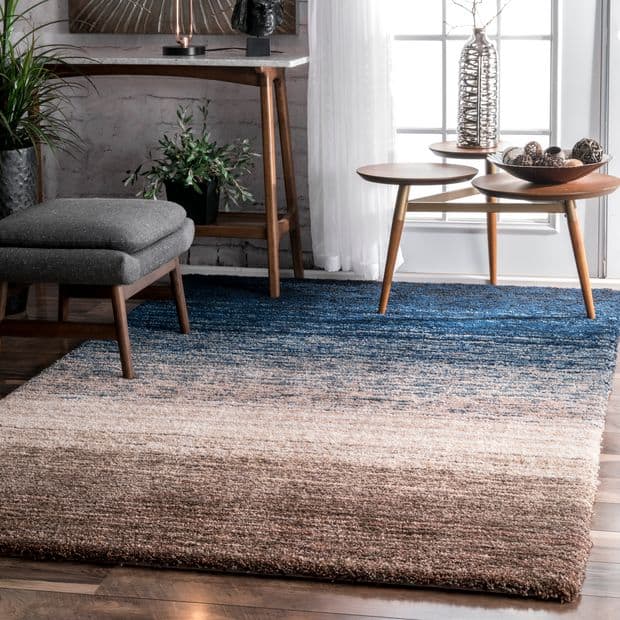 The combination of greys, browns, and blues creates a harmonious and striking contrast. If you're looking to achieve a balanced and visually appealing look, incorporating a color area rug like the one shown above is a must. Not only does it complement grey furniture, but it also adds a touch of statement and depth to the room.
To enhance the overall aesthetic, it is recommended to pair this area rug with furniture pieces that feature hardwood textures and wooden legs. This combination will create a cohesive and stylish look that brings out the best in both the rug and the furniture.
Fluffy White Rug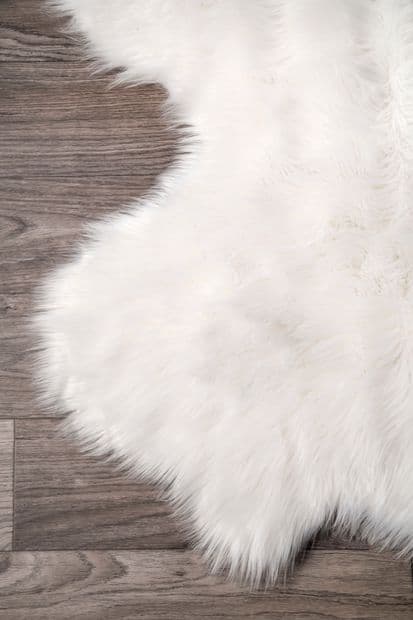 Indulge in the ultimate comfort and create a bright and inviting atmosphere with a large, plush, and fluffy white rug. This faux sheepskin rug not only adds a touch of luxury but also exudes a soothing and cozy ambiance that instantly elevates your space.
Perfectly complementing your grey couch, this whimsical and luxurious area rug becomes a focal point in the room. To enhance the winter aesthetic, you can pair it with macrame and faux fur throw pillows, creating a captivating and daring atmosphere during the cold months. Get ready to immerse yourself in warmth and style with this stunning white rug.
Multicolored Rug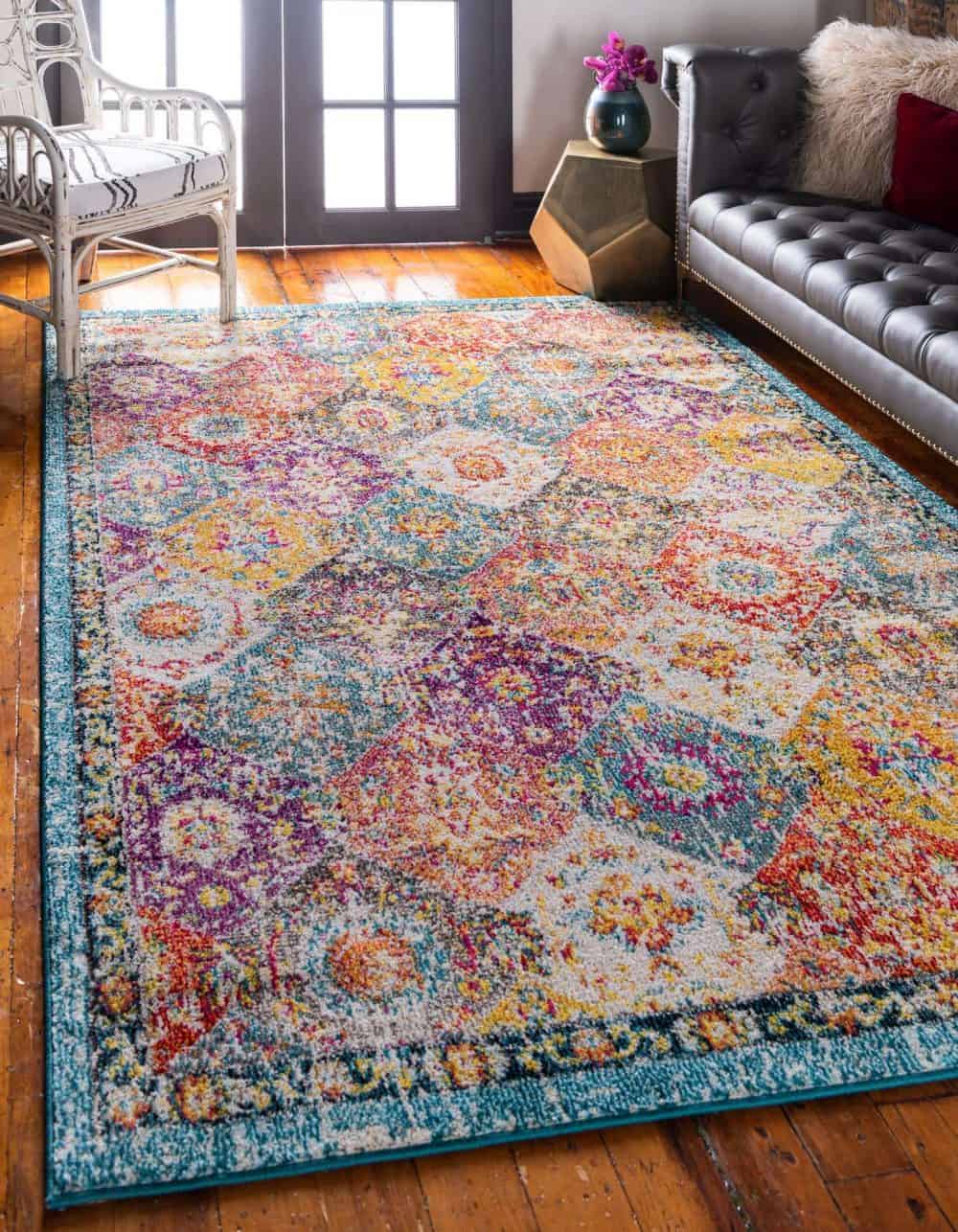 If you have an Eclectic or Grandmillenial interior design style, you're in for a treat with this vibrant and multicolored area rug. Don't hesitate to mix and match the grey tones with the array of brighter hues present in the rug. Grey, being a timeless color, effortlessly blends with both warm and cool tones.
Embrace the cheerful and lively ambiance by introducing this rug to your living room. Let the colors and patterns bring a burst of energy and personality to your space. It's time to embrace the bold and create a captivating atmosphere with this vibrant area rug.
Pretty Pink Rug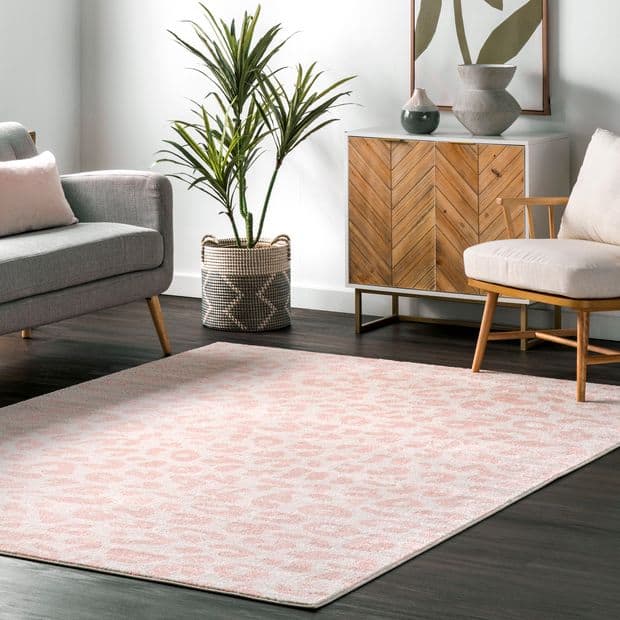 Infuse your space with a touch of femininity and captivating beauty by introducing this lovely pink area rug that perfectly complements your grey furniture. Whether it's the nursery, kids' room, dining area, or living room, this pink rug is a versatile choice that suits various spaces.
To enhance the overall palette, consider incorporating faux and fur pink and white throw pillows, accent pink upholstered chairs, and accents of pink in your wall art and curtains. By bringing together these elements, you'll create a cohesive and charming atmosphere that exudes elegance and style.
Pops of Aqua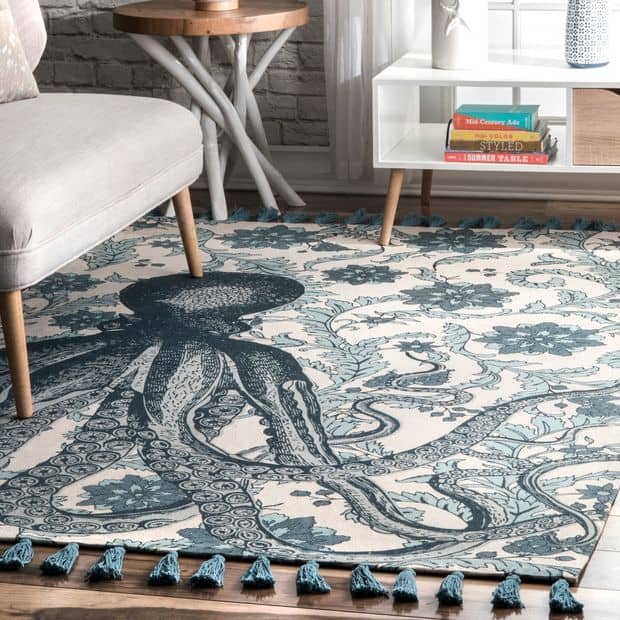 Embrace the enchanting allure of the sea with this extraordinary aquatic-inspired area rug. Its distinctive design, featuring a majestic giant octopus at its center, adds a captivating statement to any space, particularly those styled with a Coastal theme.
The beautiful aqua hues of this rug create a delightful color scheme that effortlessly complements your grey furniture. The aqua tones take the spotlight, subtly taming the greys and establishing themselves as the dominant and refreshing hue. When you're unsure, opting for an aqua-colored area rug to accompany your grey sofa is a fantastic choice that brings a touch of seaside charm to your living space.
Berry Black Rug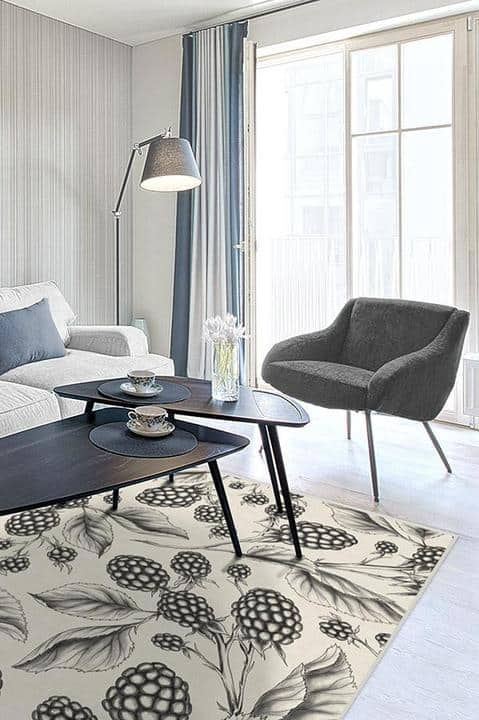 Unleash a new level of dimension and depth in your space with a touch of unconventional style! Departing from traditional floral or fruit motifs, this captivating berry black rug is set to elevate your room in the most dynamic and exciting ways.
Featuring a stunning palette of greys, off-whites, and blacks, this area rug effortlessly ties together the overall aesthetic of your room, adding a cohesive theme that speaks volumes. Prepare to embrace a fresh and contemporary look that will leave a lasting impression on anyone who enters your space.
Summing It
The rug you choose has the power to shape the entire look and feel of your room. It becomes the anchor that sets the tone for your space, whether you're aiming for a modern and minimalistic vibe with neutral hues or a bold and contemporary aesthetic with contrasting colors.
With so many color options available to pair with your grey couch, the possibilities are endless. Have you found the rug of your dreams? We'd love to hear your thoughts in the comments section below! Share your rug selection and how it complements your overall design vision.