Every home needs closets, but figuring out how to give them a stylish touch can be a challenge. Undecorated closets can sometimes look out of place in certain rooms. Luckily, these empty spaces provide the perfect opportunity for adding decorative elements, regardless of whether you have traditional hinged doors or modern sliding ones.
Numerous options are available for closet decor, allowing you to personalize your storage space and seamlessly integrate it with your existing interior design. To kickstart your creative journey, here are 14 inspiring ideas for decorating your closet doors.
Add Simple Elegance With a Full-Length Wall Mirror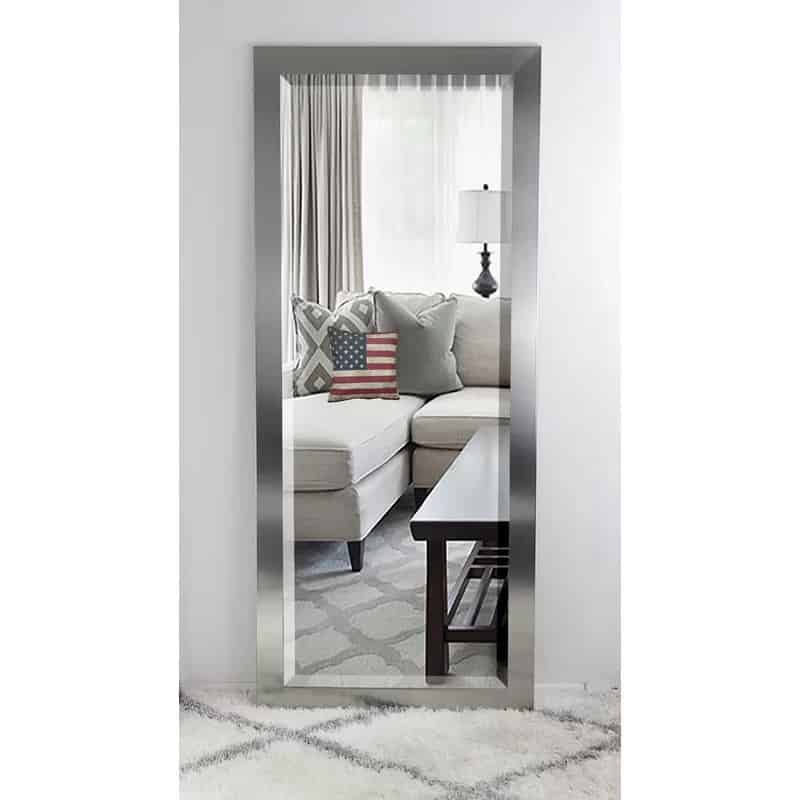 Mirrors possess a timeless charm that elevates the ambiance of any room. They have the ability to reflect natural light, creating an illusion of a more spacious and open area. While certain closet doors already feature built-in mirrors, you can effortlessly recreate this effect by using a full-length wall mirror. This approach works exceptionally well with either a solitary closet door or a pair of doors, where you can install two mirrors side by side.
In particular, the mirror described here showcases a blend of simplicity and elegance, accentuated by its wooden frame with a nickel finish. Its unassuming design makes it a suitable choice for minimalist interiors, while its metallic appearance complements modern room aesthetics.
Organize Your Space With an Over the Door Organizer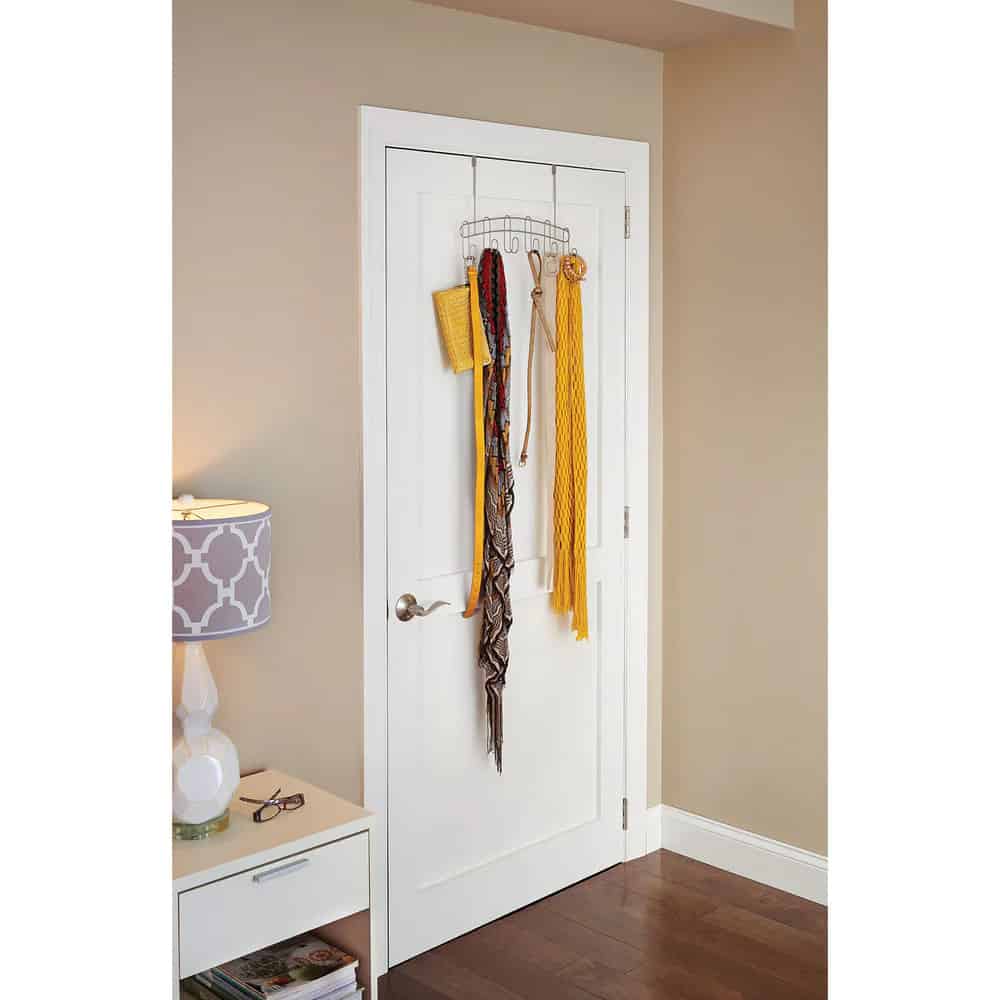 Over-the-door organizers are a fantastic solution for conveniently accessing everyday essentials like belts and other items. They prove particularly useful in closets, offering an additional storage option that eliminates the need to store everything inside.
Moreover, these organizers can also serve as a decorative element, allowing you to enhance the aesthetic appeal of your space. For example, you can use them to display a collection of multicolored scarves, infusing your room with vibrant splashes of color and creating an eye-catching visual impact.
Show Off Your Favorite Art With a Poster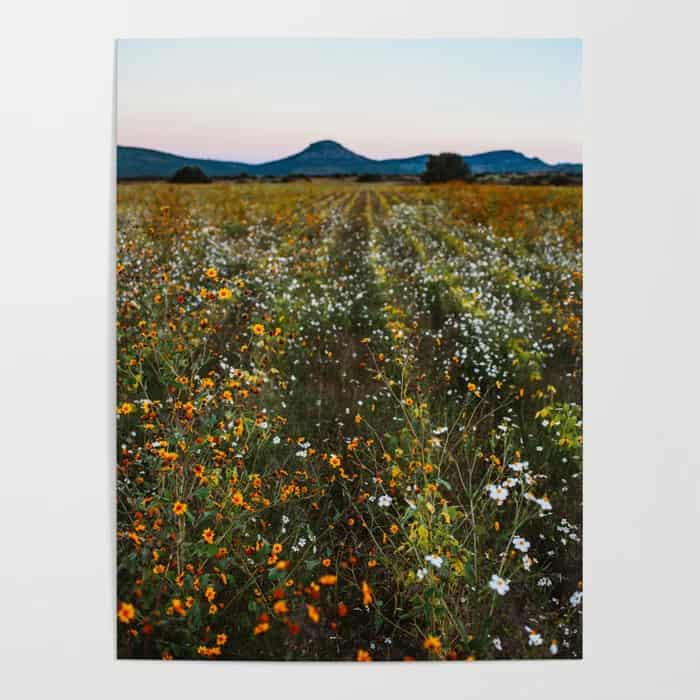 If you're not keen on wallpapering your entire closet, don't worry! You can still incorporate visually appealing decorations by using a poster. It's a great way to showcase your favorite artwork and can be applied to almost any type of closet door.
In this case, the featured poster was created by an independent artist and portrays a lifelike landscape adorned with abundant floral elements. It serves as an excellent choice for adding a final flourish to a minimalist environment, perfectly complementing its understated aesthetic.
Add a Touch of Luxury to Your Closet With Golden Wallpaper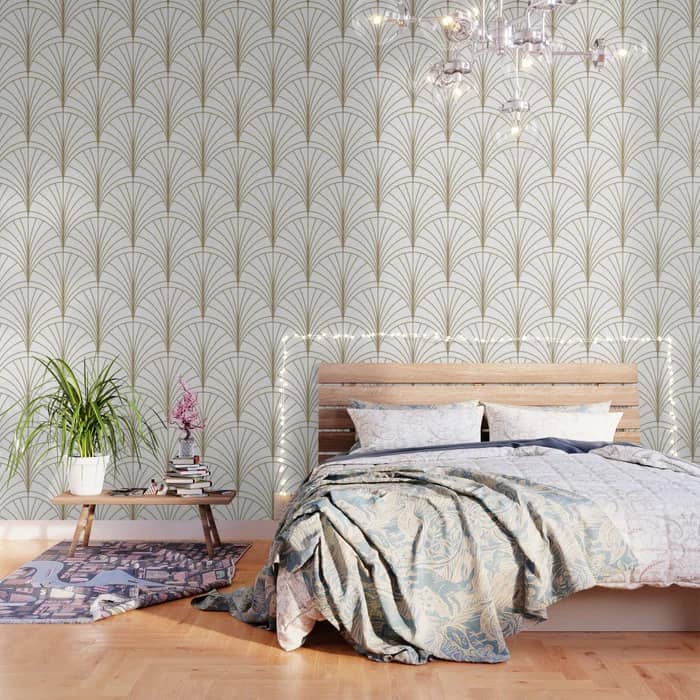 If you're seeking ideas on how to adorn a sliding closet, one simple and effective approach is to embellish it with wallpaper. With a wide range of designs available, you can find options to suit any aesthetic preference, making your closet truly stand out.
In the case of this specific wallpaper, it boasts a relatively uncomplicated design, yet exudes an air of opulence due to its golden color palette. What's more, it was created by an independent artist and features an adhesive backing, making it easy to apply. If you ever decide to transform the room's overall aesthetic, removing this wallpaper and applying a new one is a hassle-free task.
Make Your Closet Practical With a To-Do List Whiteboard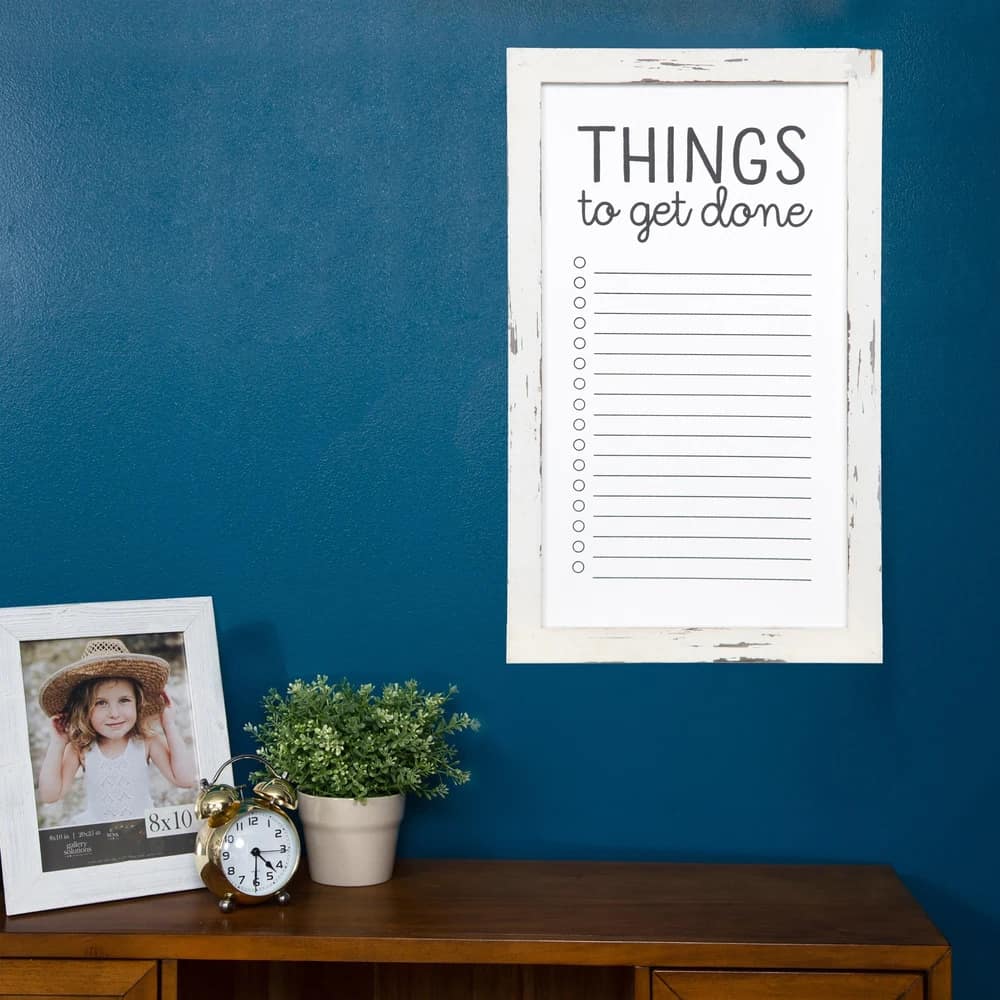 When it comes to staying organized, a to-do list whiteboard can be both practical and stylish. It provides a convenient surface to jot down tasks, erase them, and start anew. Closets, in particular, serve as ideal locations to place these whiteboards, especially if you frequently utilize them. By positioning it near the door, you'll have a constant reminder of important tasks that require your attention.
The whiteboard in question features a charming white wooden frame with a weathered appearance. Its rustic aesthetic makes it a perfect fit for rooms with a farmhouse or rustic style, seamlessly blending in with the overall décor.
Add a Modern Touch With Stylish Moon Wallpaper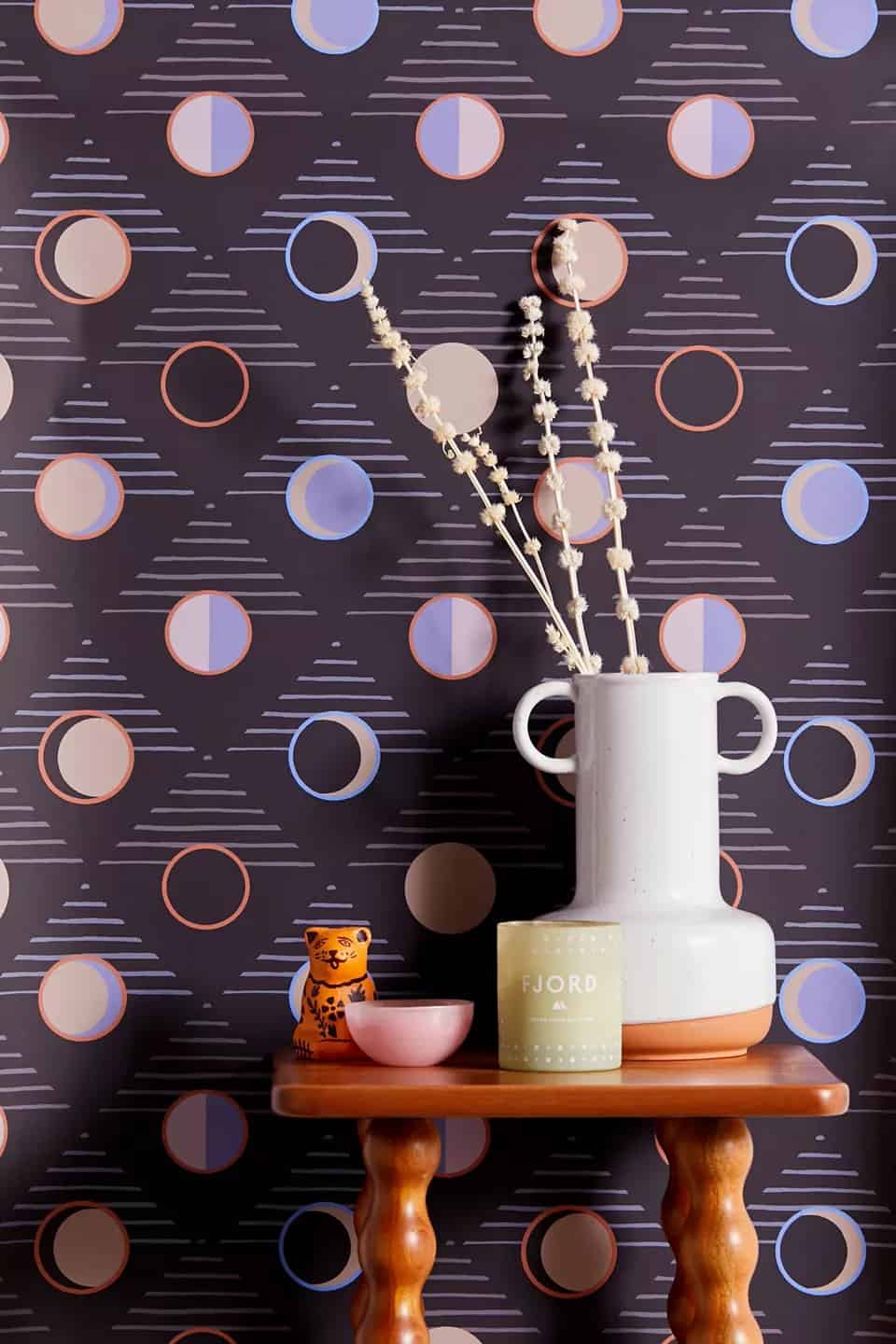 Decorating sliding closet doors can pose a challenge, as traditional hanging decor may not be suitable for them. However, when it comes to wallpaper, there are numerous options available that are perfect for modern spaces.
One particularly distinctive wallpaper design showcases clean geometric patterns and a captivating moon motif, injecting abundant visual interest into your closet door. If you're seeking modern ideas for enhancing your closet doors, this option undoubtedly stands out as an excellent choice.
Use Butterfly Decor for a Colorful Flair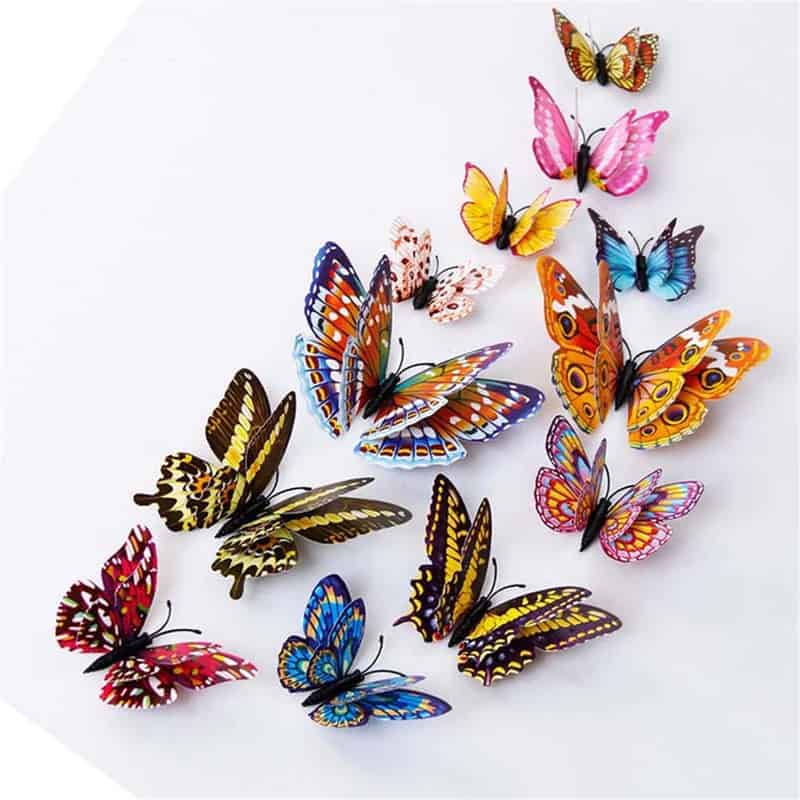 Incorporating a vibrant burst of color can truly transform a room, elevating it from mundane to captivating. Butterfly decorations provide an excellent opportunity to infuse a space with both lively hues and a touch of nature's beauty.
These lifelike butterflies are not only colorful but also incredibly versatile. You have the freedom to arrange them as you please, whether in a symmetrical formation for a sense of balance or in an asymmetrical pattern to create a more eclectic and spontaneous look. With endless possibilities, these butterfly decor pieces allow you to add that much-needed pop of color while embracing your unique aesthetic vision.
Create an Artsy-Looking Closet With Watercolor Dot Decor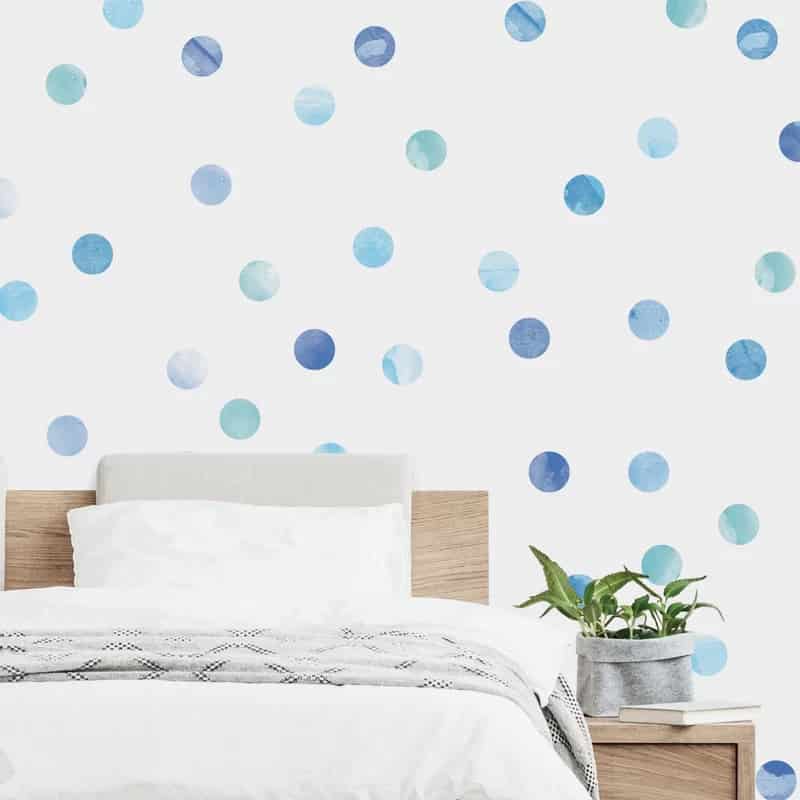 Who says wall paintings are the only means to achieve an artsy ambiance? With watercolor dot decor, you can effortlessly infuse any room with an artistic flair. These decals are simple to stick and arrange, allowing you to create various patterns based on your preference—whether you seek perfect alignment or a more spontaneous arrangement.
The beauty of watercolor dot decals lies in their versatility, making them a perfect choice for embellishing any type of closet door. Whether you have a sliding door, a single closet door, or a set of double doors, you can easily adorn your closet with these flat decals. Embrace the opportunity to decorate your closet with ease and express your artistic side.
Add a Simple Artsy Touch With Hanging Crochet Squares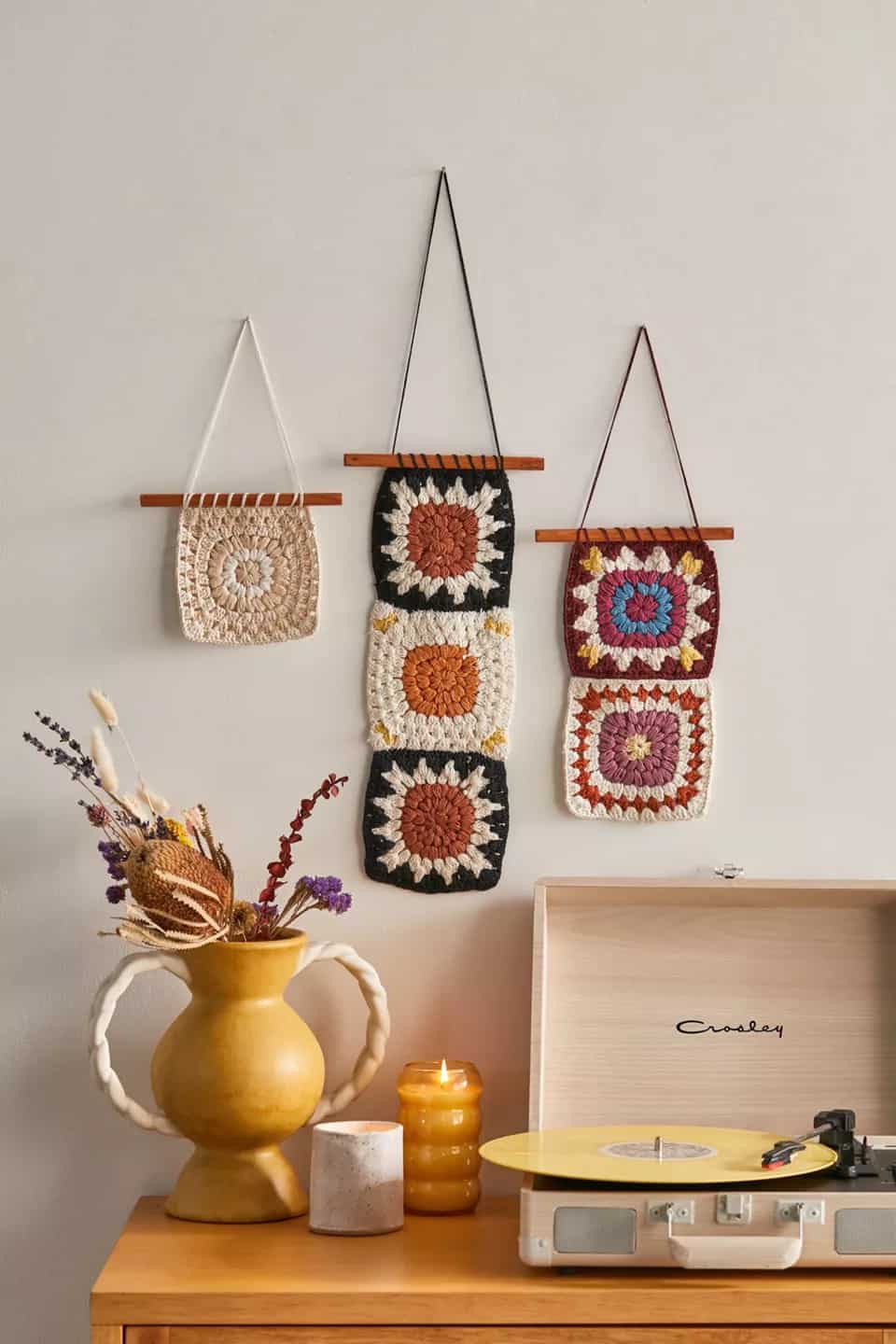 For an unconventional touch in your closet door decor, these hanging crochet squares are an ideal choice. Their vibrant color palette lends itself beautifully to infusing your room with a southwestern charm, and the versatility of multiple squares allows for various design possibilities when hung on the door.
Beyond their aesthetic appeal, these crocheted squares also introduce a delightful texture to your home decor. The intricacy and tactile nature of crochet add an element of visual and sensory interest, elevating the overall appeal of your space. Embrace these unique hanging crochet squares to create a distinctive and textured look for your closet door and home.
Create a Symmetrical Look With Floral Carved Wall Decor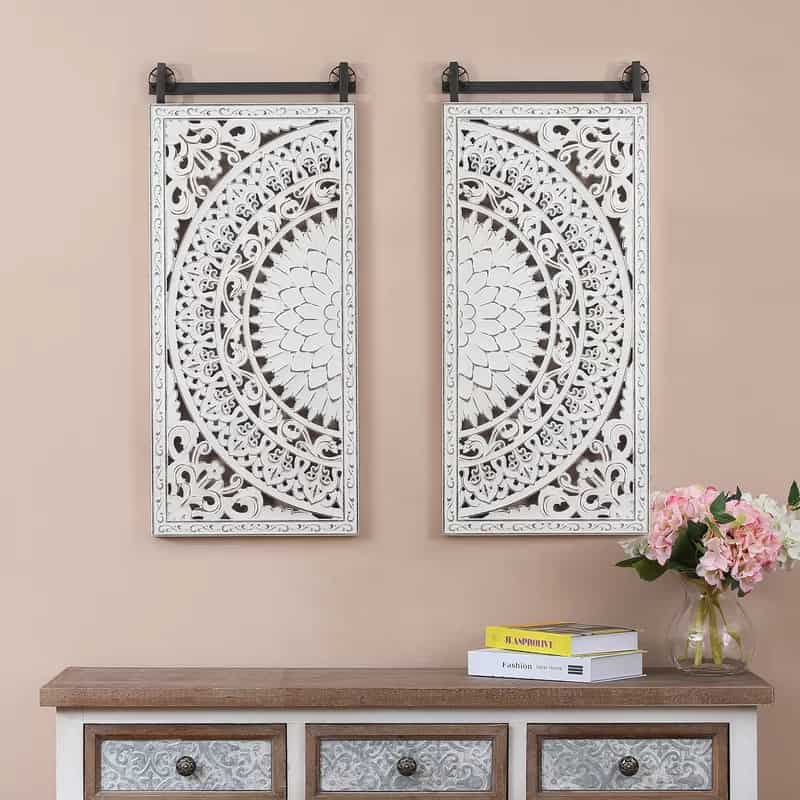 When dealing with double closet doors, achieving a symmetrical aesthetic can be a desired goal. If you're unsure about where to begin, consider opting for wall decor sets consisting of two pieces, ideal for creating a harmonious balance.
The floral-themed design of this particular wall decor set brings a delightful touch of nature into your space. Its distressed appearance makes it particularly well-suited for rustic rooms, adding a vintage charm. For an extra touch of drama and contrast, you can consider painting your closet doors in a dark hue like black.
By combining the symmetrical placement of the wall decor and the natural elements it brings, along with the bold contrast of dark-colored closet doors, you can create a visually captivating and cohesive look for your double closet doors and the surrounding space.
Experience the Beauty of Wreaths Indoors With a Closet Wreath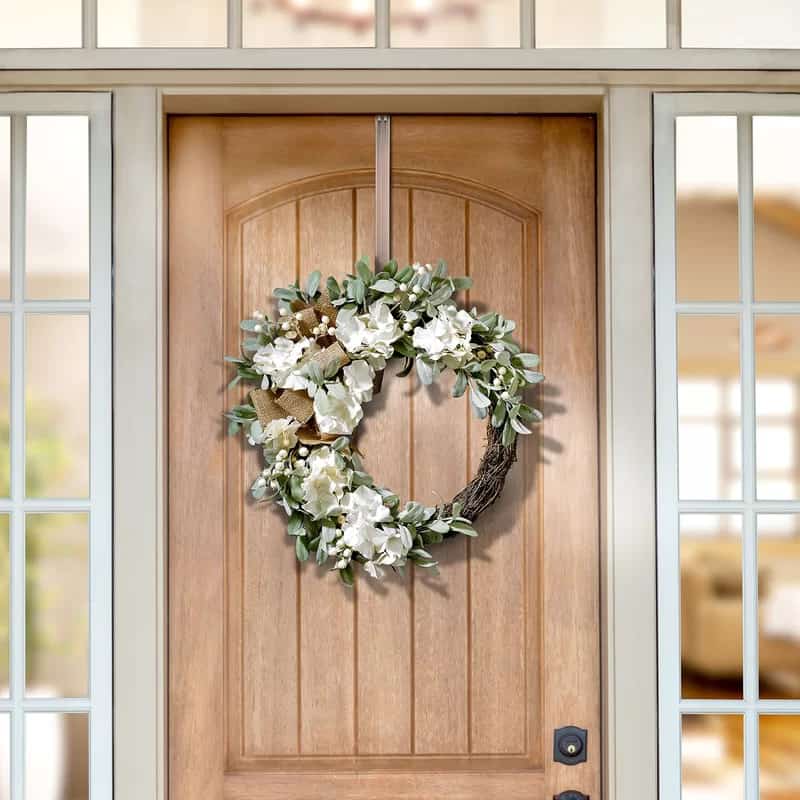 Typically reserved for outdoor use, wreaths, whether seasonal or year-round, often find their place hanging on front doors. However, if outdoor wreaths don't suit your taste or if you're seeking an additional wreath to enhance your home, consider the charm of a closet-hanging wreath, allowing you to enjoy their beauty indoors.
This particular wreath boasts an elegant design, adorned with a burlap bow, cream-colored flowers, and white berries. Its timeless appeal makes it an excellent choice for classical-style rooms, while also serving as a graceful addition for those looking to introduce a touch of nature indoors.
Go With Acrylic Bursts for a Unique Touch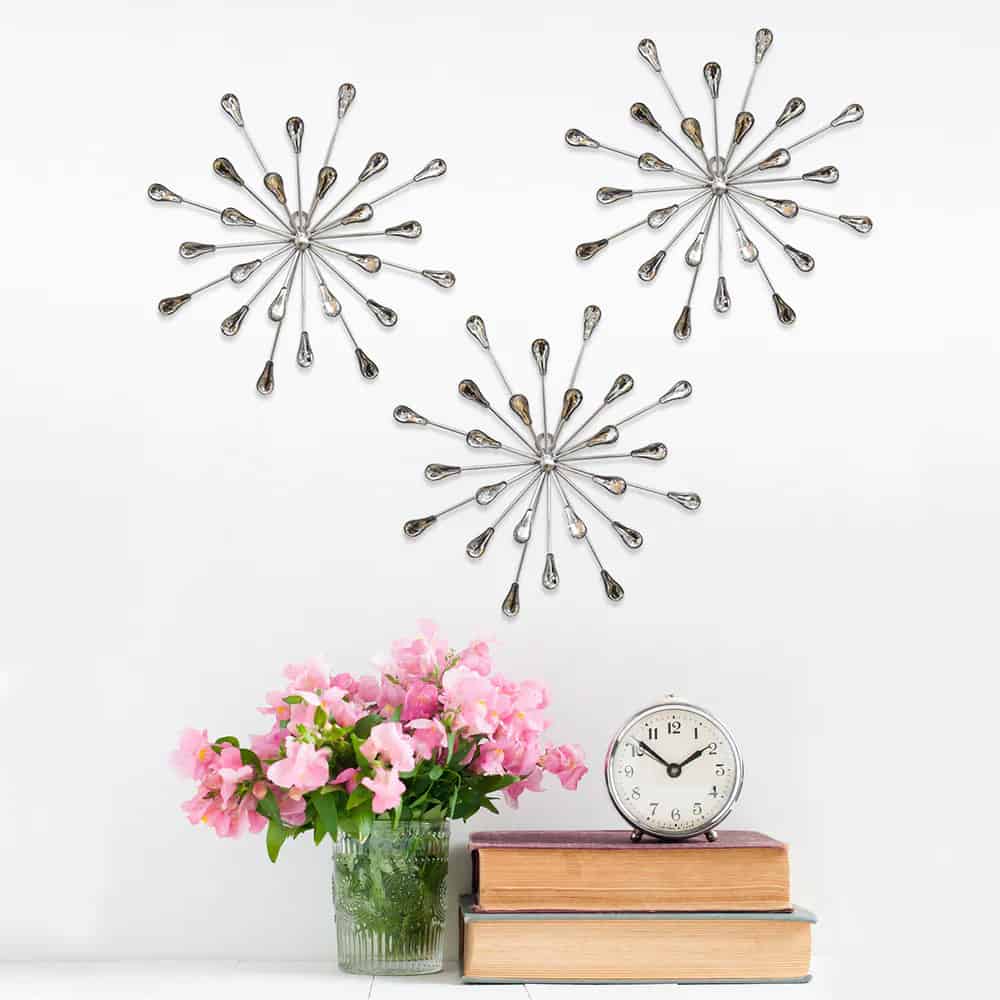 When it comes to decorating closet doors, standard options may not always meet your expectations. If you desire a standout closet that exudes cheer and demands attention, consider incorporating acrylic bursts as a striking accent.
This set of bursts provides you with three pieces, allowing you the freedom to arrange them in any desired configuration. The versatile silver color effortlessly complements various color palettes, ensuring seamless integration into your existing decor.
By introducing these acrylic bursts to your closet door, you infuse your space with a touch of uniqueness and vibrancy, making a delightful statement that captures the eye.
Use Wooden Wall Art for a Rustic-Looking Closet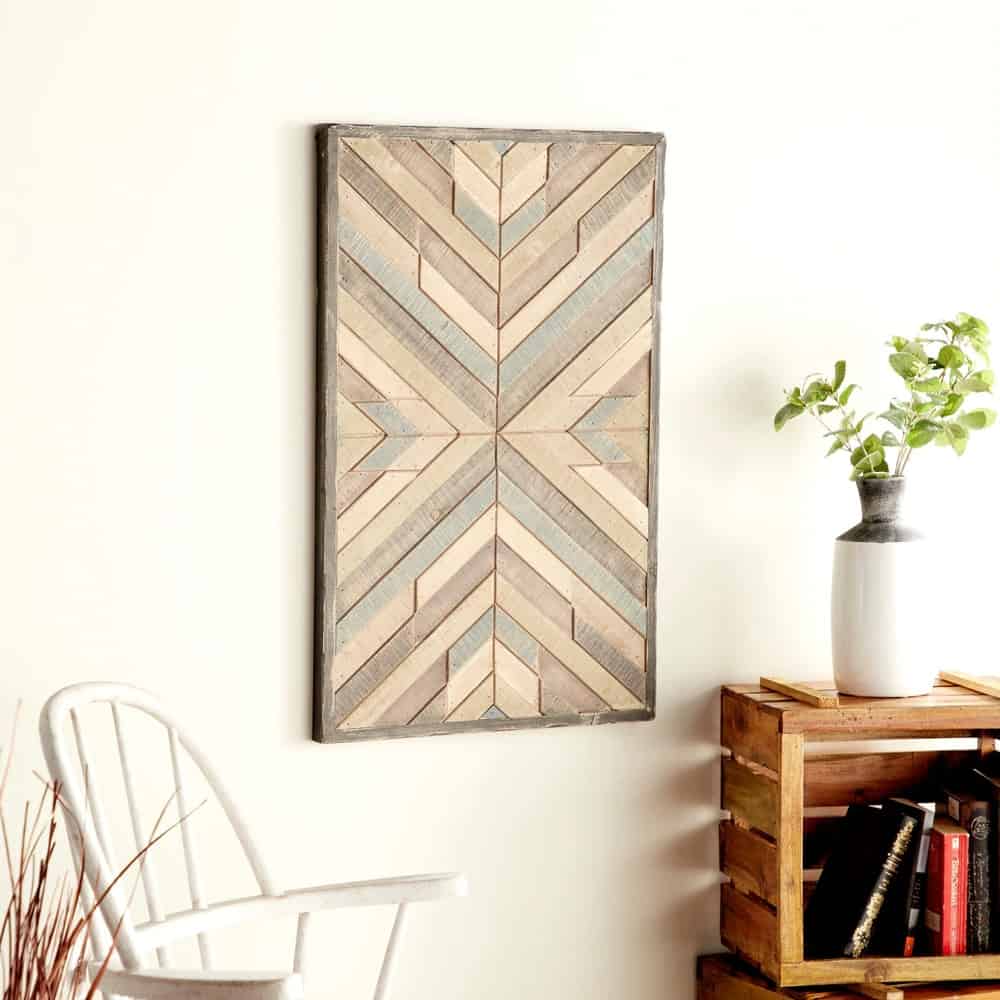 To achieve a cohesive look in rustic-style rooms, it's important to have a closet that aligns seamlessly with the overall decor. Fortunately, there is a wide array of rustic decor options available for closets, including this wooden wall art.
With its eye-catching chevron design adorned with multiple colors, this wooden wall art serves as a standout piece. However, the inclusion of neutral tones ensures its versatility, allowing it to harmonize with virtually any rustic room aesthetic. By incorporating this wooden wall art into your closet, you can effortlessly enhance the rustic charm of your space, creating a unified and visually appealing atmosphere.
Make Your Closet Look Like a Bookshelf With a Bookshelf Decal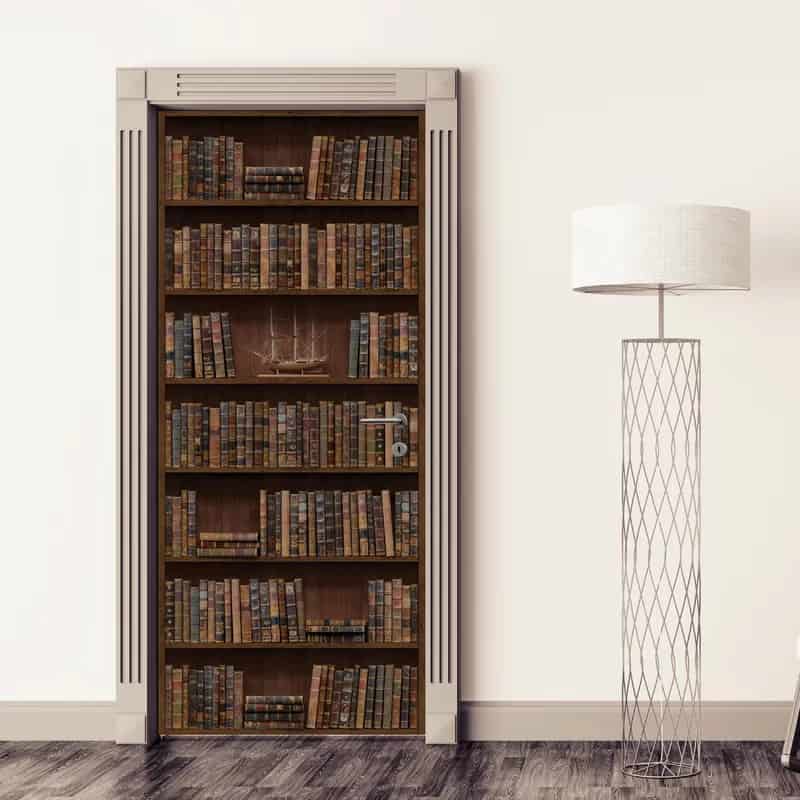 While hidden bookshelf doors may not be widely seen, they offer a clever solution to seamlessly integrate your closet, particularly when it occupies an awkward position in your home.
If installing a bookshelf closet door is not feasible or preferable, you can effortlessly achieve a similar effect with a bookshelf decal. Even with a visible handle, the decal creates the illusion of a bookshelf door while ensuring easy access to your closet. This approach is equally suitable for sliding closets, allowing for enhanced camouflage. Furthermore, it adds aesthetic appeal and lends itself well to classical-style rooms.
By opting for a bookshelf decal, you can effectively disguise your closet and infuse a touch of charm and sophistication, making it harmonize beautifully with its surroundings.
Final Thoughts…
When it comes to closet decor, the options are plentiful, ranging from stunning wallpaper designs to practical organizers. These choices can effortlessly align with various aesthetics, whether you're aiming for a luxurious or modern closet style.
Regardless of the type of closet you have, there are ample opportunities to infuse it with style and personality. Hopefully, this list has provided you with a starting point to embark on your journey towards creating the decorative closet door you've always envisioned. With the right choices and a touch of creativity, you can transform your closet into a visually appealing and personalized space.