The mid-century modern style emerged as a prominent interior design movement between 1945 and 1975, primarily within the realm of architecture. Over the course of three decades, this style influenced urban development and garnered attention through architectural publications like "Mid-Century Modern: Furniture of the 1950s" by the renowned Cara Greenberg.
Even today, the mid-century modern style continues to captivate interior design enthusiasts. Its enduring popularity can be attributed to its distinct characteristics that align with contemporary preferences, such as clean lines and an optimistic aesthetic.
To inspire your living room design, we've compiled a collection of 17 of the most popular mid-century modern styles. Each idea exudes a timeless appeal that is sure to captivate your attention and leave a lasting impression. Let's delve into these designs and discover the allure of mid-century modern for yourself!
Pastel Mid Century Modern Living Room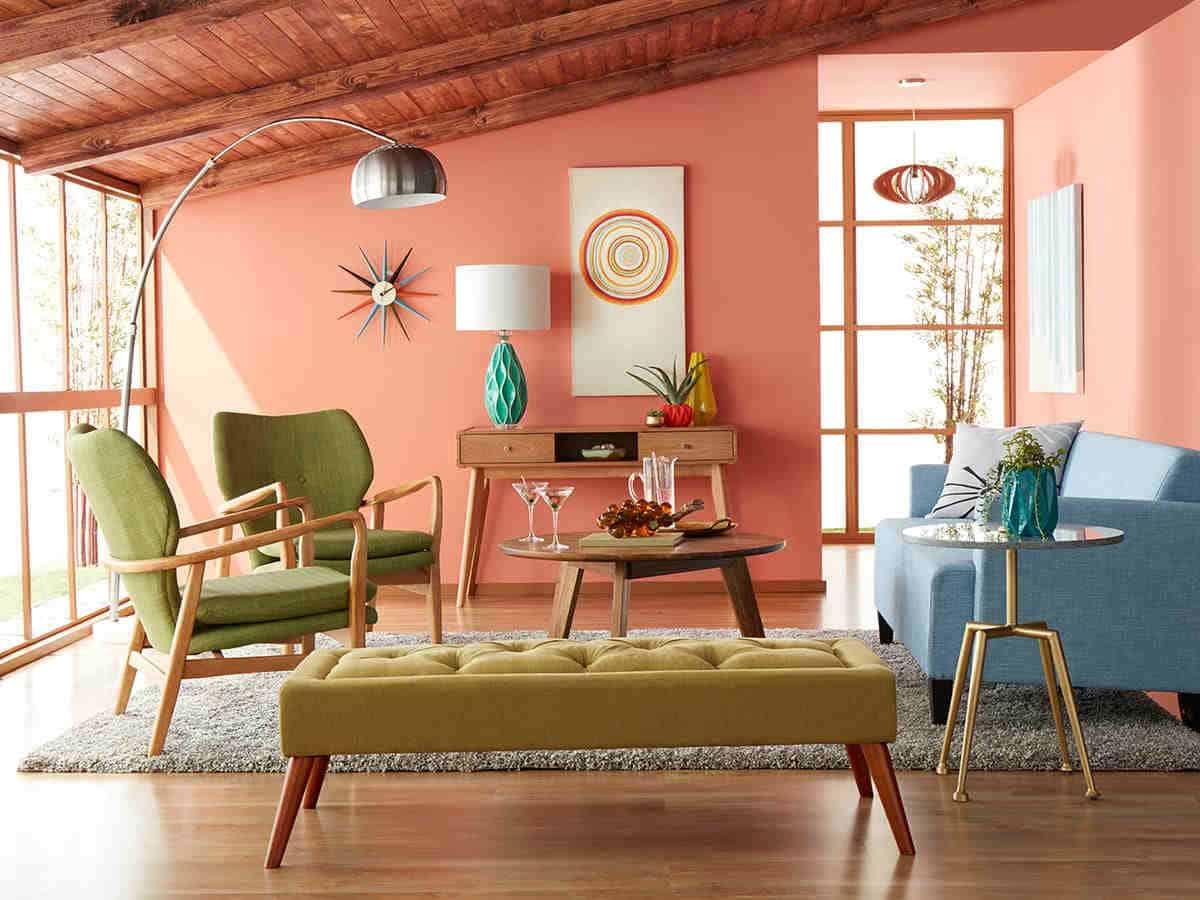 One of the key attractions of the mid-century modern style lies in its vibrant color schemes and captivating patterns. In a living room that embraces this style, you'll find a bold display of rainbow colors adorning the furniture, while another idea takes on a more subdued palette with pastel hues.
Take a moment to observe the soft pink walls, harmoniously complementing the cherry wood accents used for the ceiling beams and window frames. The furniture follows suit, with green cushions adorning the chairs and a bright pastel blue sofa stealing the spotlight.
The coffee table and a simple wall-mounted drawer showcase the signature trait of this style: the use of excellent pine wood, highlighting the organic and natural elements within mid-century modern design.
Additionally, the room's layout deserves attention. Floor-to-ceiling windows welcome abundant natural light, enhancing both the aesthetic and the overall ambiance of the space. The strategic placement of these windows creates an illusion of a larger, more vibrant room, breathing life into every corner.
Indeed, the presence of well-designed windows not only enhances the visual appeal of the living room but also amplifies the overall atmosphere, making it feel more spacious and lively.
Brick Wall Mid-century Modern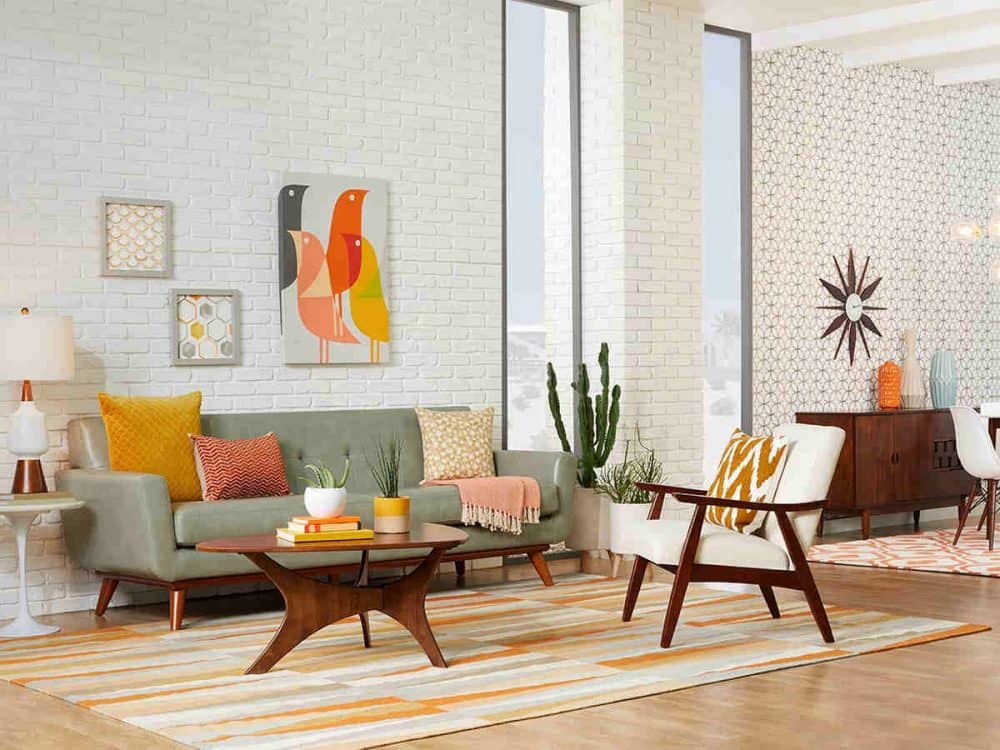 The focal point of this idea lies in the captivating exposed brick wall, a design element that requires careful execution. If not executed properly, it can be a design blunder. It is advisable to seek guidance from an interior designer to ensure successful implementation.
In this particular design, the exposed bricks harmoniously coexist with a geometrically patterned wall. This clever combination serves as an effective strategy to alleviate visual monotony. The presence of these two distinct wall decorations on a single side of the room offers an intriguing visual contrast.
To further enhance the wall's appeal, consider hanging paintings or ornaments like a sun-shaped decoration. These additions contribute to the overall aesthetic charm.
Choosing white as the primary color is a smart decision, as it acts as a clean canvas for the lively mid-century modern style living room design. Take note of the sofa, adorned with fading green cushions and topped with three pillows in different colors. Additionally, the chair, featuring a broken white cushion, boasts a pillow with a modern patterned cover.
To amplify the abundance of colors in this mid-century modern living room, a carpet with colorful vertical lines pattern is placed under the wooden coffee table. This adds a touch of vibrancy and visual interest to the overall space.
All-white Mid-century Modern Living Room
Stone Wall Mid-century Modern Design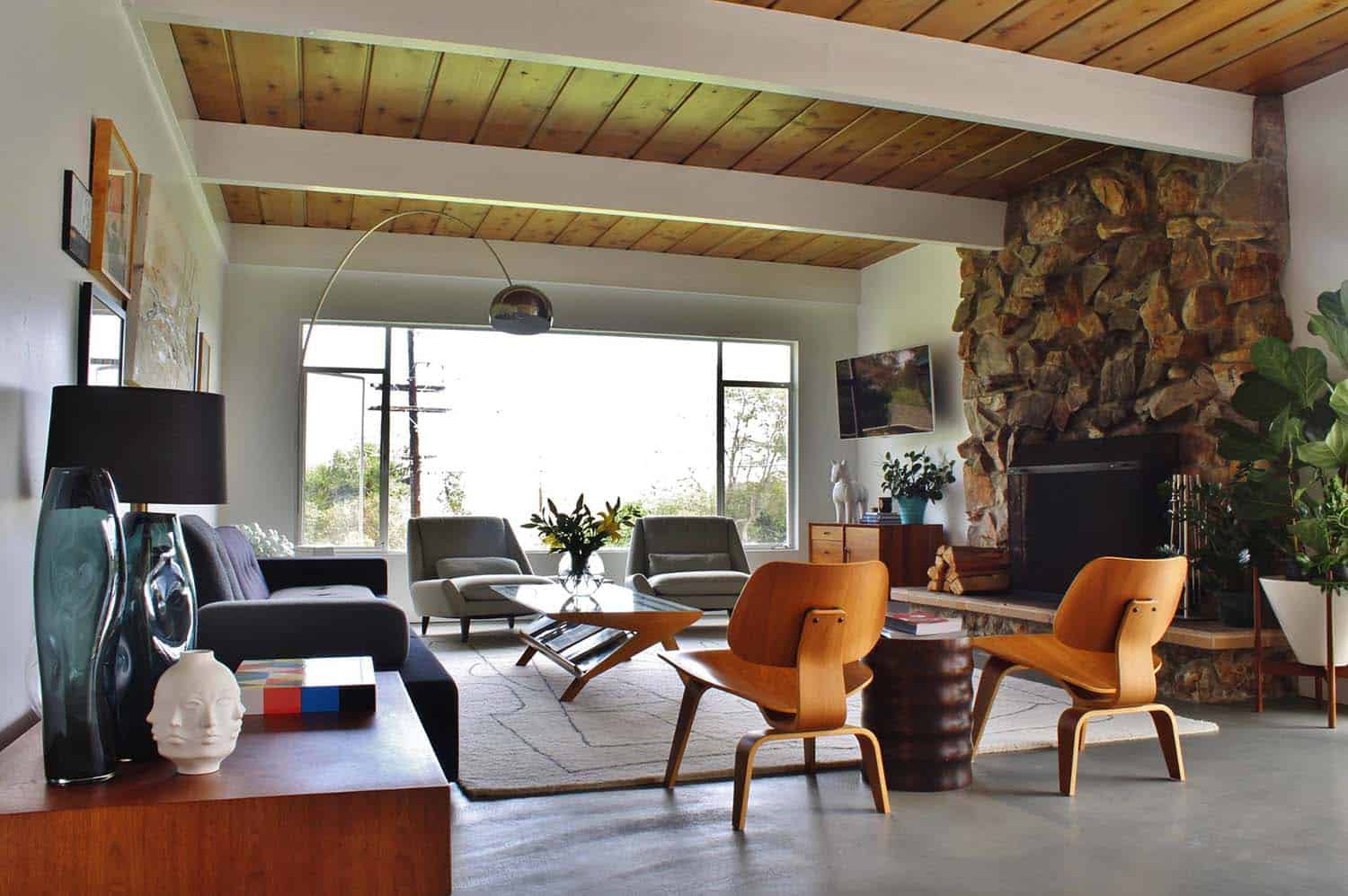 Contemporary Mid-century Modern Living Room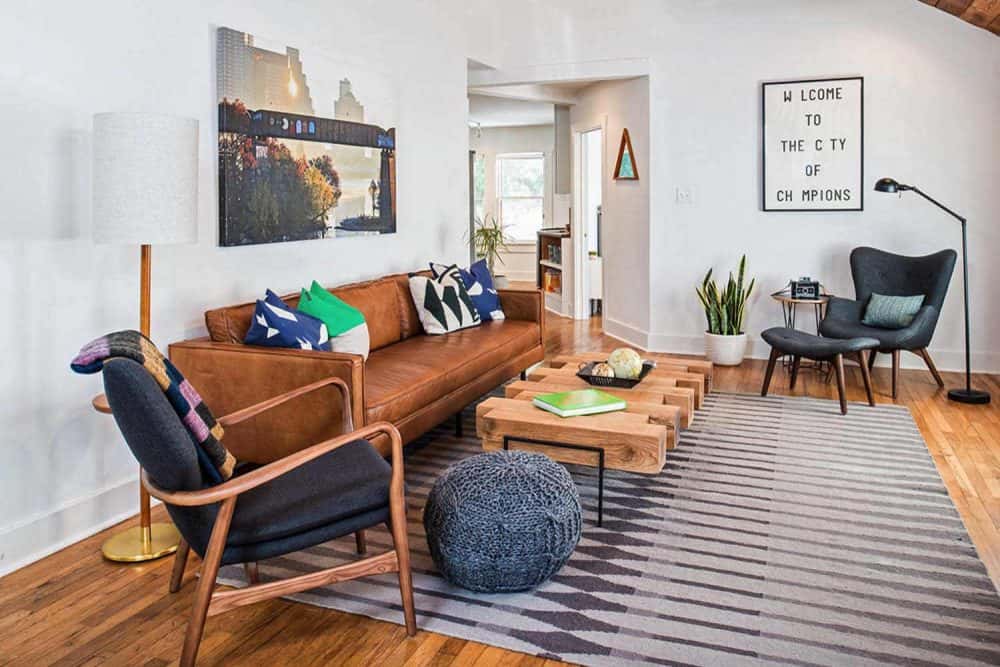 Floor to Ceiling Mirror Wall Mid-century Modern Style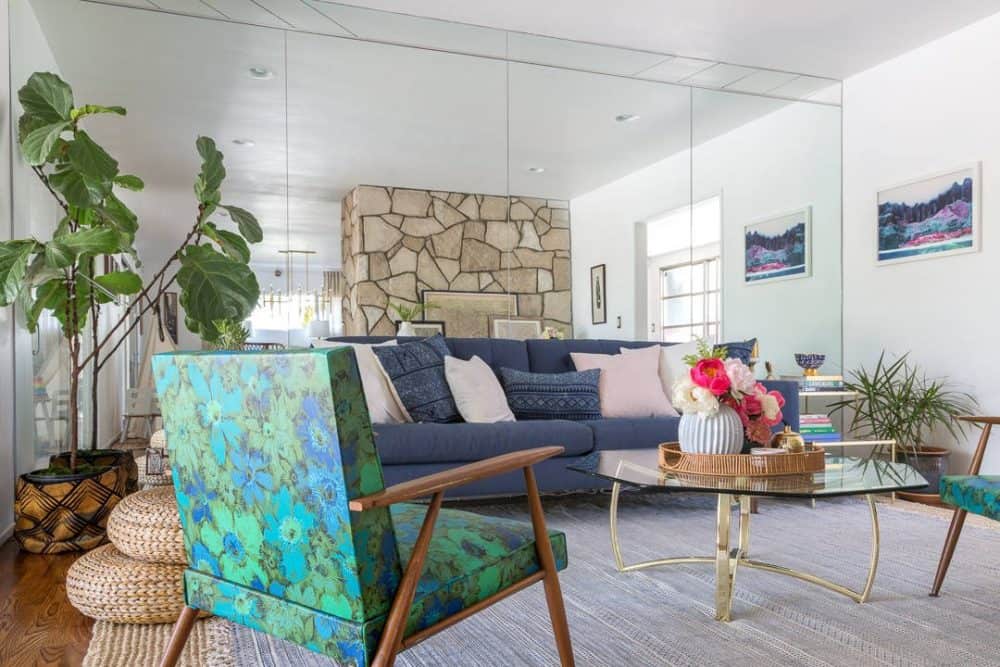 Cabin in the Woods Mid-century Modern Living Room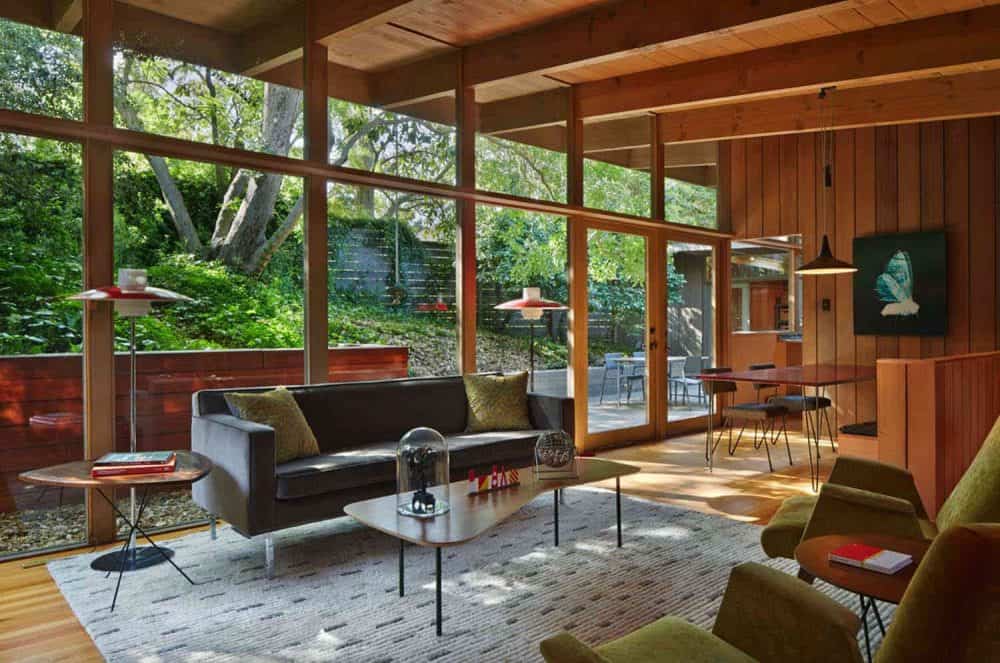 Coastal Mid-century Modern Living Room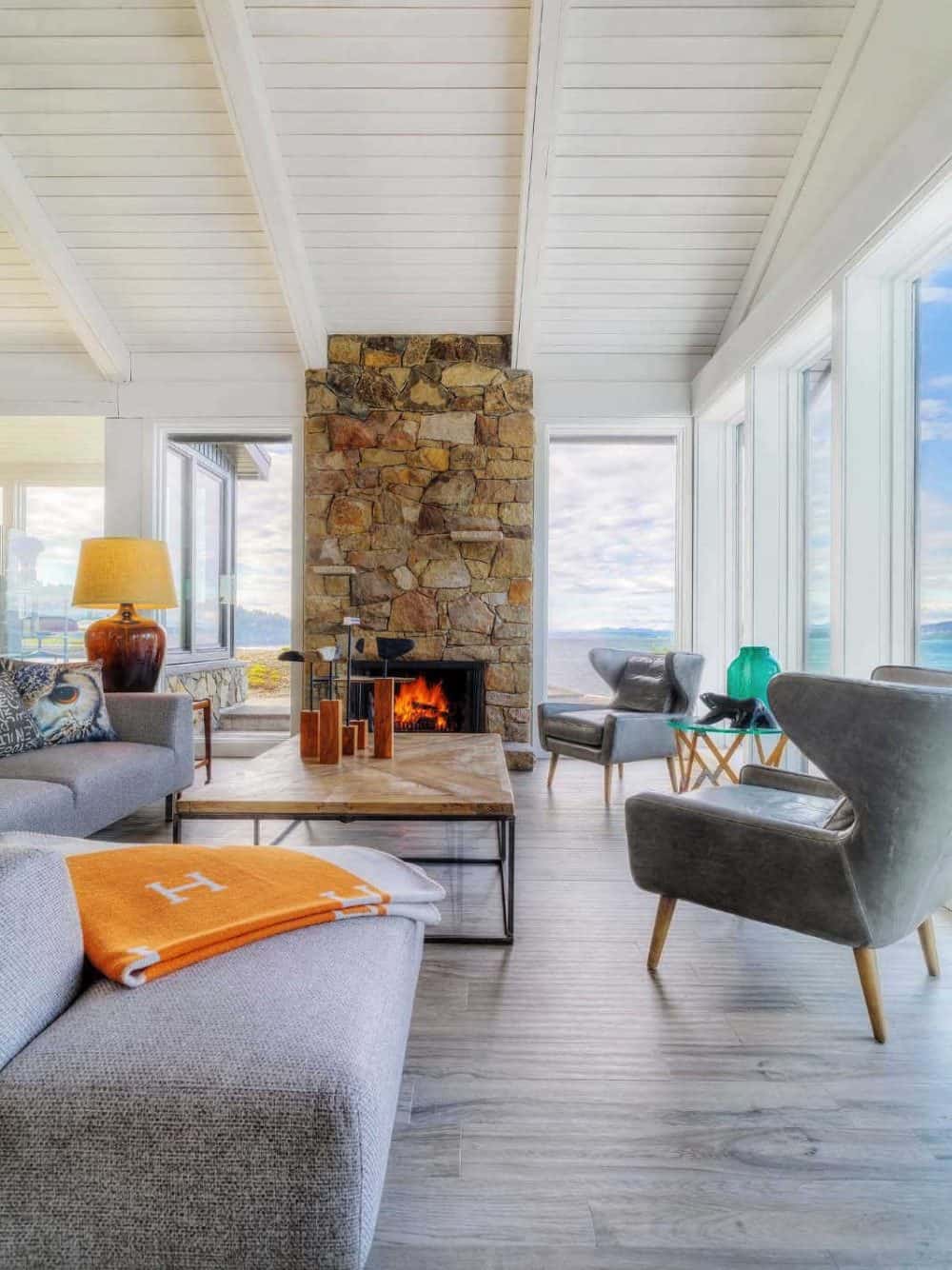 Mid-century Modern Living Room with Floral Print Armchairs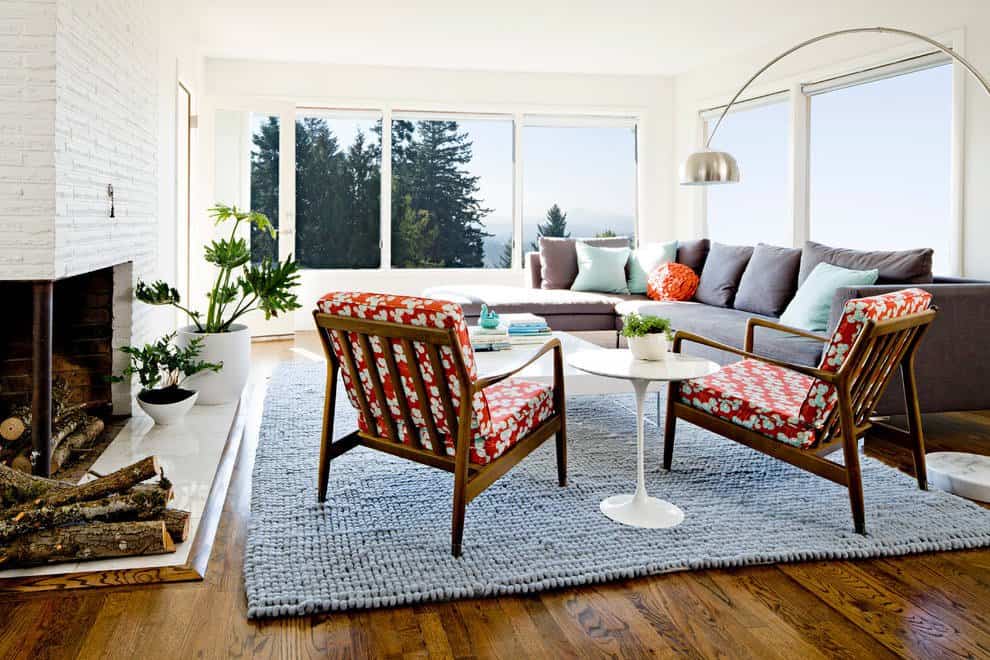 Urban Living Room in Mid-Century Modern Style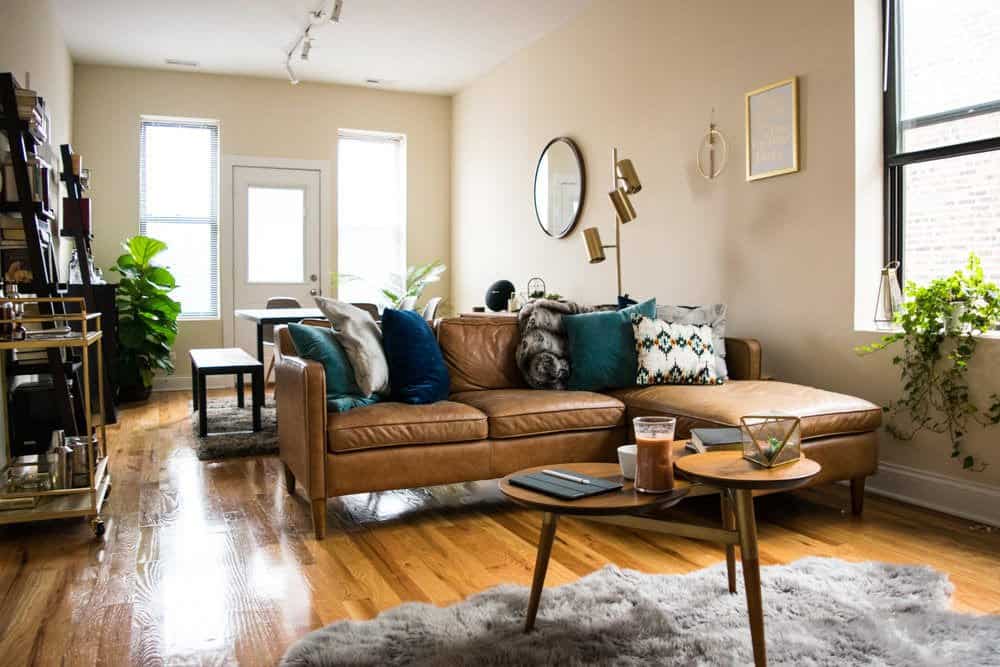 Wooden Ceiling with Vibrant Orange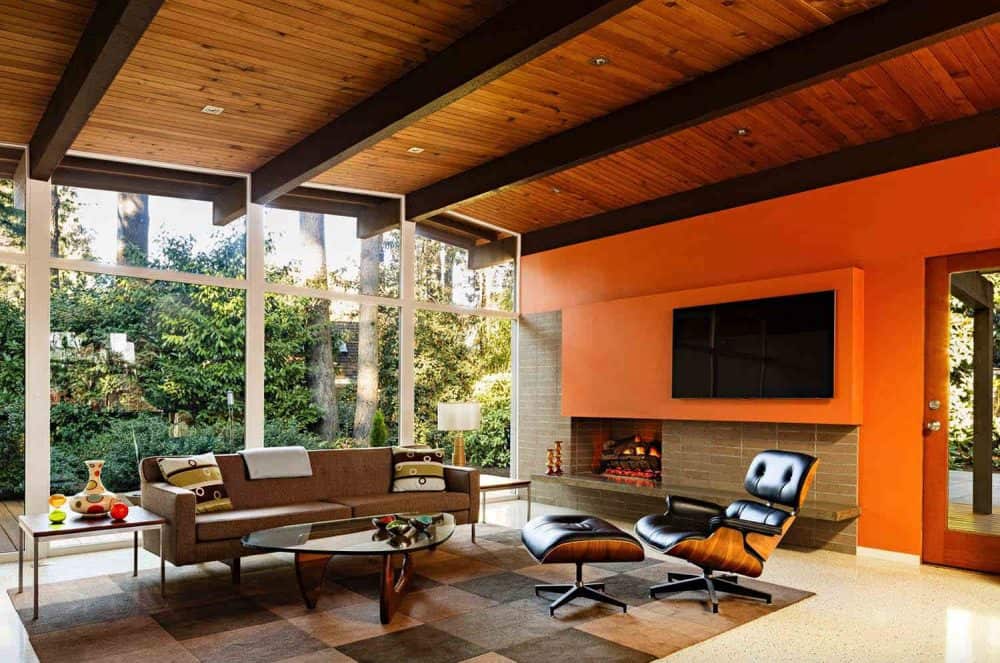 Simple Mid-Century Modern Living Room Design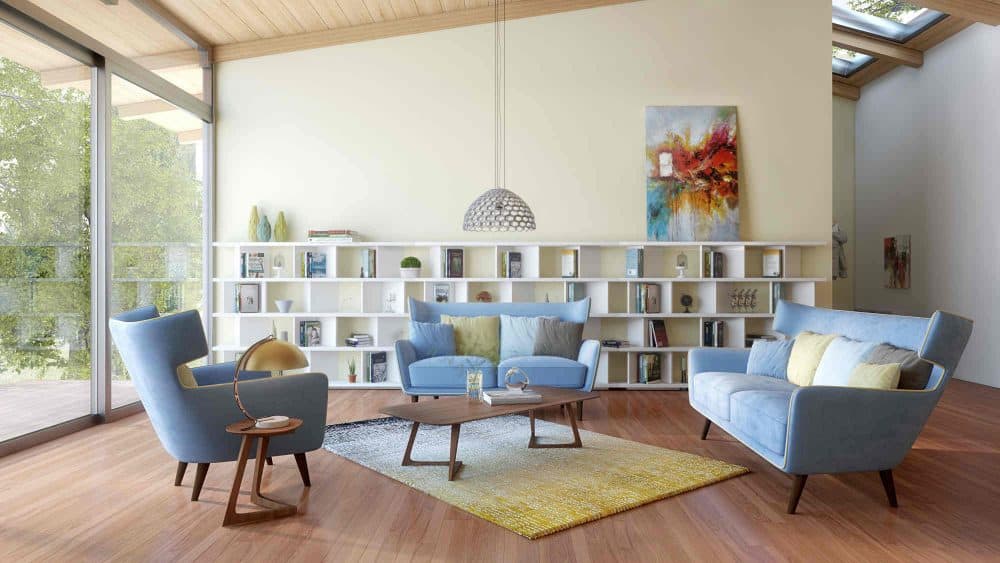 The beauty of mid-century modern design lies in its versatility, catering to different tastes and preferences. If you prefer a more subdued and minimalist approach, this option might be the perfect fit for you.
The room is adorned with soothing pastel colors and simple yet elegant decor. The wall is painted in a light brownish hue, providing a seamless transition from the brown ceiling.
Unique bookshelves add a touch of modernity while serving as functional storage for books and decorative items.
The essence of mid-century modern design is captured in the arrangement and style of the seating. A love chair, a single armchair, and a long sofa create a harmonious seating area. At the center, a wooden coffee table with a distinctive stand serves as a focal point.
To add a dash of flair, there is a striking lamp table that is sure to impress your guests. Overall, this concept embraces the softer side of mid-century modern style, offering a tranquil and refined ambiance.
Clean-Lined Mid-century Modern Living Room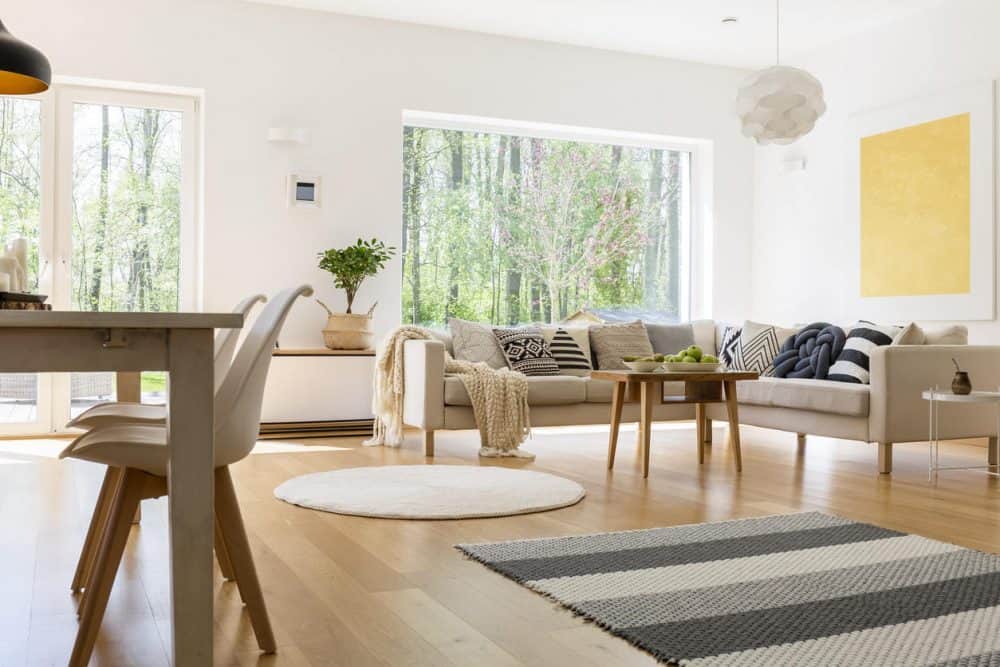 Mid-century modern design is renowned for its clean lines and sleek aesthetic, and this particular example showcases that distinctive characteristic beautifully. The white background sets the stage for endless creativity in terms of decoration and furniture combinations.
With white as the neutral base, the homeowner has the freedom to explore various color schemes based on personal preference. In this instance, the combination of white and khaki takes center stage. Khaki accents grace the furniture within the space, including the L-shaped sofa and the round carpet, infusing the room with a warm and inviting touch.
An All-White Sanctuary of Mid-century Modern Design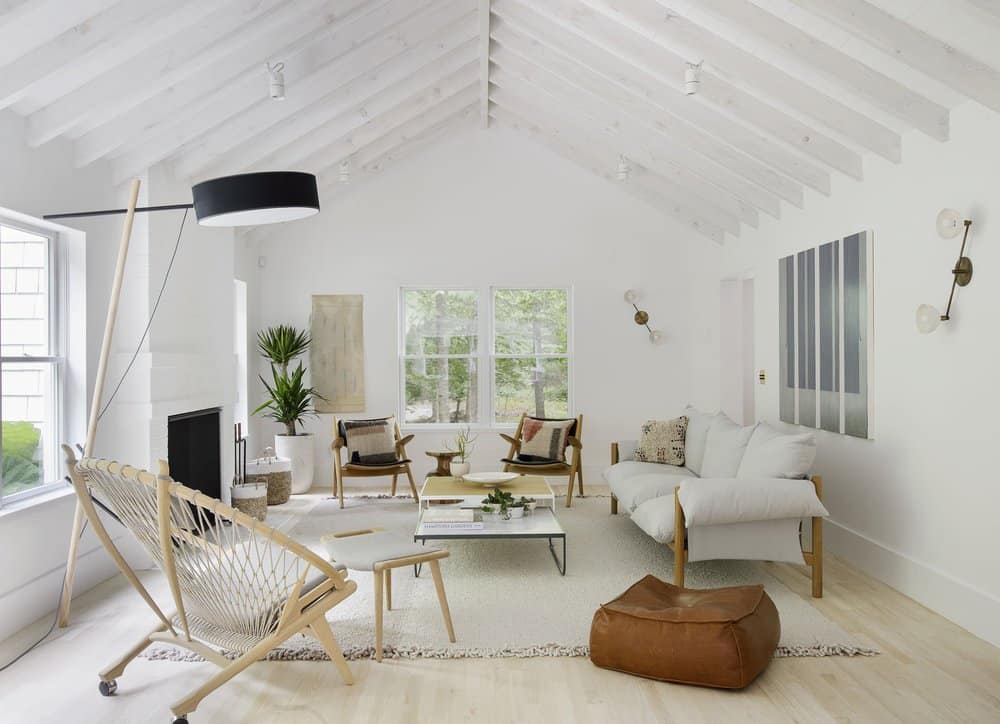 White is often considered a symbol of purity and is a popular choice in interior design for various reasons. It can create an open and modern look, adding a sense of spaciousness to a room.
However, using white as the dominant color comes with its own challenges, particularly in terms of maintenance. Stains can be easily noticeable and difficult to clean, making it a less practical option, especially for those with young children.
In this mid-century modern living room design, the emphasis is on cleanliness, which is a key aspect of the movement. The flooring is made of reclaimed pine wood, known for its durability and natural beauty. The light shade of the pine wood complements the white theme of the room.
To introduce some contrast, the design incorporates elements that go higher on the color wheel. For example, a hanging lamp with black accents adds visual interest, and a pair of armchairs at the back of the room features a rich, dark brown color, creating a balanced and visually appealing composition.
Contemporary Floor to Ceiling Windows in Mid-century Modern Room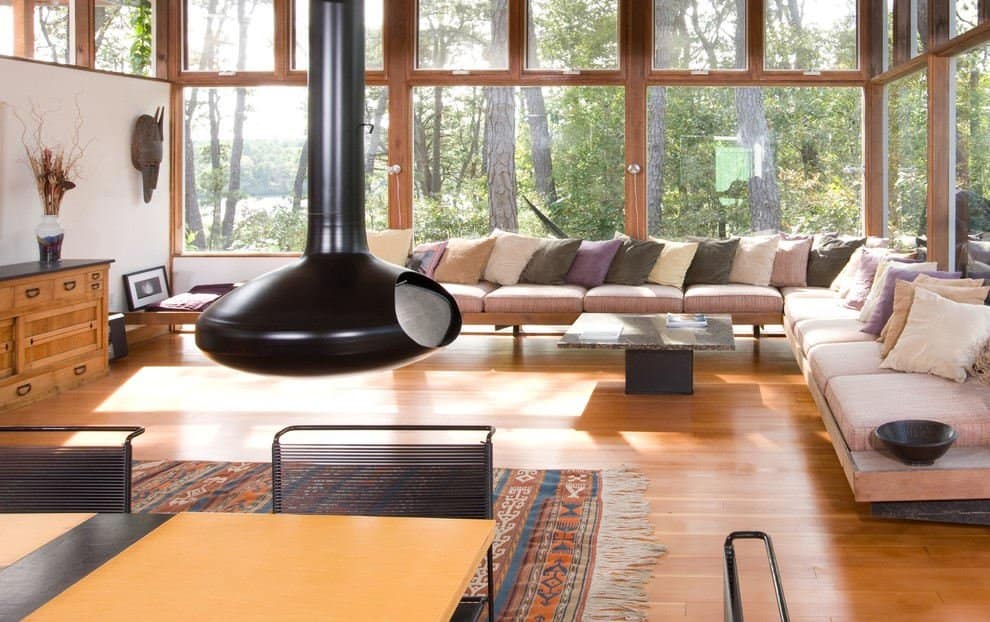 What immediately draws your gaze in this living room? Is it the striking floor-to-ceiling windows or the captivating hanging fire pit?
The floor-to-ceiling windows in this design are truly impressive, adding a sense of grandeur and allowing abundant natural light to flood the room. The ample sunlight not only creates a bright and welcoming atmosphere but also reduces the need for artificial lighting, resulting in energy efficiency.
However, it's important to consider the potential privacy concerns that come with such expansive windows. This can be addressed by using long drapes or blinds to control the amount of visibility from outside, and by implementing a robust security system for added peace of mind.
Now, let's shift our attention to the distinctive hanging fire pit at the center of the room. Its black color stands out against the surrounding furniture, creating a striking contrast and serving as a focal point. The presence of the fire pit adds warmth and creates a cozy ambiance, perfect for gatherings and relaxation.
Urban Mid-century Modern Living Room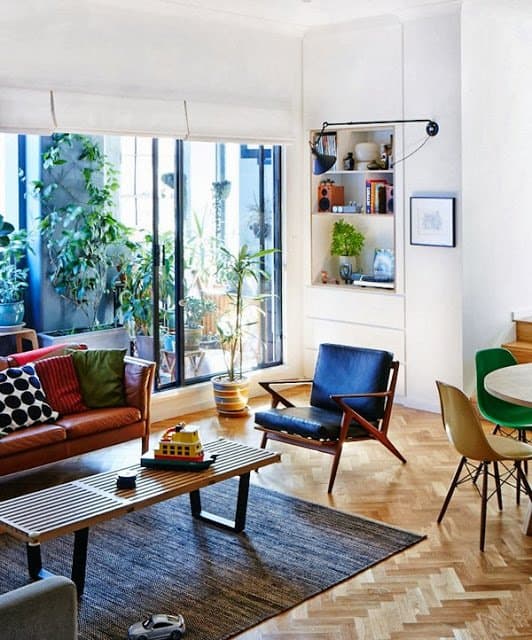 Have you come across the mid-century modern design that truly captivates you? If not, fret not, as there are two more ideas to explore, one of which may be your destined inspiration.
This particular living room embraces the essence of mid-century modern through its furniture selection. The eye-catching blue armchair boasts a vintage wooden frame, exuding a nostalgic charm that is further enhanced by the square cushions. The same style of frame can be observed in the unique coffee table and the sofa positioned on the left.
In today's world, achieving a complete mid-century modern living room design can be quite challenging. However, you can overcome this obstacle by incorporating a modern twist. For instance, consider adding a contemporary pattern to the flooring, elevating the visual appeal of the living space while harmonizing with the overall aesthetic.
Serene Mid-century Modern Living Room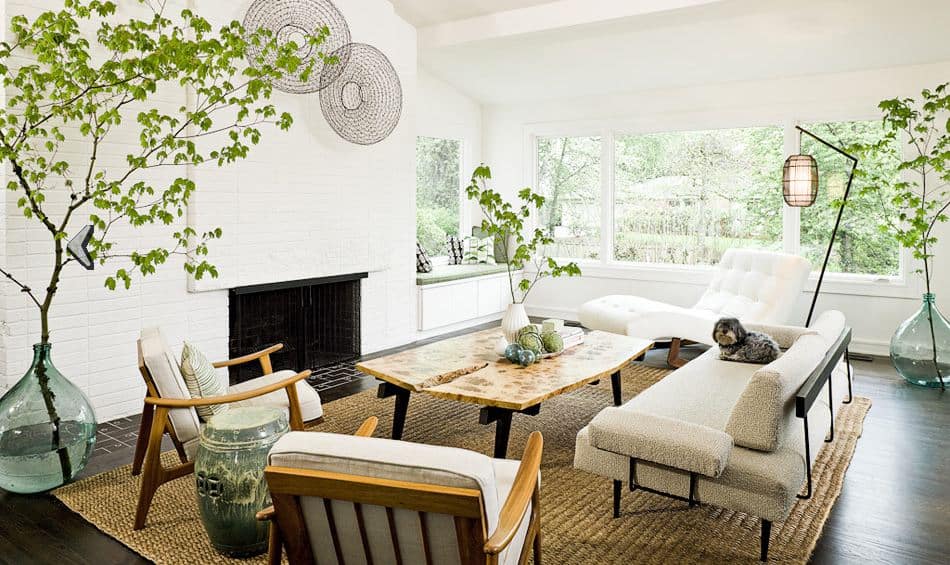 A living room serves as a gathering space for the entire family, where moments of joy and togetherness are cherished. With this in mind, homeowners seek out interior designs that embody creativity and offer a unique experience. This idea may just be one of those captivating concepts.
When it comes to relaxation, the atmosphere plays a crucial role. To create a serene ambiance, a transformative approach can be taken by flipping the entire wall and applying a fresh coat of pristine white paint. This clean and bright backdrop sets the stage for a tranquil setting.
Finding tranquility often involves immersing ourselves in natural surroundings, such as during a mountain hike or a peaceful encounter with nature. To evoke that sense of serenity within the living room, the presence of plants becomes essential. Embracing the mid-century modern aesthetic, we recommend using glass pots to showcase the greenery, adding a touch of elegance and enhancing the overall vibe.