While each flower holds its own symbolic significance, white flowers generally embody qualities of innocence, purity, and sympathy. Their presence in an outdoor garden lends an elegant and regal ambiance, creating a serene and tranquil space for relaxation. Whether you envision an all-white garden or seek to incorporate white flowers into your floral arrangements, there is a wide array of unique and stunning blossoms to select from.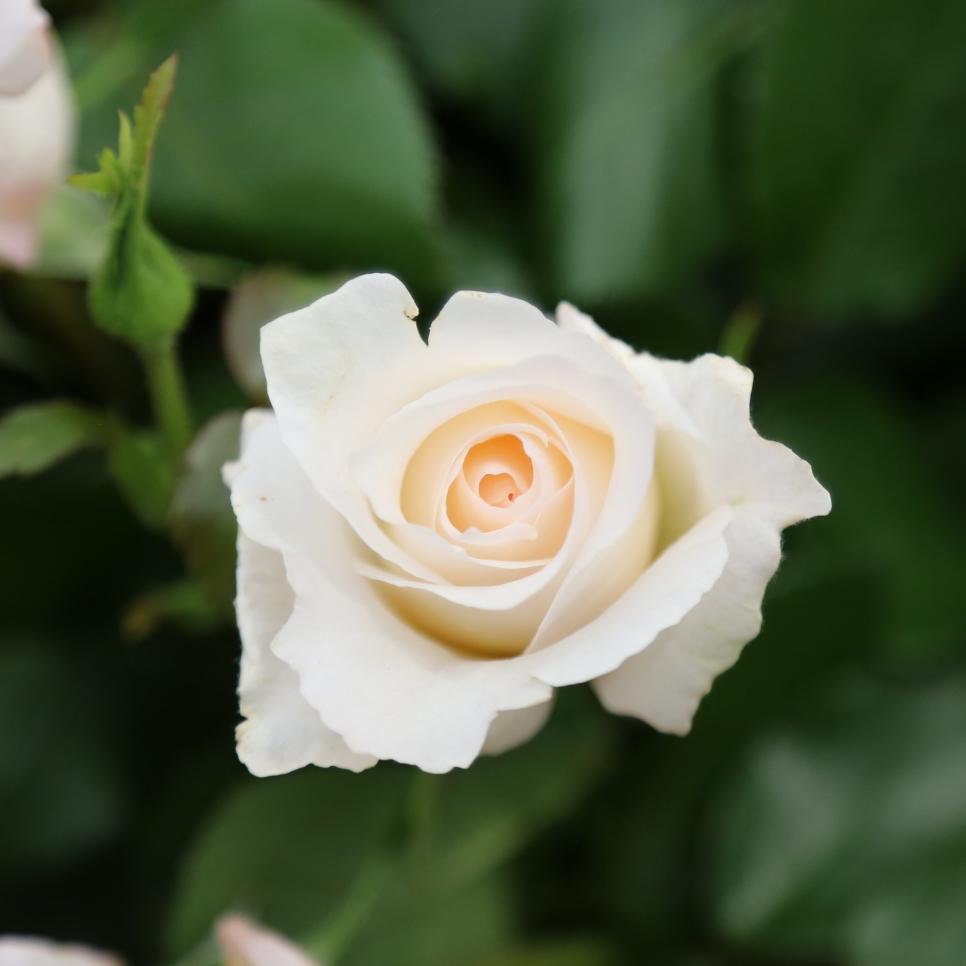 75 Popular Types of White Flowers:
1. Bellflowers (Campanula)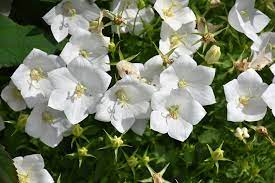 The Campanula genus, belonging to the Campanulaceae plant family, encompasses an extensive collection of flowering plants, surpassing 500 species along with numerous subspecies. These plants, commonly known as bellflowers, derive their name from the bell-like shapes of their blossoms, which is reflected in their scientific genus name, derived from the Latin term for "little bell."
While many species of bellflowers are indigenous to the Middle East and Caucuses, there are also native varieties found across temperate and subtropical regions throughout the Northern Hemisphere. Within this diverse genus, you can find a range of annual, biennial, and perennial flowers, offering a captivating array of colors such as white, blue, purple, and pink.
2. Moonflower (Ipomoea alba)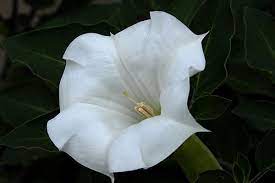 About:
Known by various names such as moonvine and tropical white morning glory, the moonflower (Ipomoea alba) is a captivating member of the Ipomoea genus, which belongs to the Convolvulaceae plant family, commonly known as morning glories.
Native to the tropical and subtropical regions of the Americas, these plants have gained popularity worldwide for their enchanting presence in night gardens. Moonflowers are characterized by their woody, vine-like growth, capable of reaching impressive lengths or heights of up to approximately 100 feet.
The trumpet-shaped flowers of the moonflower exhibit a delicate white or light pink hue and boast a remarkable size, with some blossoms expanding to nearly 6 inches in diameter. One of their most captivating features is their intense, sweet fragrance, which becomes particularly prominent when the flowers unfurl during the nighttime hours.
3. White Hyacinth Flowers (Hyacinthus)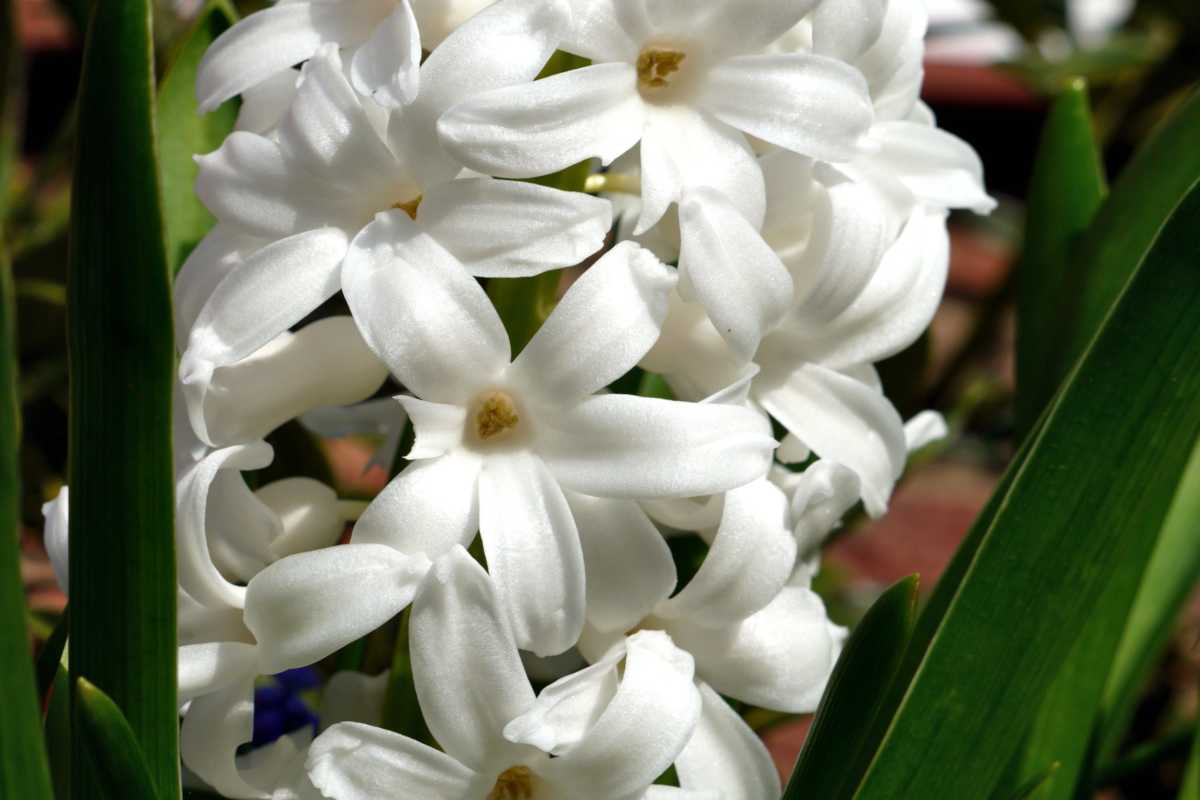 About:
Hailing from the eastern Mediterranean region, the Hyacinthus genus comprises bulbous perennials that belong to the Asparagaceae plant family, also known as the asparagus family.
Hyacinths are renowned for their emergence during the spring season, symbolizing the arrival of new life as they boldly bloom shortly after winter's end. These resilient flowers often defy the lingering snow, pushing their stalks upward to showcase their vibrant colors. While the genus is relatively small, it encompasses various species, with Hyacinthus orientalis being the most commonly cultivated in gardens and utilized in floral arrangements.
Hyacinth plants bear one to three spikes or racemes adorned with an array of strongly fragrant flowers. These blossoms come in an enchanting palette of hues, including white, blue, purple, red, pink, peach, and yellow, captivating the senses with their delightful scents and adding a touch of natural elegance to any setting.
4. Magnolia (Magnolia)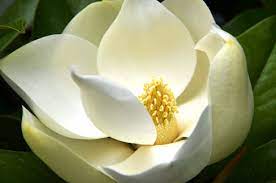 About:
The Magnolia genus encompasses a vast array of flowering plants that are classified within the Magnoliaceae, also known as the magnolia family. Fascinatingly, these plants evolved before bees, resulting in their unique method of attracting and being pollinated by beetles.
Contrary to the traditional concept of flowers with distinct petals, magnolias possess tepals, which appear as milky-white structures. This distinctive characteristic sets them apart and adds to their allure. The origin of magnolia plants can be traced back to two separate centers. One center spans across the Americas, while the other is predominantly located in the eastern and southeastern regions of Asia. This geographic diversity contributes to the captivating variety of magnolia species found across the globe.
5. Larkspur (Delphinium)



About:
Delphinium, also known as larkspur, is a remarkable genus comprising approximately 300 species of flowers that are native to various regions in the Northern Hemisphere, as well as certain mountainous areas of tropical Africa. These captivating plants belong to the Ranunculaceae plant family, commonly referred to as the ranunculus family.
Within the genus, one can find both annual and perennial varieties, each with its unique characteristics and growing habits. When in full bloom, Delphinium plants showcase tall stalks adorned with exquisite flower blossoms that come in an enchanting array of shades, including purple, blue, pink, and white. Interestingly, the genus derives its name from the ancient Greek word "delphínion," which translates to "dolphin." This name pays homage to the graceful and elegant shape of the flowers, which bears a resemblance to the playful creatures of the sea.
6. Baby's Breath (Gypsophila)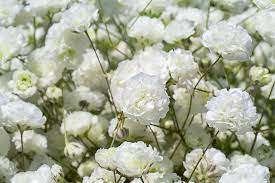 About:
Gypsophila, also known as baby's breath or babe's breath, is a captivating genus encompassing approximately 150 species of flowering plants. Belonging to the Caryophyllaceae plant family, which includes carnations, these plants are cherished for their abundant clusters of dainty, white flowers.
With a relatively broad native range, Gypsophila can be found growing naturally in various regions around the world, including Europe, Asia, Northern Africa, Australia, and the Pacific Islands. Despite its popularity in fresh and dried floral arrangements, this plant is considered a weed in many areas due to its invasive growth habits.
7. White Chrysanthemum Flowers (Chrysanthemum)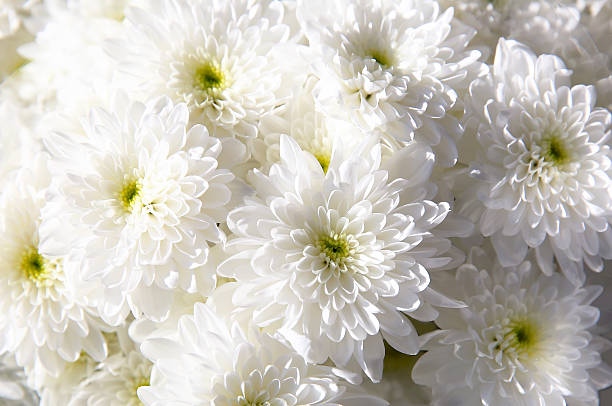 About:
Chrysanthemum, a remarkable genus, consists of approximately 40 flowering subshrubs or herbaceous perennials that belong to the Asteraceae plant family, also known as the daisy family. These captivating plants have their origins in northeastern Europe and eastern Asia, with China being the birthplace of a significant number of species.
In their natural habitats, chrysanthemums typically display stunning golden or yellow hues. However, these versatile plants have the ability to bloom in almost every color imaginable. Among the wide array of chrysanthemum varieties, there are exquisite white cultivars available, each exhibiting unique flower forms. These include reflexed, incurved, intermediate, pompon, single, anemone, spoon, and quill, each possessing its own distinct beauty.
8. White Foxgloves (Digitalis)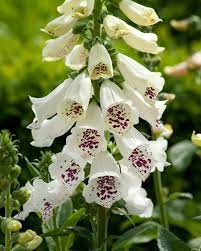 About:
Within the Plantaginaceae plant family, the Digitalis genus is comprised of approximately 20 species of remarkable perennial and biennial flowering plants, as well as shrubs. These enchanting plants, more commonly known as foxgloves, can be found naturally in regions spanning northwestern Africa, Europe, and western Asia.
One of the distinguishing features of foxgloves is their ability to produce tall spikes that bear an abundance of captivating, tube-shaped flowers. These blossoms showcase an exquisite color palette, ranging from various shades of purples and pinks to pristine white. When in full bloom, the clusters of flowers form impressive racemes that add a touch of grandeur to any garden. Additionally, foxgloves are known to attract and provide nourishment to butterflies and moths, contributing to the vibrant and diverse ecosystem of the garden.
9. White Petunia Flowers (Petunia)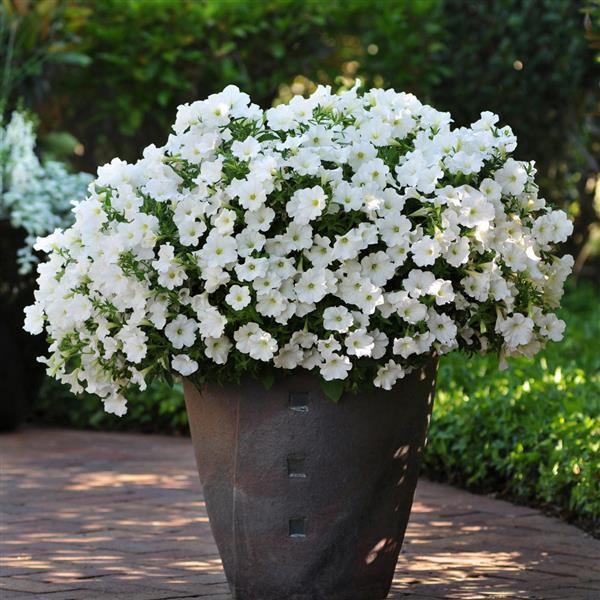 About:
Belonging to the Solanaceae plant family, the Petunia genus encompasses a diverse collection of 20 perennial flowering plants. Originating from South America, these plants have captured the hearts of garden enthusiasts worldwide. Petunia hybrids, in particular, have gained immense popularity as they exhibit clumping or trailing growth habits, making them ideal for adorning containers, hanging baskets, and window boxes.
One of the most remarkable traits of Petunias is their ability to produce tubular, star-shaped flowers. While they showcase an array of shades in white and delightful combinations of white with other vibrant hues, their blooming repertoire extends to include nearly every color and color combination imaginable. Petunia petals exhibit captivating patterns, ranging from solid shades to mesmerizing stripes and intricate speckles. With such diverse and captivating blossoms, Petunias bring a delightful burst of color and charm to any garden setting.
10. White Hydrangea Flowers (Hydrangea)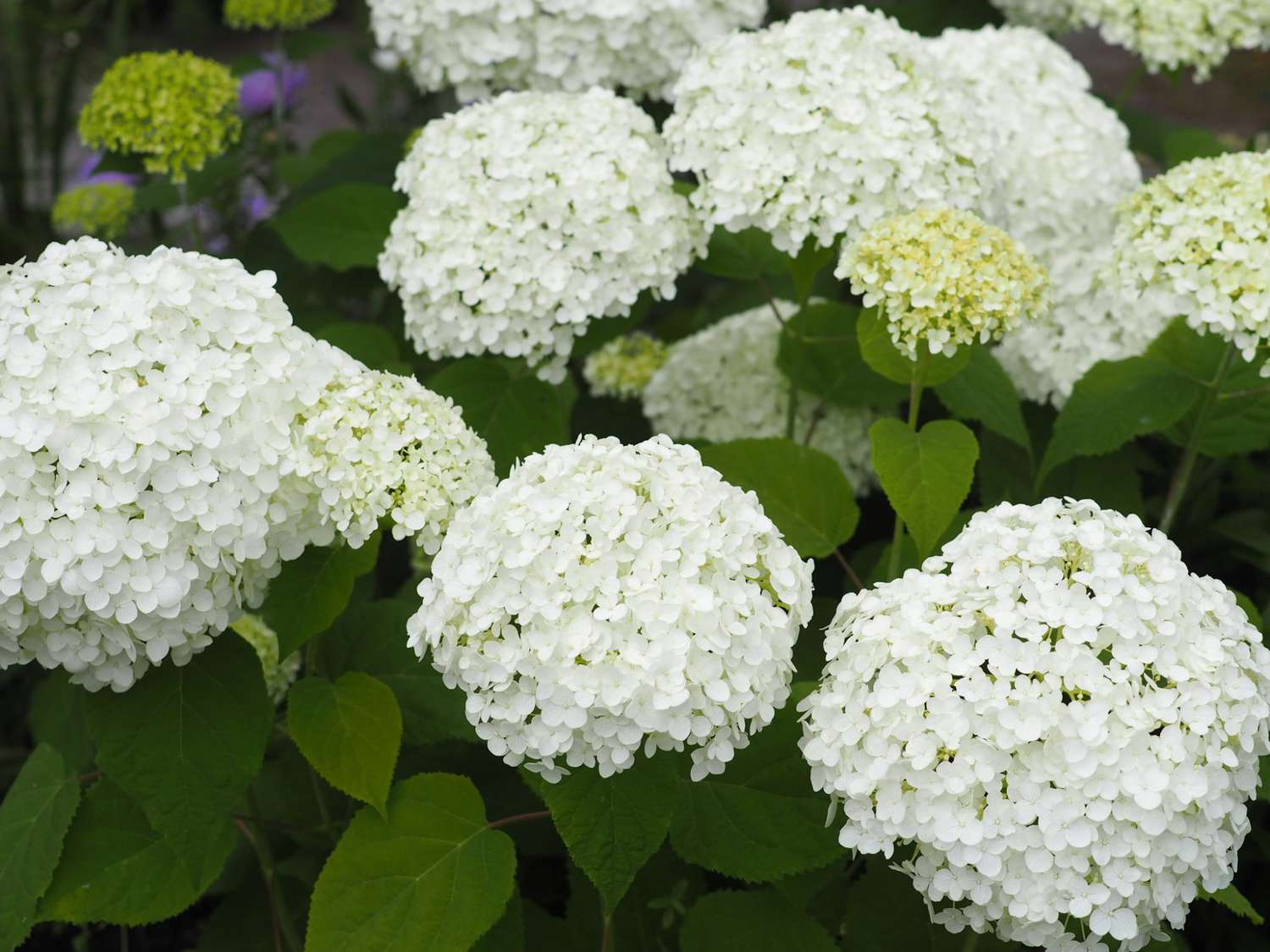 About:
The Hydrangea genus, also known as hydrangea or hortensia, encompasses approximately 75 species of exquisite flowering plants within the Hydrangeaceae plant family. These plants have a wide distribution, with native species found in both the Americas and Asia. However, the majority of Hydrangea species trace their origins back to Japan, China, and the Koreas.
Hydrangea plants exhibit diverse growth forms, ranging from woody vines to small trees. They display both deciduous and evergreen characteristics, though the deciduous varieties are most commonly cultivated in gardens. One of the most captivating features of Hydrangeas is their globe-shaped clusters of flowers. These blossoms naturally possess a greenish-white hue, exuding an elegant charm. However, the flower colors can transform into delightful shades of cotton candy pink, blue, or purple, depending on the pH level of the soil in which they are grown. This fascinating color-changing ability adds a touch of enchantment to any garden landscape.
11. White Dahlia Flowers (Dahlia)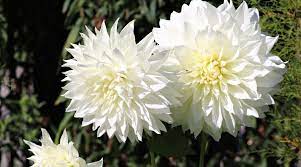 About:
Belonging to the Asteraceae plant family, the Dahlia genus is comprised of 42 distinct species, along with a multitude of cultivars and hybrids. These herbaceous perennial plants are indigenous to the vibrant landscapes of Central America and Mexico.
Dahlias are cherished for their spectacular flower heads, which boast an abundance of pointed petals arranged in captivating geometric patterns that radiate from the center of the bloom. Their exquisite beauty is enhanced by a diverse palette of colors, ranging from vibrant hues to subtle shades. Among the myriad variations, there are several delightful dahlia varieties that showcase creamy tones of white, exuding an air of elegance and grace.
12. White Peony Flowers (Paeonia)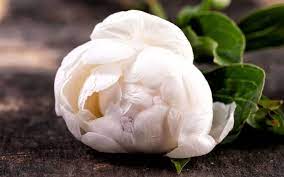 About:
Belonging to the unique Paeoniaceae plant family, the genus Paeonia encompasses a fascinating array of flowering plants. While the exact number of species within the genus is a subject of debate, it ranges between 25 and 40, with 33 species currently acknowledged.
Peonies, as they are commonly known, exhibit remarkable diversity in their growth habits. Most peonies are herbaceous perennials, but the genus also includes shrub-like varieties. These plants showcase not only alluring foliage but also captivating flower blossoms. The blooms come in a variety of shapes and forms, including single-petaled varieties, semi-double varieties reminiscent of lotus, rose, and chrysanthemum, as well as double-petaled varieties like anemone, hundred proliferate, golden circle, thousand petal crown, and hydrangea globular forms.
13. Bouvardia (Bouvardia)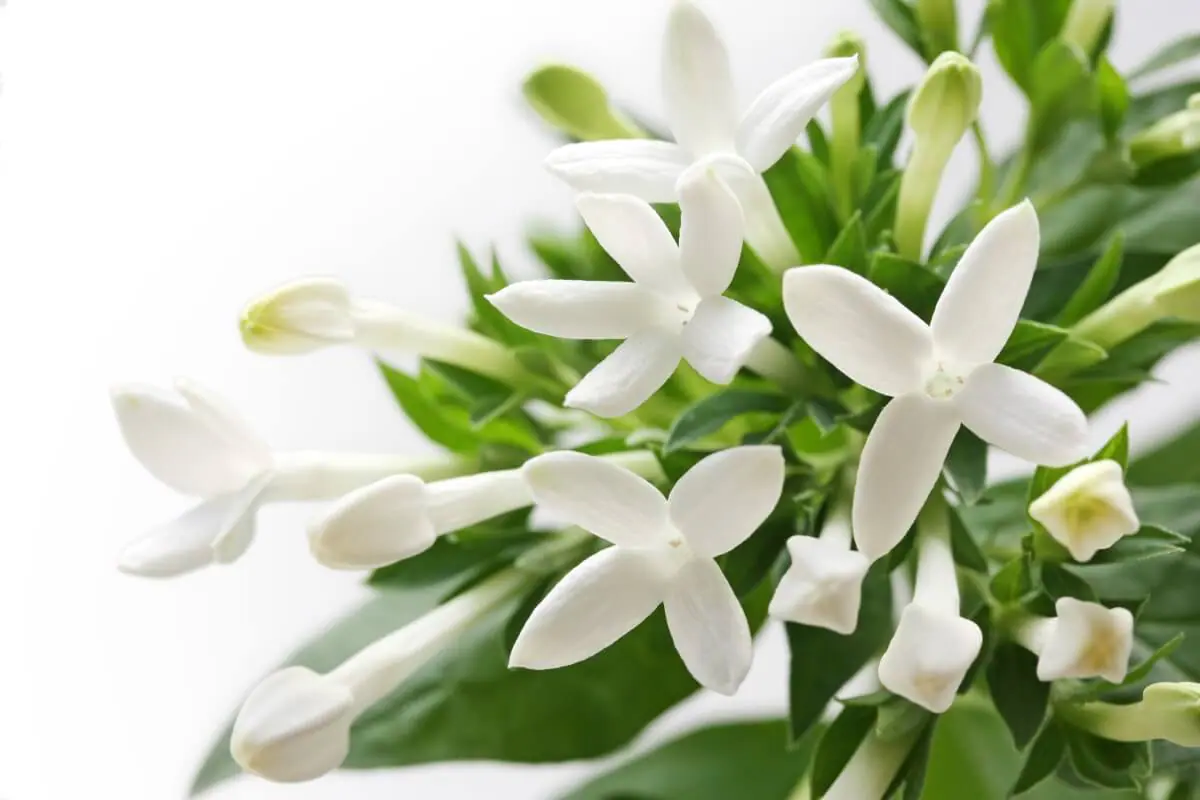 About:
The Bouvardia genus, a part of the Rubiaceae plant family, comprises approximately 50 species of captivating flowering evergreen shrubs and herbs. While one species can be found in the southwestern United States, the rest are native to Mexico and Central America.
Bouvardia plants are known for their exquisite beauty, featuring clusters of delicate four-lobed flowers. These charming blooms showcase a captivating range of colors, including shades of yellow, pink, red, and white. Bouvardias are highly sought-after for indoor cultivation as houseplants, bringing a touch of elegance to interior spaces. In warmer climates, they also thrive as outdoor garden plants, adding beauty and vibrancy to landscapes.
14. Star of Bethlehem (Ornithogalum)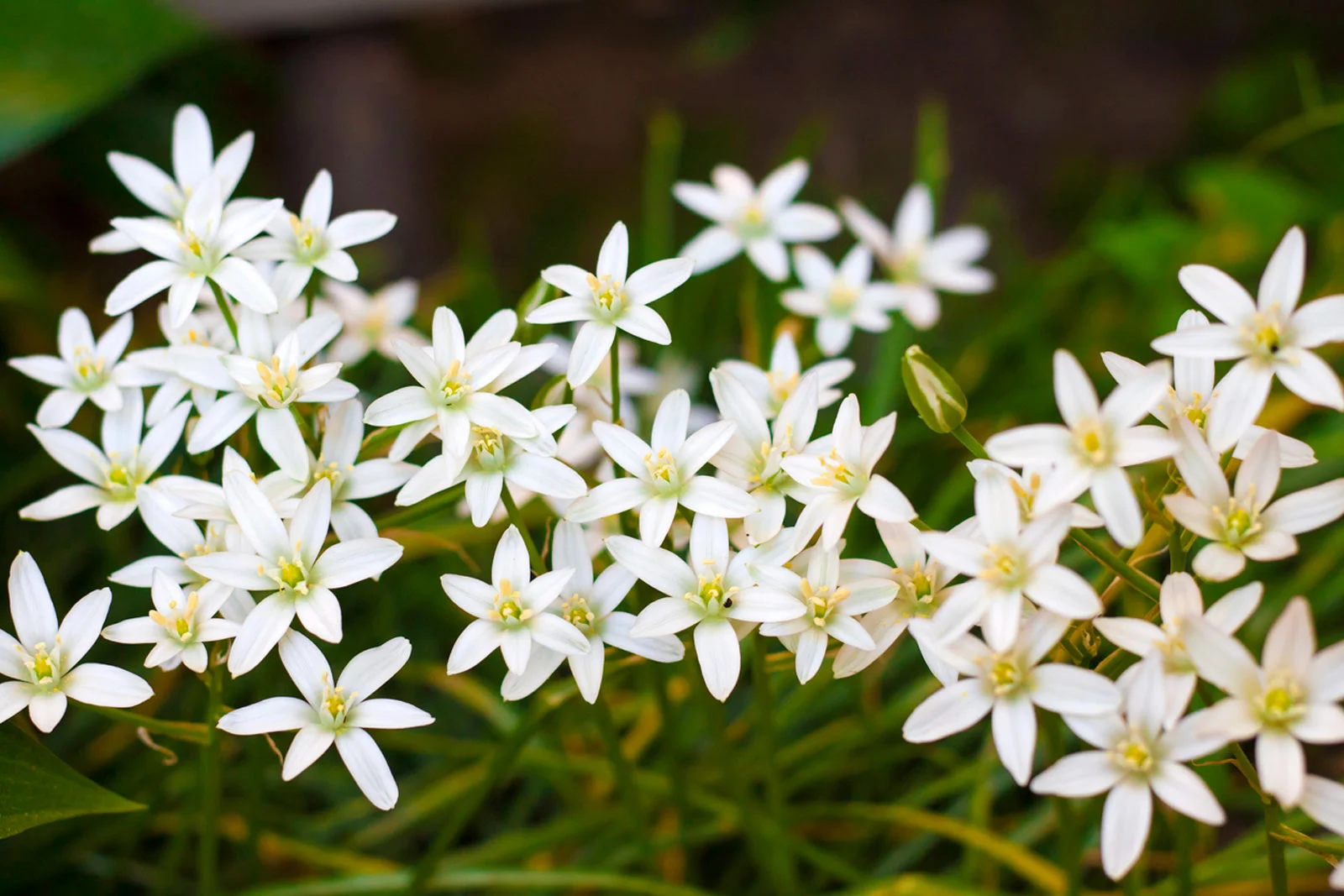 About:
Ornithogalum, a genus of bulbous perennial plants, is native to the beautiful regions of southern Africa, southern Europe, and the Caucasus. These plants belong to the Asparagaceae plant family, also known as the asparagus family.
Affectionately referred to as the "Star of Bethlehem," Ornithogalum plants earn their name from the stunning appearance of their flowers. These blossoms, with their bright-white coloration, showcase a striking star-like shape composed of six delicate petals. The flowers emerge gracefully from lush, grassy clumps of foliage, adding a touch of celestial beauty to their surroundings.
15. Steptocarpus (Streptocarpus)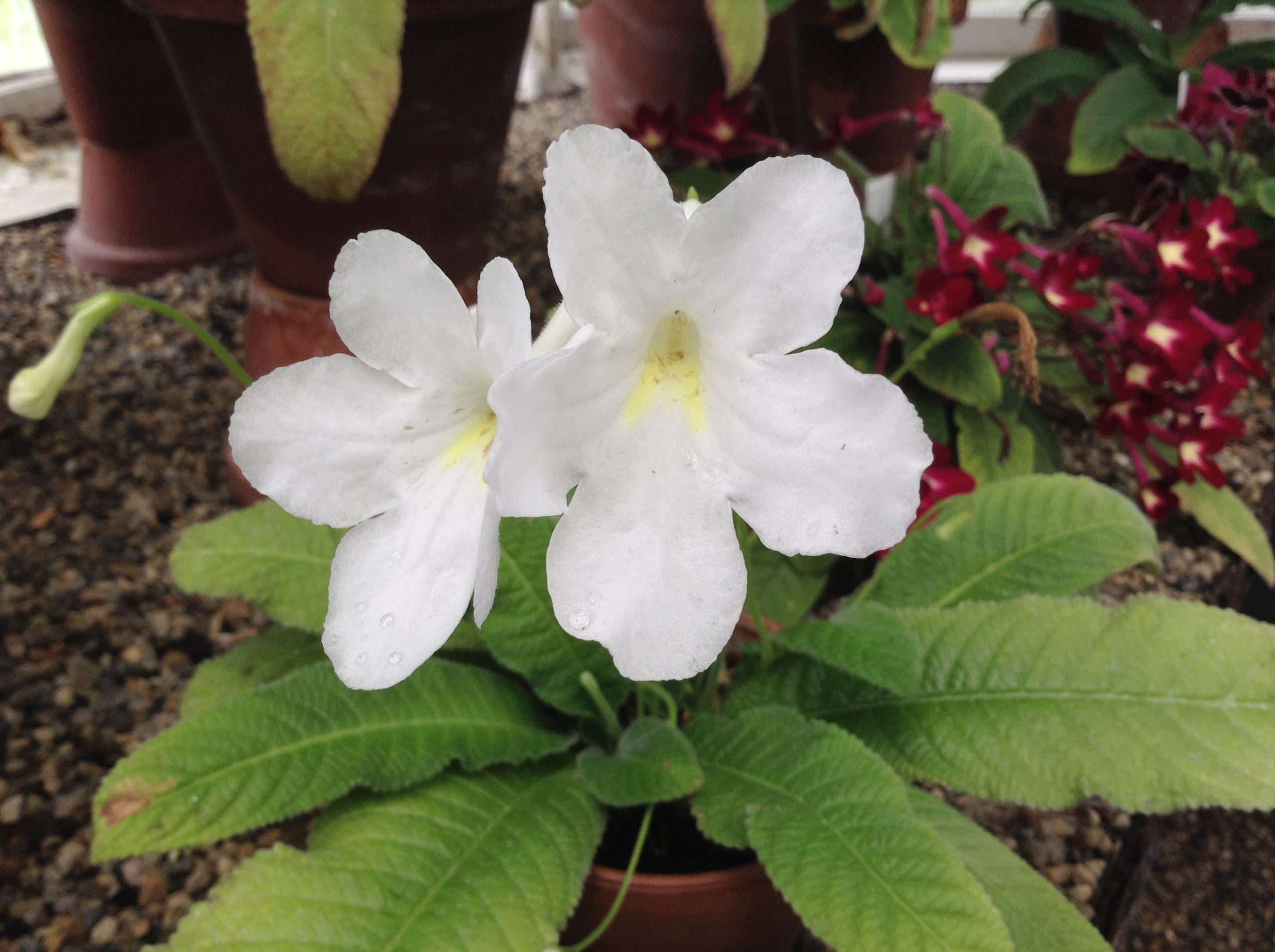 About:
Streptocarpus, a genus found primarily in the Afrotropical region, belongs to the plant family Gesneriaceae. The genus name derives from two Greek words meaning "twisted fruit," which aptly describes the unique shape of the elongated, tusk-like fruits produced by these plants.
Streptocarpus plants showcase a captivating structure, with central rosettes of large, glossy, and ovate leaves. Emerging from these leaf clusters, slender stalks rise upward, adorned with slightly tubular flowers that bear a resemblance to orchid blossoms. The blooms add a touch of elegance and charm to these remarkable plants.
16. Daffodil (Narcissus)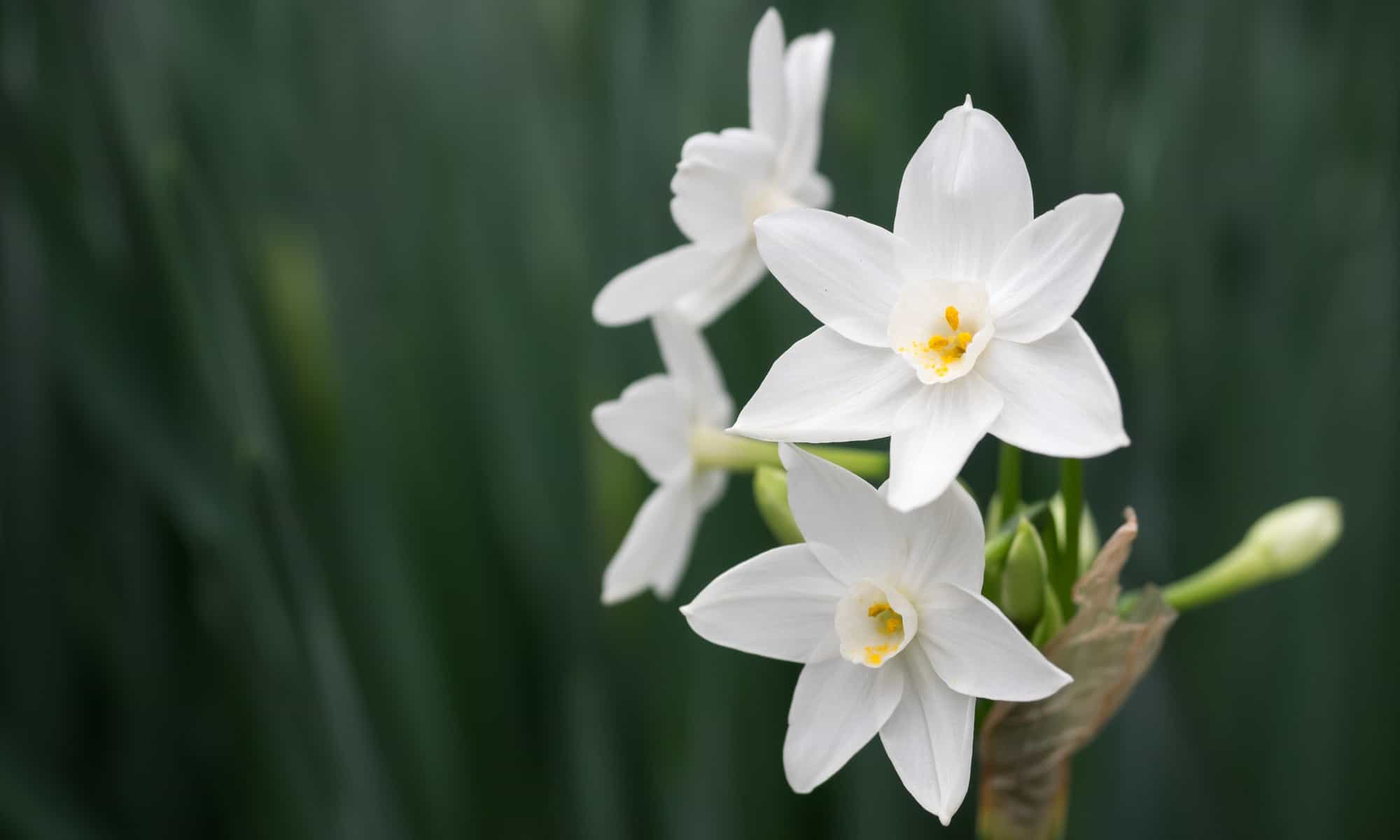 About:
The Narcissus genus, comprising approximately 50 species of perennial flowering plants, brings us the beloved flowers known as narcissus, jonquil, and daffodil. Native to southern Europe and northern Africa, these stunning blooms belong to the Amaryllidaceae plant family. Renowned as harbingers of spring, they emerge with joyous enthusiasm, often gracing us with their presence at the start of the season and sometimes even in early winter. Narcissus flowers enchant us with their cheerful starry blossoms, boasting prominent, trumpet-shaped centers in hues of luminous white and vibrant yellow.