If you're looking to create a cozy atmosphere in your home, adding throw pillows should be high on your priority list. These decorative accents not only bring depth and texture to your spaces but also provide a sense of comfort while enhancing the overall color palette.
Choosing the right set of pillows can be a challenge, especially when you have a brown or coffee-hued couch. Whether you prefer light or darker tones, subtle or bold patterns, or a modern or mid-century style, there is a wide variety of options available to suit your preferences.
To help you out, here is a curated list of 20 throw pillows that will beautifully complement your brown couches and elevate the aesthetics of your space.
Choose Earthy Tones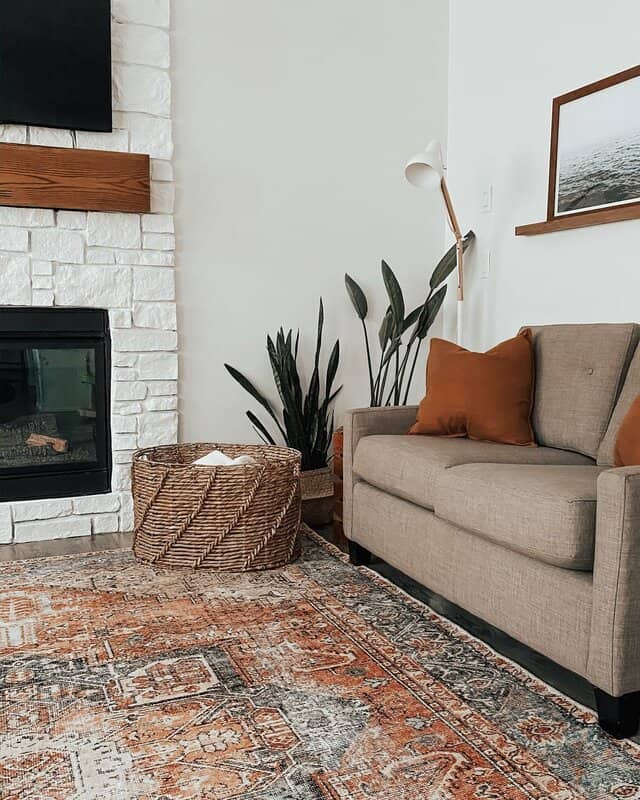 Brown is a versatile color that can evoke different feelings depending on personal preferences. To add a warm and inviting touch to your space, consider incorporating throw pillows in earthy tones such as terracotta, burnt oranges, warm whites, red browns, and warmer grays.
Whether you're decorating your living room or bedroom, these accent pillows will beautifully complement a brown couch. They work well with various interior design styles, including Modern Bohemian, French Country, Modern Farmhouse, Mid-Century Modern, and Traditional.
By introducing pillows in these earthy hues, you can create a harmonious and cozy ambiance that enhances the overall aesthetic appeal of your home.
Play with Contrasts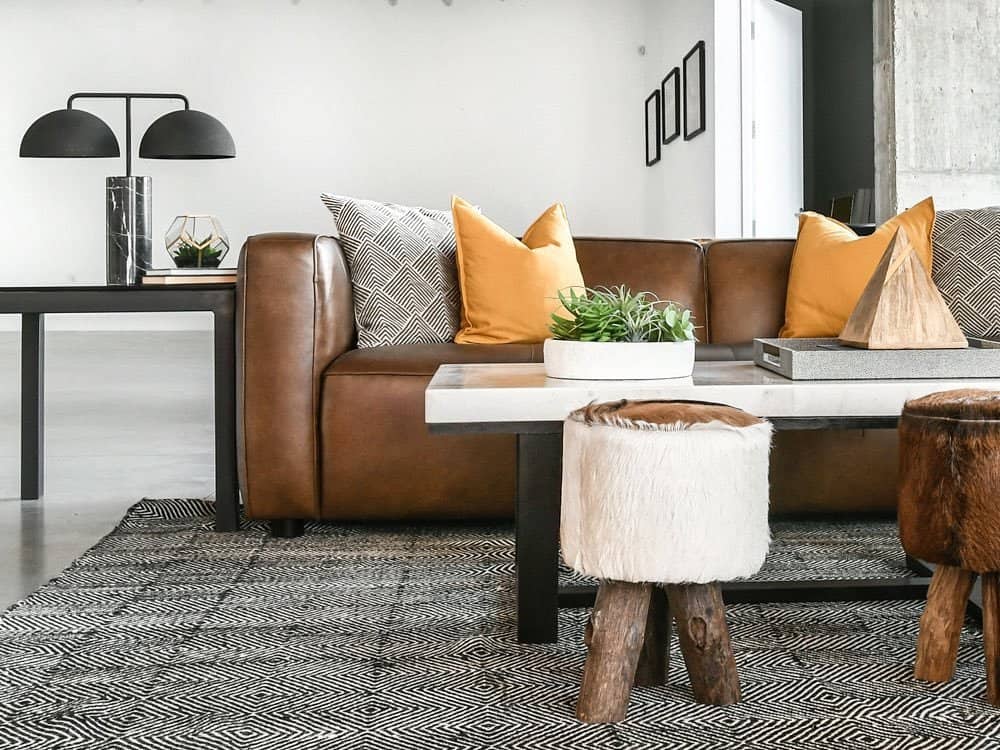 Elevate the visual impact of your brown leather couch by incorporating striking contrasting elements in the form of mustard and patterned black and white throw pillows. These decorative pillows will infuse your living room with depth, character, and a touch of vibrancy, creating a soothing and inviting atmosphere.
To enhance this color palette, consider incorporating tones of mustard and moss green throughout your space. This can be achieved through accent chairs, artworks, rugs, and even small decorative vases or other focal objects. The addition of these complementary colors will further enliven the overall aesthetic and create a cohesive and visually appealing backdrop in your living room.
Prioritize Simplicity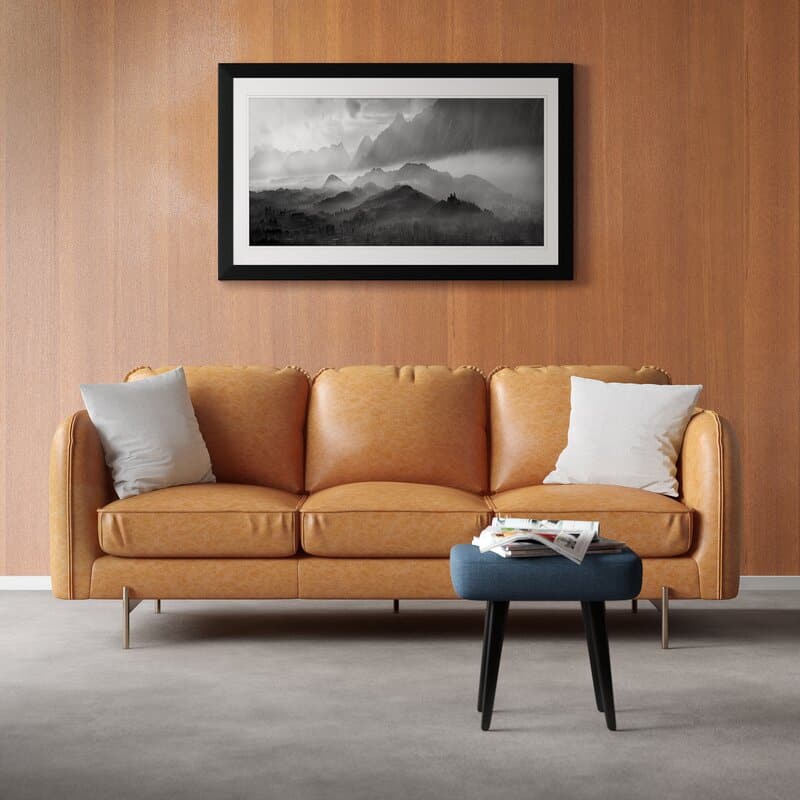 For a touch of elegance and sophistication, consider adding an off-white throw pillow to your leather couch. This subtle addition will help neutralize the boldness of the brown sofa, bringing a sense of balance to the overall aesthetic of your room.
Off-white pillows are particularly well-suited for smaller spaces, making them an excellent choice for city dwellers living in compact apartments with a brown leather couch. By incorporating this off-white linen pillow, you can create an illusion of airiness and openness, making your space feel more expansive and inviting.
Introduce Faux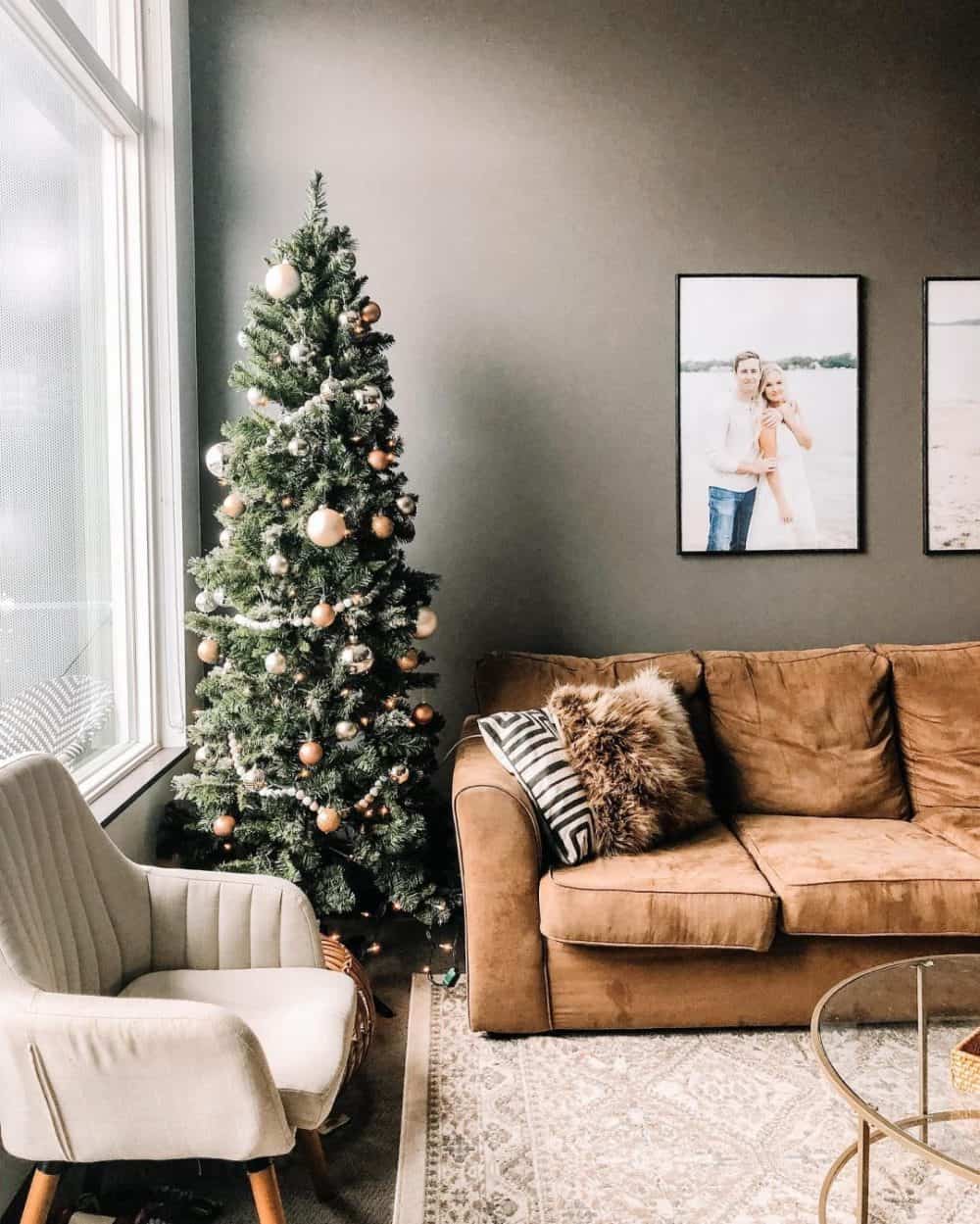 If you reside in a colder region and desire to add an extra layer of coziness to your home, consider incorporating faux and fluffy throw pillows for your magnificent brown couch.
These accent pillows not only lend a softer and more inviting look to your space but also provide a cozy spot for you to curl up with a cup of coffee and indulge in an evening of reading. The plush texture of these pillows creates a warm and comforting atmosphere, allowing you to unwind and relax after a long and tiring day.
By introducing these faux and fluffy throw pillows, you can infuse your living space with a sense of homey comfort, making it a haven of tranquility and relaxation.
Try Wool and Fur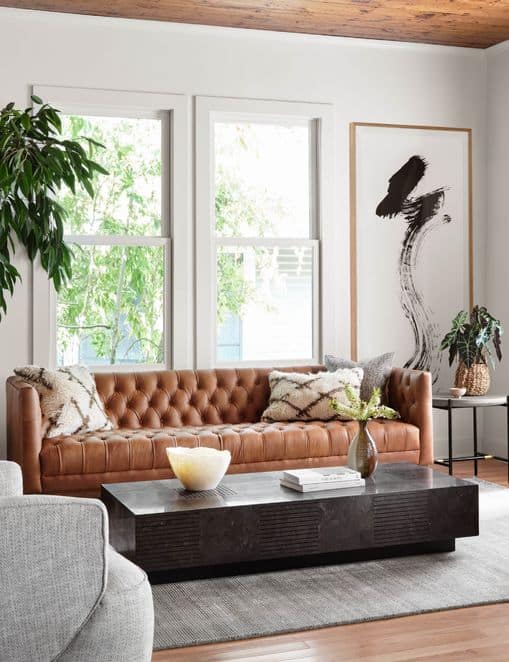 If faux materials aren't your preference but you still long for a cozy atmosphere, consider layering wool and fur accent pillows. These pillows offer the same warmth and inviting feel, enticing you to snuggle up and get comfortable.
Perfectly suited for brown leather couches, these accent pillows create a harmonious contrast in texture when used in lighter tones such as off-white, beige, taupe, or creamy yellows. By incorporating wool, fur, and leather together, you can play with different textures and add visual interest to your space.
Whether you choose wool or fur, or a combination of both, these layered accent pillows will infuse your living area with a touch of luxury and comfort, creating an inviting environment that invites you to relax and unwind.
Mix and Match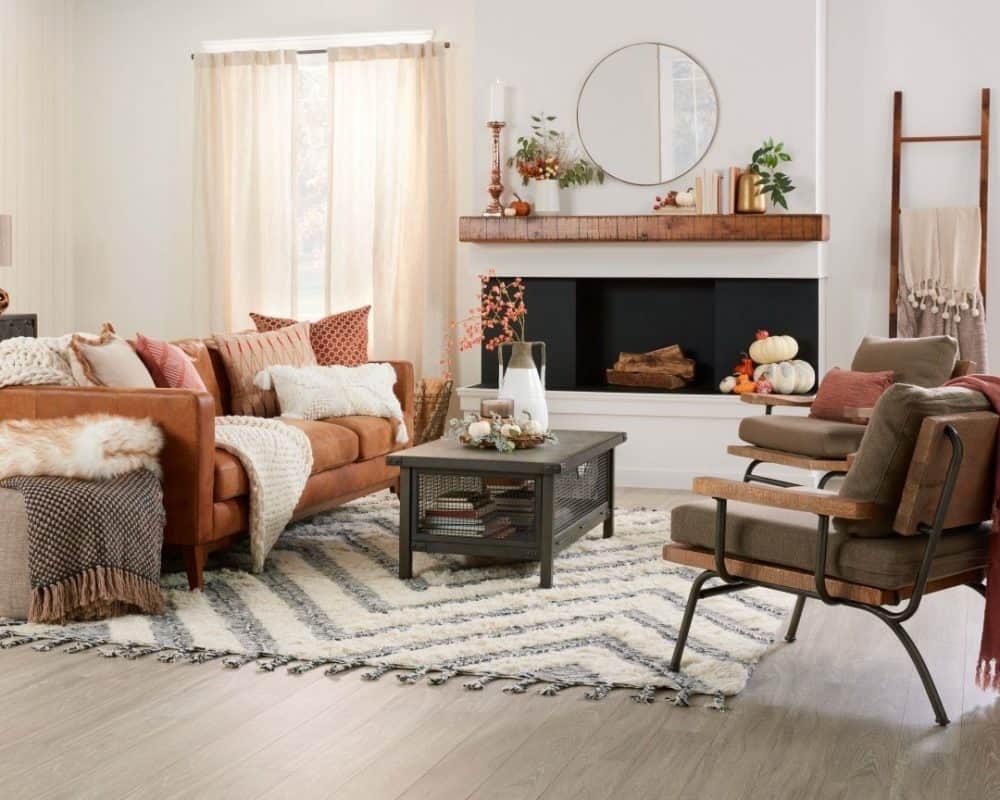 Why limit yourself to a specific aesthetic when you can embrace the freedom of mix and match in your home decor? Playing the game of combining different elements can lead to captivating and unique designs. It's all about the free-spirited approach of blending dark with light, linens with leathers, and accents with neutrals.
Take inspiration from this brown couch setting and explore the possibilities of incorporating various warm white tones, as well as hints of pink and orange. By breaking the rules and combining unexpected colors and textures, you can create a truly eclectic and boho-chic style.
So, let your imagination run wild and unleash your creativity by mixing and matching different elements to achieve a look that reflects your unique personality and style. Embrace the freedom of design and create a space that is truly one-of-a-kind.
Make Friends with Cooler Tones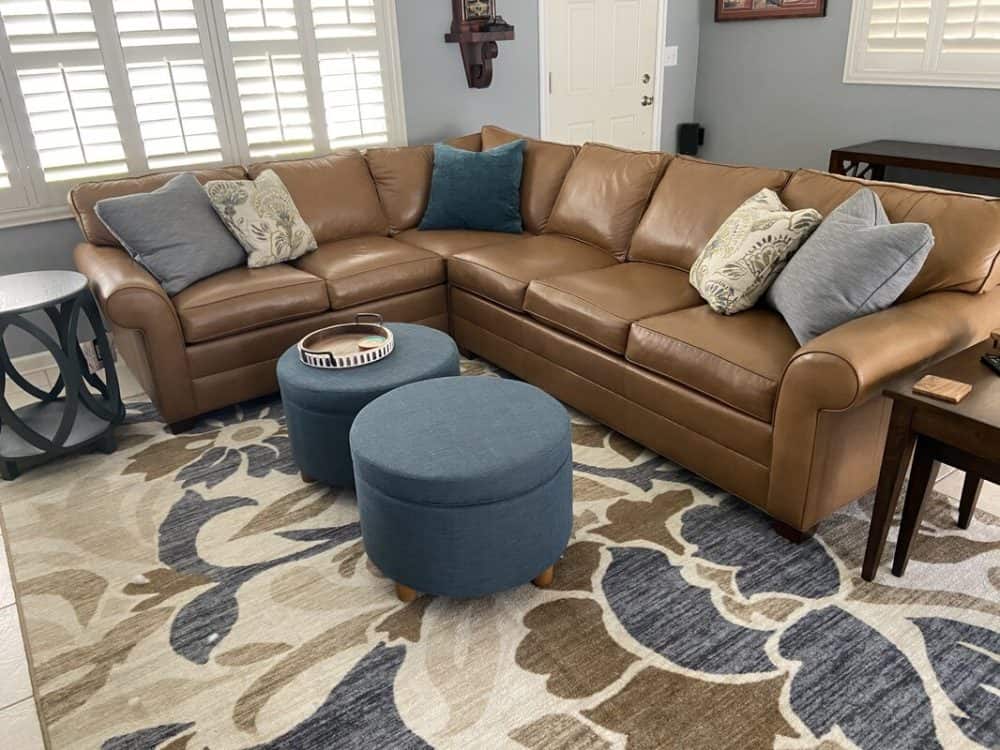 Unlock endless possibilities by harmoniously combining the warm browns of your couch with the cool tones of accent pillows. While the combination of browns and oranges can sometimes feel intense, achieving a well-balanced color palette is key to avoid overwhelming the space.
Consider introducing shades of blue, cool and steely grays, refreshing whites, and minty greens as accent pillows for your dark brown couch in the living room. These cooler tones will create a sense of tranquility and add a touch of freshness to the overall aesthetic.
By striking the right balance between warm and cool hues, you can create a visually appealing and harmonious space that invites relaxation and style. So, don't shy away from exploring different color combinations and let your creativity guide you towards a beautifully balanced design.
Feel Joyous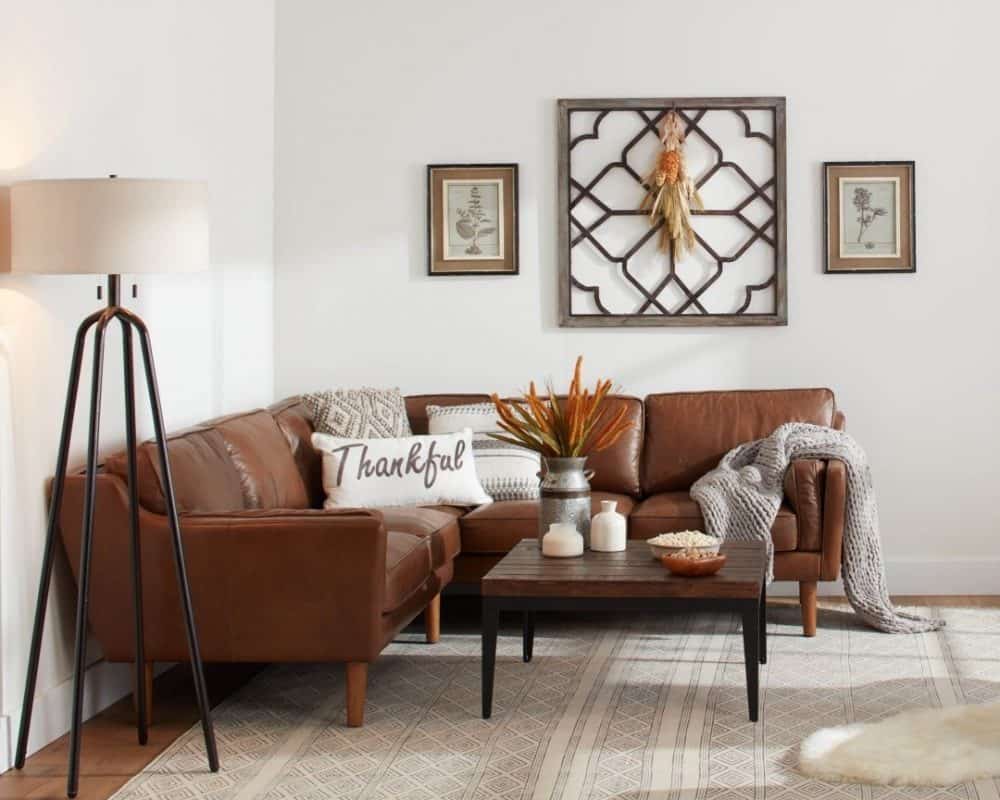 Embrace the charm of lively and radiant living rooms by going beyond ordinary accent pillows and opting for ones adorned with uplifting quotes and positive messages.
These special accent pillows bring a breath of fresh air and a sense of wholesomeness into your home, instantly uplifting your spirits and creating a joyful ambiance. Whether you have brown or red leather couches or linen sofas, these decorative pillows are a delightful addition that adds personality and charm to your space.
Allow the vibrant energy of these accent pillows to infuse your living room, reminding you of the power of positivity and creating a welcoming atmosphere for both residents and guests alike. So, indulge in these must-have decorative pillows and let their inspiring words brighten your days and make your space truly special.
Match and Match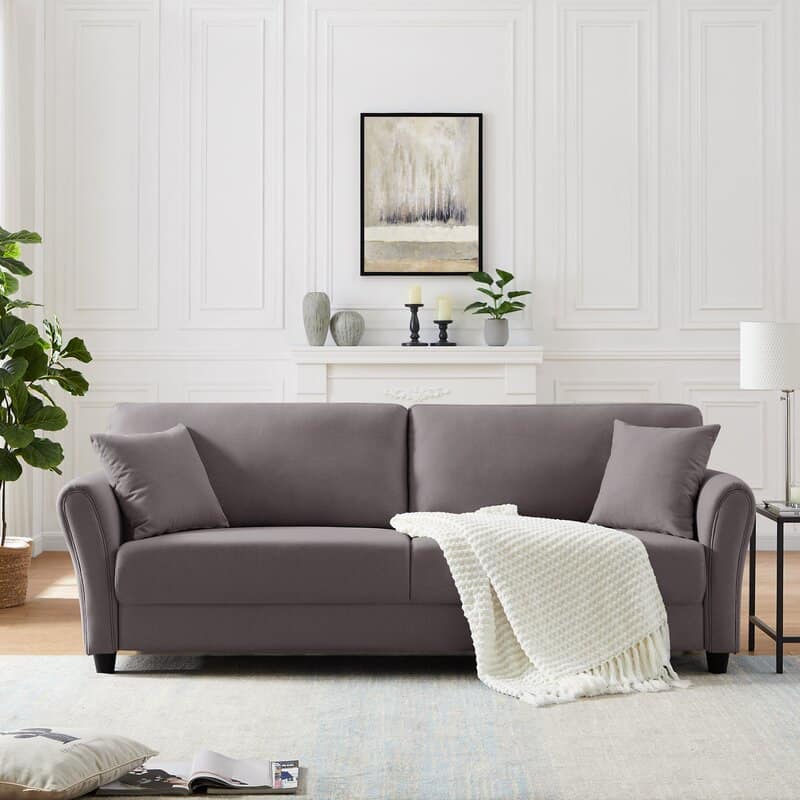 To achieve a cohesive and harmonious look in your living room, it's important to consider matching the throw pillows with your couch, especially when it comes to monochromatic color schemes. If your living room features a base palette with various shades of brown and beige, opting for throw pillows in similar tones can create a seamless and unified appearance.
This approach is particularly well-suited for Minimalist and Scandinavian interior design styles, which emphasize clean lines and a minimalist color palette. By sticking to a cohesive color scheme without contrasting hues, you can achieve a sleek and understated look that complements the overall aesthetic of these design styles.
Choosing throw pillows that harmonize with the colors of your couch ensures a cohesive and balanced visual impact in your living room, creating a sense of tranquility and simplicity that aligns perfectly with Minimalist and Scandinavian design principles.
Create Patterns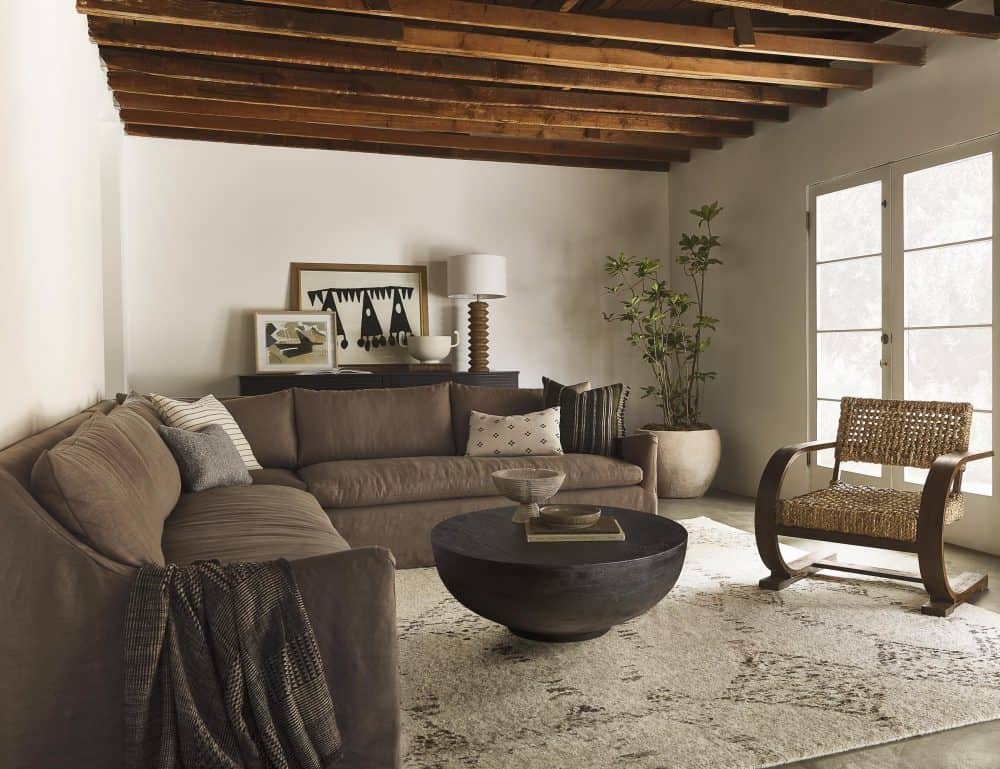 If you're aiming to infuse your living rooms and bedrooms with a touch of drama, incorporating textured and patterned decorative pillows for your chocolate brown couch can be a creative and impactful choice.
Opt for decorative pillows with neutral tones, such as shades of gray, beige, or cream, that feature eye-catching patterns and textures. Look for pillows with geometric shapes, linear designs, polka dots, textural imprints, or even a combination of horizontal, diagonal, and vertical lines. These pillows will not only add visual interest and depth to your spaces but also lend a sophisticated and designer-inspired look to your overall decor.
By carefully selecting textured and patterned pillows that complement your chocolate brown couch, you can elevate the style and ambiance of your living rooms and bedrooms, creating a captivating and visually dynamic experience for both residents and guests.
Embrace Boho Embroidery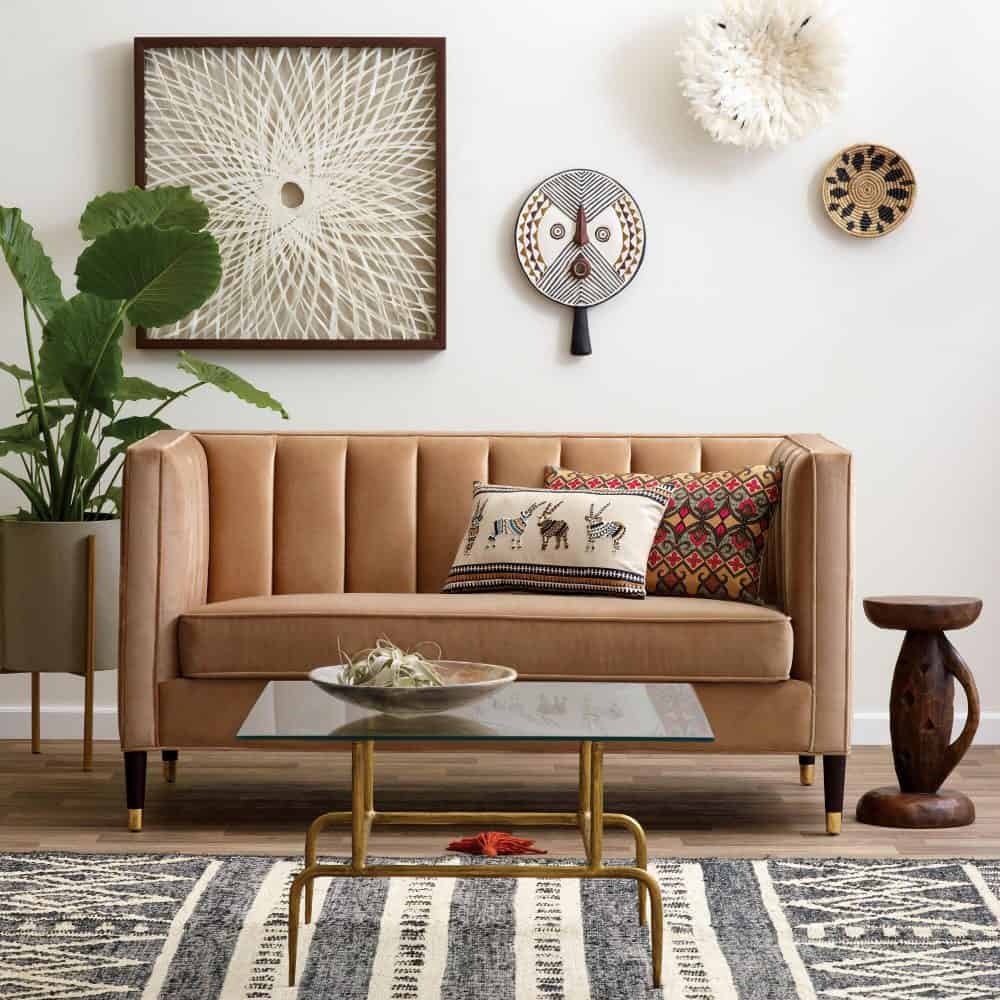 Enhance the cultural and traditional charm of your brown couches with the addition of boho embroidered accent pillows. These unique and distinctive pillows feature intricate embroidery, tassels, and playful pom-poms, adding a touch of energy and enthusiasm to your seating spaces.
The beauty of these boho embroidered pillows lies in their versatility and timelessness. They don't adhere to a specific theme, allowing you to effortlessly incorporate two or three of them in various corners of your living room or bedroom, complementing your brown leather or linen couch beautifully.
By introducing these boho embroidered accent pillows, you infuse your space with a sense of global aesthetics and artisanal craftsmanship. The vibrant colors, intricate details, and playful textures create an inviting and eclectic atmosphere that adds personality and warmth to your home.
Imbibe Checkered Pattern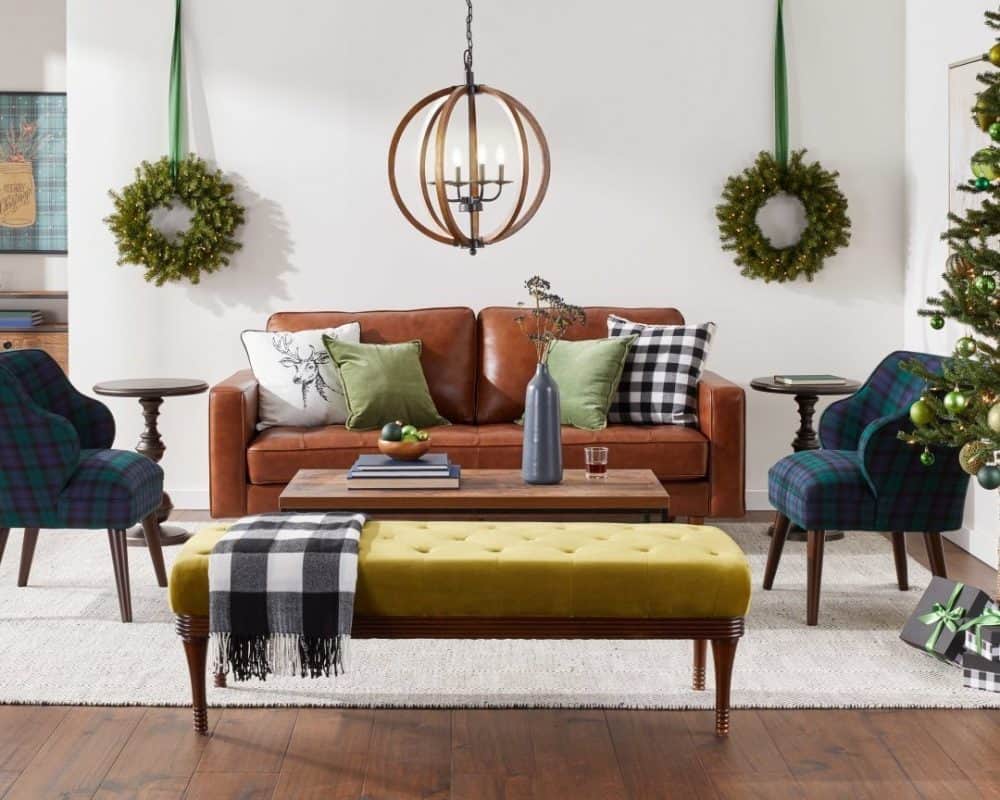 Indulge in the captivating charm of checkered patterns! Discover the allure of adding checkered accent pillows to your brown couch for a playful and dynamic touch. Combine these eye-catching patterns with solid-colored pillows in dominant hues like greens, blues, mustards, sakura pinks, mauves, or grays.
For a timeless and sophisticated look, opt for black checkered pillows that effortlessly complement the brown couch. Alternatively, if you want to infuse more vibrancy and visual interest, explore multi-colored checkered pillows that coordinate with the surrounding accent chairs and rugs, creating a cohesive theme throughout the space.
The checkered pattern introduces a delightful sense of movement and adds a touch of visual excitement to your living room or bedroom. Whether you choose a classic black and white combination or experiment with a range of colors, these checkered accent pillows are sure to create an engaging and stylish atmosphere.
Try a Different Shape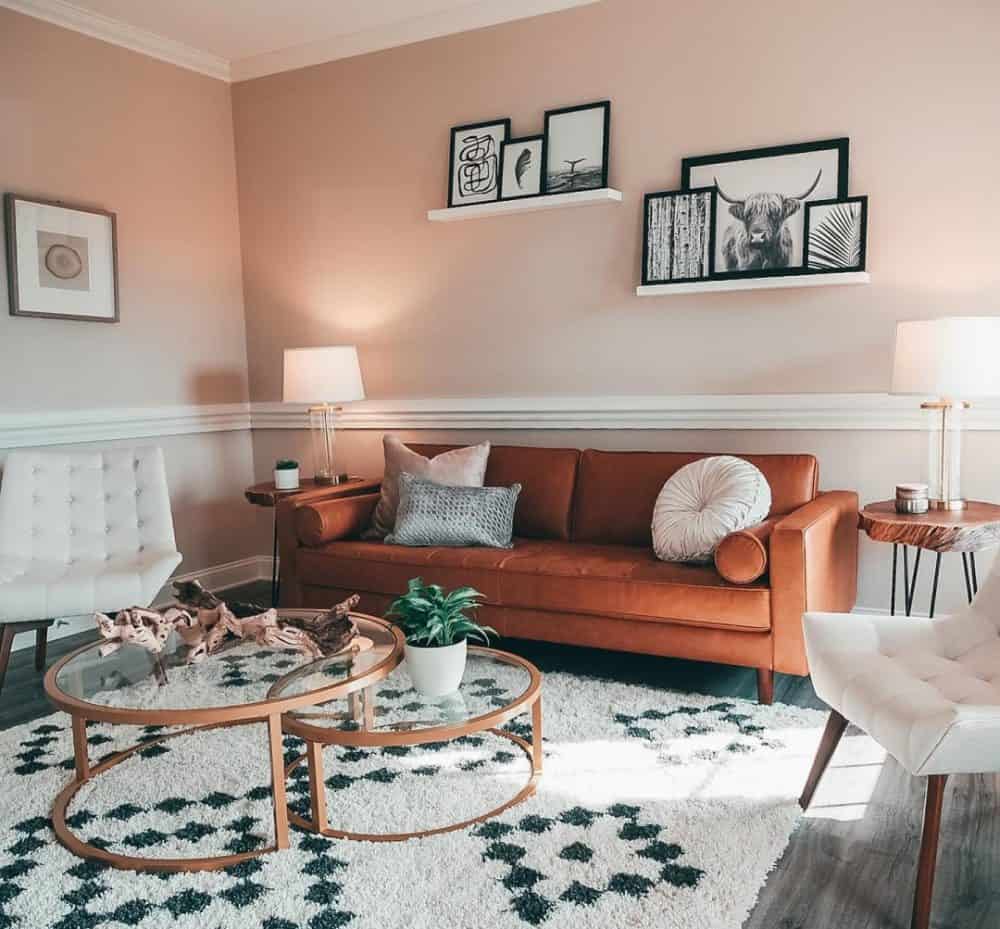 Embrace the beauty of unconventional shapes and add a touch of uniqueness to your living room decor! Instead of sticking to square and rectangular pillows, why not explore the charm of round and oval-shaped throw pillows?
Take inspiration from this boho living room where the combination of velvet sage green and blush pillows steals the spotlight. To further enhance the visual appeal, a beautiful and shiny round throw pillow serves as a captivating focal point.
By blending a variety of neutral-toned accent pillows with a couple of round ones, you can create an eye-catching contrast on your brown leather or dark brown couch. The juxtaposition of different shapes and textures adds depth and visual interest to your seating area, elevating the overall aesthetic of the space.
Don't be afraid to think outside the box and experiment with different pillow shapes to infuse your living room with a touch of creativity and personality. Let your imagination soar as you explore the endless possibilities of incorporating round and ovular throw pillows into your decor scheme.
Add a Touch of Leather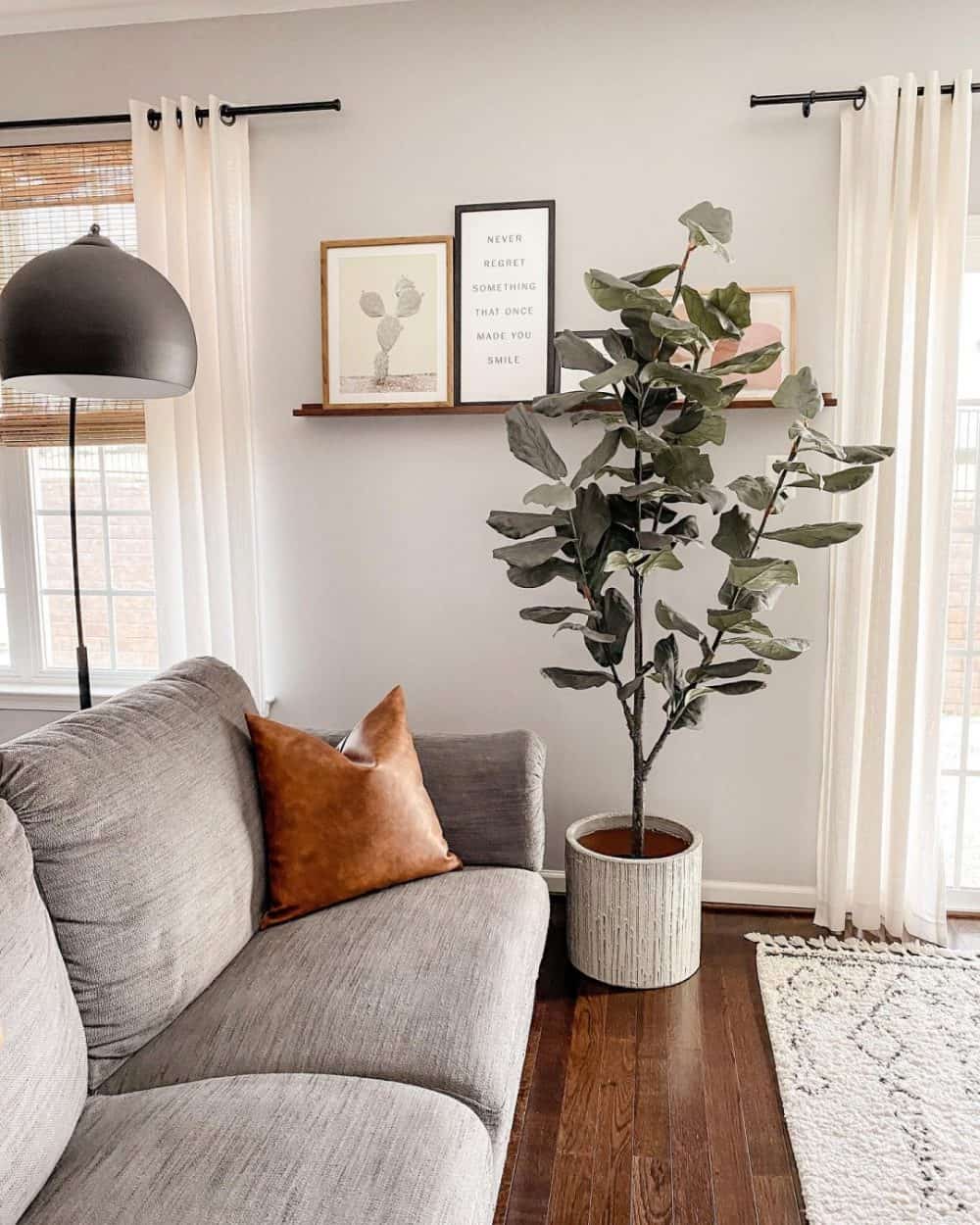 Enhance the elegance of your linen brown couch by choosing accent pillows with a touch of leather. Adding this luxurious element will elevate the overall aesthetic and allow the decorative pillows to become a statement of your unique style and personality.
For lighter brown couches, consider selecting accent pillows in shades of walnut brown or red leather. These warm tones will create a striking contrast and bring a sense of richness to the space. On the other hand, for darker-toned brown couches, opt for off-white or beige leather pillows to add a touch of sophistication and create a harmonious balance.
This color palette is particularly well-suited for interior design styles such as Modern Bohemian and French Country. The combination of leather and linen, along with the earthy tones, will evoke a sense of warmth, comfort, and timeless beauty.
So, let your accent pillows speak volumes about your style preferences and add that final touch of refinement to your brown couch. Choose the perfect leather accents that complement your existing decor and watch as they transform your space into a captivating haven of style and comfort.
Rainbow Vibes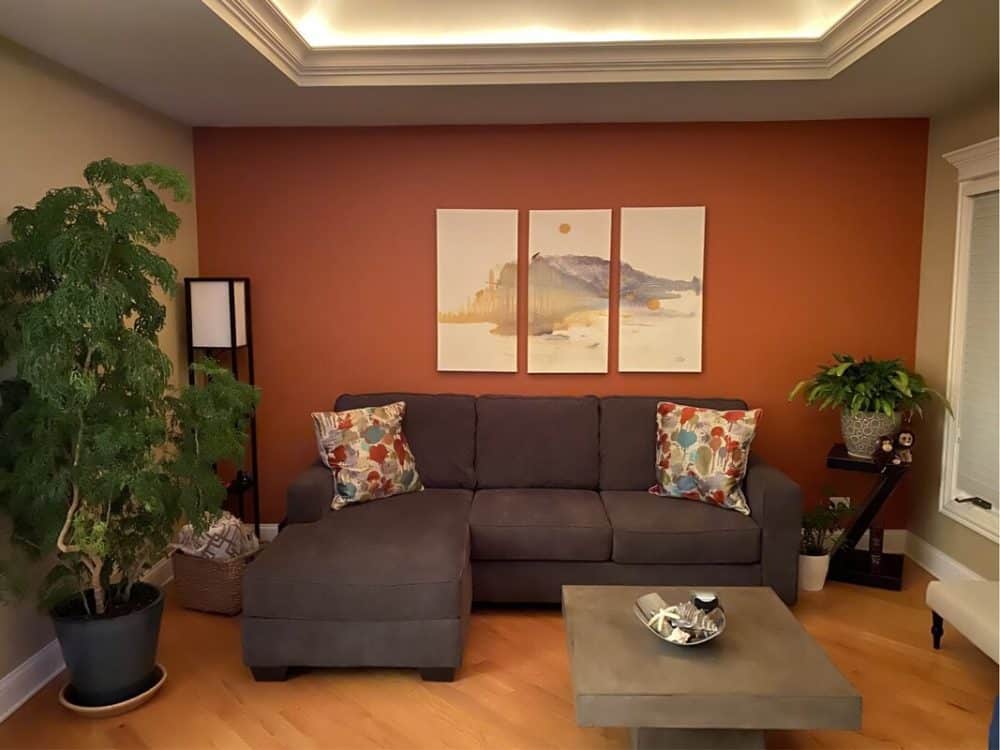 Embrace the vibrant and lively side of design by opting for multi-colored throw pillows to adorn your dark brown couch. Instead of sticking to a single color scheme, choose pillows that exude a bright and cheerful vibe, adding a pop of color and lightening the overall feel of your sofa.
When selecting these multi-colored pillows, consider incorporating vivid shades such as vibrant reds, lush greens, rich purples, deep blues, and sunny yellows. These bold hues will infuse your living room with authenticity and playfulness, particularly if your space tends to have a darker and more subdued ambiance.
By introducing a variety of colors through your throw pillows, you can create an eye-catching and dynamic contrast against the dark backdrop of your couch. This approach not only adds visual interest but also brings a sense of energy and liveliness to the room.
So, let your dark brown couch become a canvas for vibrant expression and choose multi-colored throw pillows that resonate with your personal style. Allow these lively accents to uplift the atmosphere of your living room, creating an inviting and vibrant space that reflects your unique taste.
Adore the Fringes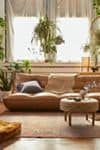 Elevate the allure of your brown couches by adorning them with decorative accent pillows featuring charming fringed details. These delightful additions will not only infuse a cozy and inviting ambiance into your living room but also lend an air of refinement and elegance.
When selecting fringed pillows, you have the option to choose between the intricate beauty of woven macrame or the luxurious texture of sheen velvetine. Both choices offer their own unique appeal, allowing you to showcase the captivating fringes while indulging in the delightful feel of the fabric.
The fringes on these accent pillows serve as eye-catching details that effortlessly draw attention and add a touch of visual interest to your seating area. Whether you opt for the intricate craftsmanship of macrame or the lustrous allure of velvetine, these fringed pillows will contribute to a refined and fabulous aesthetic.
Embrace the charm of fringed accent pillows and transform your brown couches into captivating focal points. The combination of their cozy texture and elegant fringes will create a harmonious and inviting atmosphere in your living room, making it a space that exudes style and sophistication.
Shades of Pink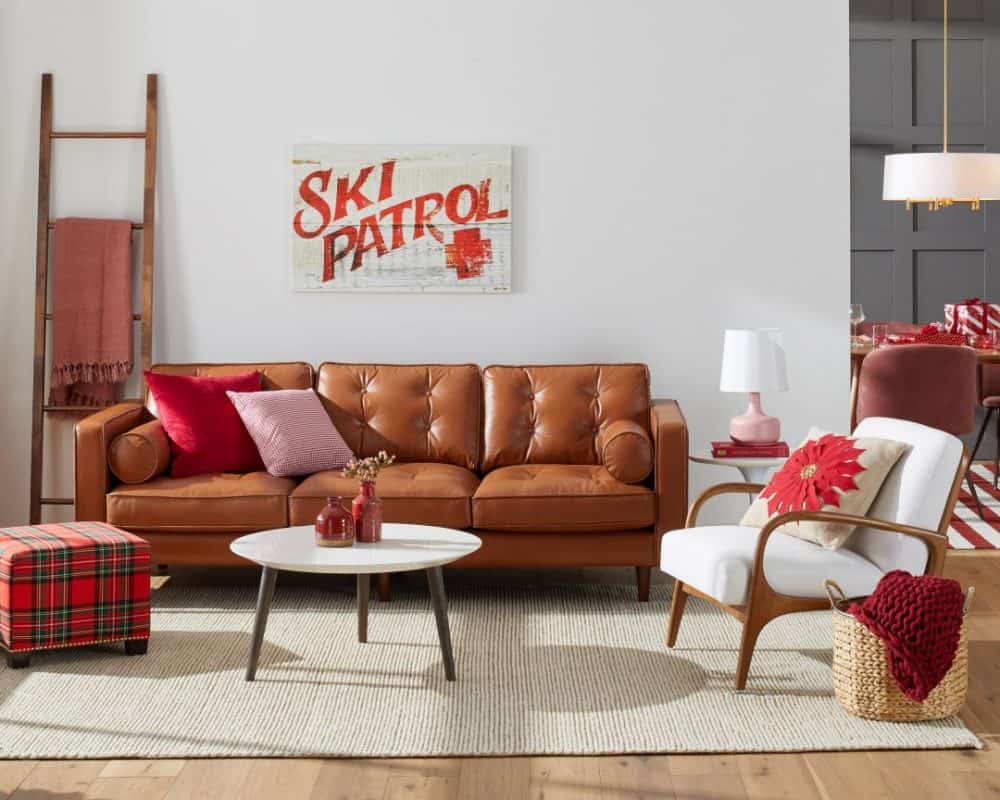 Embrace the power of pink and let it take center stage alongside your brown accents! Contrary to what you may think, brown and pink can indeed harmonize beautifully, creating a captivating and balanced aesthetic in your space.
To achieve this delightful blend, consider incorporating shades of pink throughout your room, from your rug and artwork to various fabric elements. You have the freedom to choose from a range of pink hues, whether it's a vibrant magenta that adds a bold pop of color or more subdued and delicate tones like blush or sakura pink that exude softness and elegance.
By seamlessly merging browns and pinks, you infuse your space with a touch of femininity, warmth, and sophistication. These complementary colors work together to create a visually pleasing and harmonious atmosphere. So, don't shy away from embracing pastels and the gentle allure of pink, as they can effortlessly complement your brown accents, adding a refreshing and charming dimension to your space.
No Pillows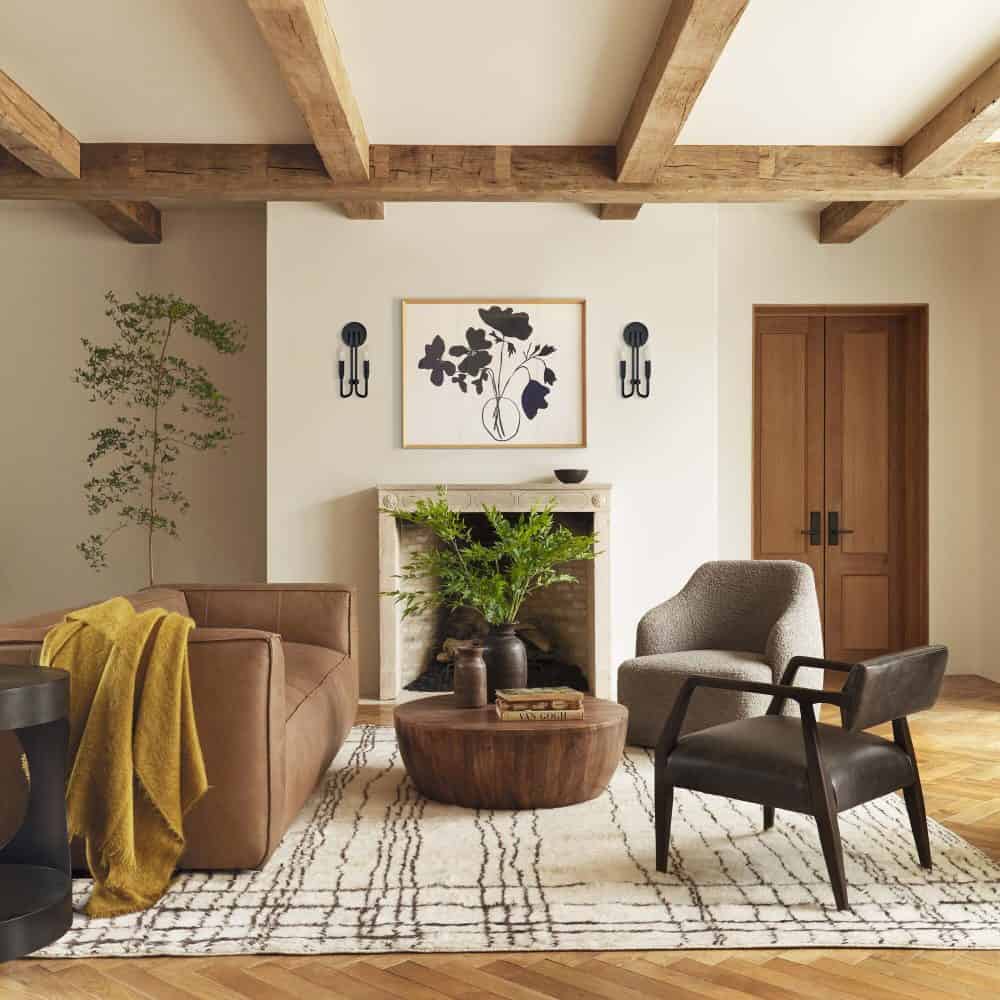 The beauty of a brown leather couch lies in its inherent elegance and sophistication, making it a stunning centerpiece in your living room even without the addition of throw pillows. The rich and luxurious texture of the leather speaks for itself, creating a sense of timeless style.
While the couch itself holds its own charm, you can enhance the overall ambiance of your living room by focusing on the surrounding elements. Consider placing a large, cohesive rug beneath the couch to anchor the space and add visual interest. This rug can serve as a complement to the brown leather, tying the room together.
Indoor plants can bring life and freshness to the area, adding a touch of nature's beauty. Select a few well-placed plants to create a serene and inviting atmosphere that harmonizes with the classic appeal of the brown leather.
To further refine the look of your living room, incorporate majestic pieces of lighting that make a statement. Whether it's an eye-catching chandelier, a sleek floor lamp, or an artistic pendant light, the right lighting can enhance the overall ambiance and draw attention to the focal points of the room.
Lastly, don't forget the styling potential of a throw blanket. Choose a cozy and stylish throw that complements the color scheme of your living room. Drape it over the arm or back of the couch for a touch of warmth and texture, adding to the overall comfort and aesthetic appeal of the space.
By paying attention to these details and creating a cohesive and well-curated environment, you can elevate the look of your living room and showcase the inherent beauty of your brown leather couch.
Multiple Textures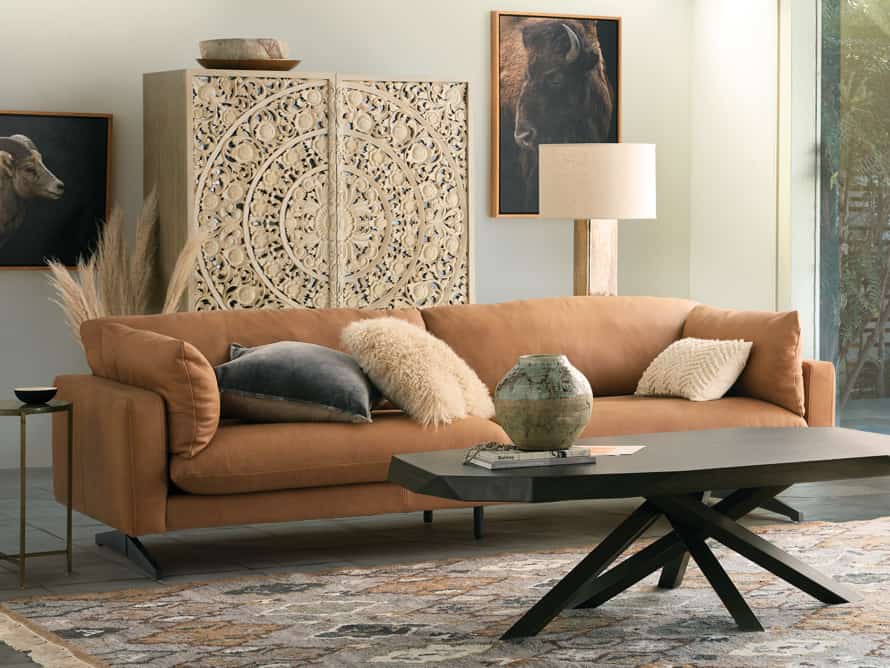 Embrace the art of mixing and matching to create a curated look on your brown leather couch, incorporating a diverse range of materials and textures. Instead of sticking to a single type of pillow, why not explore the possibilities by combining various materials?
Blend the plush softness of velvet with the natural feel of cotton, juxtapose the smoothness of linen with the cozy warmth of fur, and experiment with the interplay of faux leather and suede. By combining these different textures, you can create a visually stunning and inviting atmosphere in your living room.
The key is to strike a balance between these materials, ensuring that each one contributes to the overall aesthetic without overpowering the others. This approach allows you to infuse your space with an element of surprise and intrigue, making your brown leather couch the focal point of a truly captivating backdrop.
Invite Floral Thoughts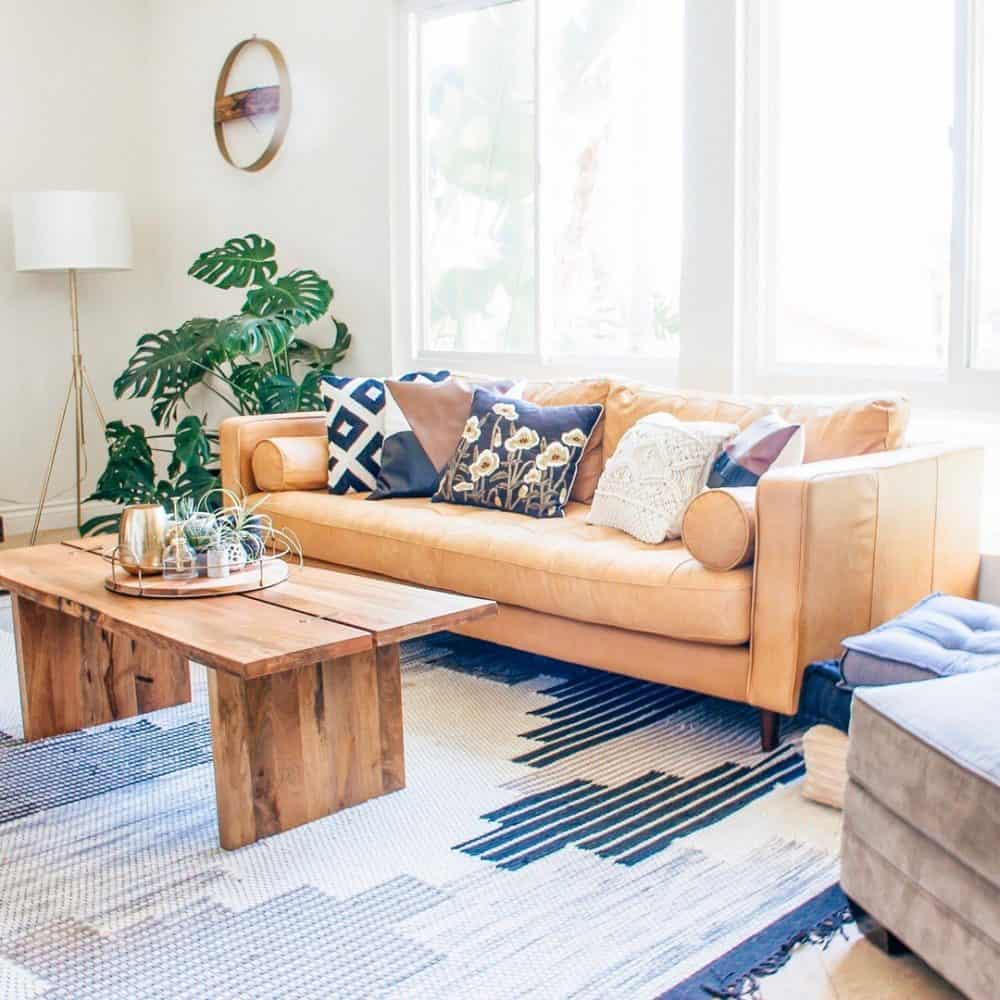 Expand your horizons and explore the realm of organic and natural patterns with floral-inspired throw pillows. While solids and geometrics have their charm, introducing floral prints can infuse your brown couch with a touch of vibrancy and personality.
Opt for floral imprints that complement your interior design style and enhance the overall aesthetic of your space. Consider saturated hues like emerald greens paired with deep charcoal blues to create a captivating and visually stunning backdrop. These floral throw pillows will breathe new life into your living room, transforming it into a haven of beauty and elegance.
Summing it Up…
The significance of throw pillows in interior design should not be underestimated, as they have the power to greatly influence the overall ambiance of a space. Choosing the right throw pillows is essential to ensure a cohesive and harmonious environment in your home.
Having explored a range of throw pillow designs suitable for brown couches, I hope you're feeling inspired to incorporate them into your own space. I would love to hear your thoughts and ideas on these designs, so please feel free to share your feedback in the comments section below!