This page contains affiliate links, which means that we may earn a commission if you purchase an item through them. However, this does not affect the integrity of our editorial content, which remains unbiased. If you're looking for a meat source, rabbits are a great option as they can produce up to 300 pounds of meat per year and require minimal space and food.
Even if you live in the suburbs, you can still raise rabbits for meat. To get started, you'll need a rabbit hutch, and we've compiled 50 plans from various sources on the internet for you to choose from if you want to build one yourself.
Now, let's begin to the first free rabbit hutch plans:
1. Basic DIY Hutch
This DIY hutch is a simple and basic design – essentially a box on legs – that serves to keep rabbits off the ground and away from potential predators.
The hutch features wire sides for ventilation and easy observation of the rabbits, while the feeder and waterer can be easily placed inside. Additionally, there is a rabbit hole built into the litter area to provide a secure spot for the rabbits to give birth. If you prioritize function over appearance and have some basic carpentry skills, this hutch design could be a good fit for you.
2. The Multi-Cage Hutch
My family and I are in the process of building a hutch that's exactly like this one for our rabbits, and here's why:
If you have a large number of rabbits, using separate hutches for each one can take up a lot of space and make feeding and watering more time-consuming.
On the other hand, using a communal hutch that can hold all your bunnies together can make it easier to care for them since everything is in one place. It's also easier to keep an eye on their health since they are all in closer proximity. Additionally, rabbits can breed through the fence of a communal hutch.
3. The Multi-Cage Hutch Tutorial Video
This instructional video provides detailed steps on how to build a duplex rabbit hutch. The advantage of a video tutorial is that it offers clear visual aids to aid in understanding the construction process.
If you lack confidence in carpentry skills, this video may help you develop the necessary skills and confidence to construct your own rabbit hutch.
Similar to other hutch designs, this duplex hutch is divided into separate sections capable of accommodating multiple rabbits. This type of hutch can be an excellent option for those who are looking to save space and time.
4. The Multi-Rabbit Hutch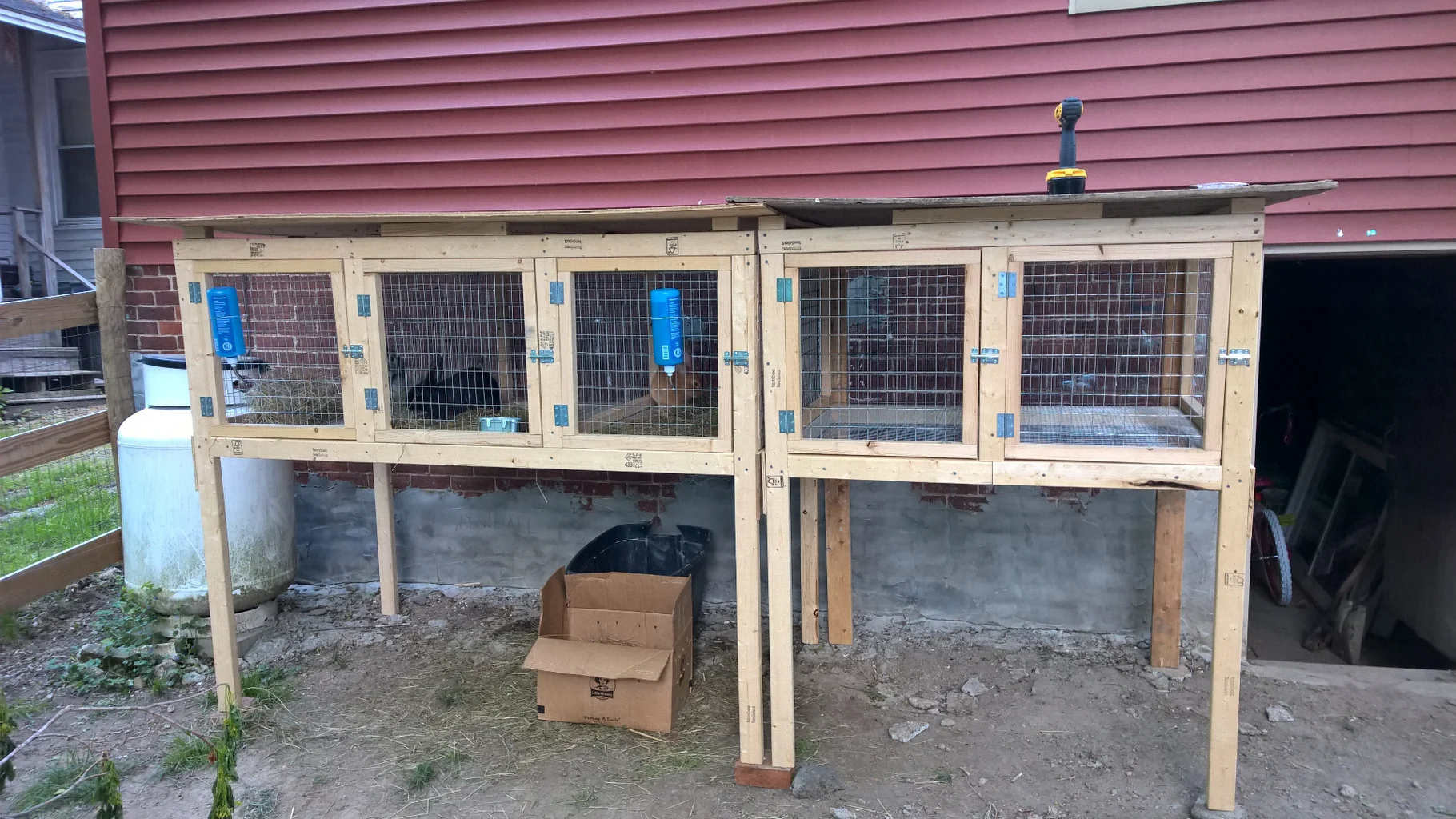 This wooden hutch consists of three separate rooms and can accommodate up to three rabbits. By keeping all your rabbits in one hutch, it simplifies the process of caring for them.
It's worth noting that the woodwork on this hutch is of exceptional quality, and it's currently under construction. Even when raising animals, you still want your property to look nice. This hutch is designed to add an attractive touch to your home without detracting from its aesthetic appeal.
5. The All Wire Rabbit Cage
This informative video provides detailed instructions on how to build a rabbit cage using sturdy wire. While it may not be the most visually appealing hutch, it's a great option if functionality is your top priority.
Using an all-wire cage simplifies the cleaning process and provides greater security for your rabbits, which is a significant advantage. It's difficult for wire-eating predators to gain access to the rabbits, which is crucial for their safety as they are threatened by several predators.
6. Pallet Rabbit Hutch
If you share my love for pallets and their versatility, you may be interested in using them to construct a rabbit hutch.
Using pallets can be a great option if you're on a tight budget or looking for a way to upcycle something into a hutch. Additionally, pallets are known for their strength, making them a reliable choice for building a predator-proof rabbit hutch.
7. PVC Hutch
This hutch design appears to be budget-friendly, and it's convenient that you can store all your wire cages in one location.
However, I have some concerns about the hutch's security. It's crucial to ensure that your bunnies are in a shaded area since there don't appear to be any rabbit holes. Rabbits need a cooler environment or a resting area to retreat to when the sun becomes too intense, as they can overheat quite quickly.
8. DIY Rabbit Hutch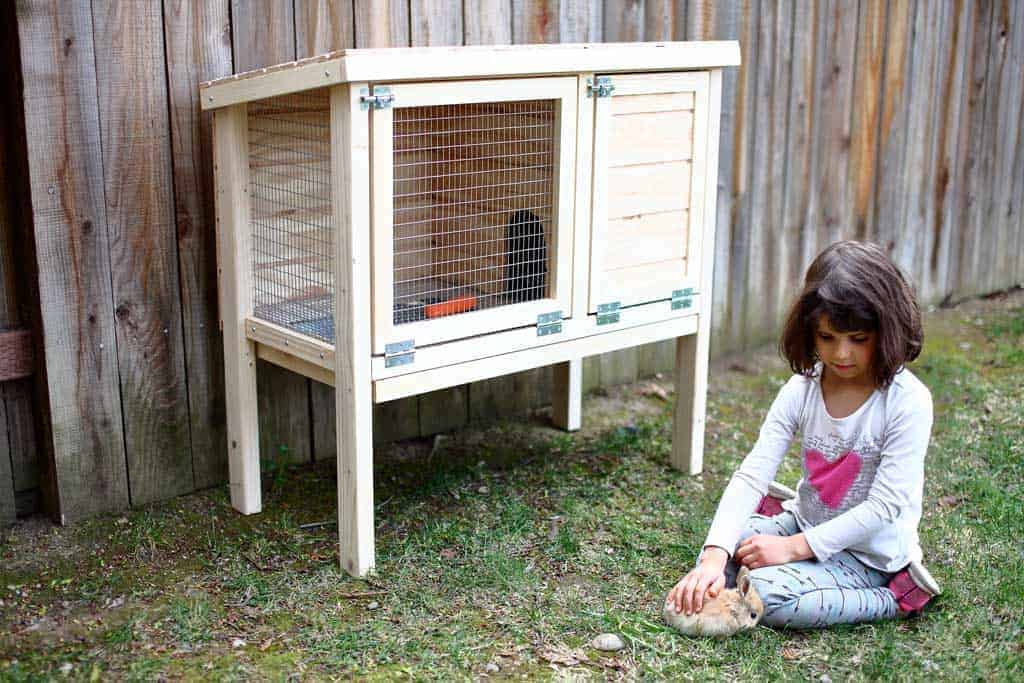 If you have the necessary tools, you might consider building this single hutch plan, which is an excellent option. It features a lovely wood finish and a tin roof that provides protection from the sun and rain.
This hutch's design gives your rabbits a cozy, country feel, making it feel like they're right at home.
9. The A-Frame Hutch
I must admit that I had never seen a hutch design like this one before, but now that I have, I find it quite intriguing. While I still prefer multi-housing solutions, this design is perfect for those who have only a few rabbits or want to keep them separated.
I appreciate the fact that this hutch sits on legs, providing extra protection for the rabbits. The A-frame design and wire enclosure, as well as the rabbit hole, are noteworthy features. However, the hutch's large entrances are what I find most appealing, as they make it easy to access your rabbits when necessary. Additionally, the hutch appears to be straightforward to clean and maintain.
10. The Indoor Rabbit Cage
If you're not interested in consuming your pets, such as cats or dogs, and want to raise them as pets rather than livestock, rabbits make fantastic pets. While they may not be regarded as traditional pets, I adore my rabbits.
If you're considering purchasing an indoor hutch, this wooden hutch is a great option. It's not only aesthetically pleasing but also functional, with an opening that makes it easier to clean the hutch and remove the rabbits.
Its design also allows for multiple rabbits to be housed together. If you don't want to keep several indoor rabbits, you could always use it for storing bunny supplies. Regardless of its use, this hutch is not an eyesore and can blend in seamlessly with your home decor.
11. The 2-Story Bunny Hutch
Here's another hutch design that's perfect for rabbits as pets. To put it simply, if your bunny has one of these, they're living in luxury!
This hutch has a two-story design with the potty and sleeping quarters located on the bottom floor, while the living quarters and food are on the top floor. Additionally, there's a large ramp that allows them to exit the hutch when it's open and enter when it's closed.
12. The PVC Single Hutch
I find the materials used in this hutch design to be both creative and practical. The hutch features a wooden frame, legs, and bunny hole, with the top frame finished with PVC pipe. Wire is then added to the open areas.
This outdoor hutch design provides all the necessary features for a rabbit to live comfortably. Plus, because of the materials used, it should be a budget-friendly option.
13. The Indoor/Outdoor Rabbit Hutch
This hutch design is an excellent option for those who want to keep their rabbits in a garage. The creators of this design excavated a niche in the garage's side and constructed a wire cage that connects to both the inside and outside.
The hutch can be divided into sections to accommodate multiple rabbits.Additionally, the rabbits are protected from the elements by a roof over the cage's exterior, providing them with shelter from inclement weather while also keeping them cool during hot weather.
14. The Dresser Hutch
If you're interested in raising rabbits indoors but don't have a lot of money to invest in the project, consider repurposing an antique dresser.
This hutch design is a great example of how you can convert an old dresser into a multi-housing hutch that can accommodate up to four rabbits by removing the doors and making some modifications. Additionally, the drawers at the bottom of the dresser provide convenient storage for rabbit supplies.
15. The Bunny Condo
If you're a fan of IKEA furniture, this hutch design may be right up your alley. The creator of this design wanted the hutch to match their existing IKEA furnishings.
To achieve this, they purchased an Expedit, which is a large bookshelf-style piece of furniture. By repurposing the shelves, they were able to create a multi-housing hutch that could accommodate two rabbits in separate compartments.
16. Super Rabbit Condo
Here's another IKEA hack that maximizes the living space for rabbits. The creator of this design purchased a large shelving system, which they then converted into a spacious hutch with ramps.
This design allows the bunny to move around on multiple levels and stretch their legs to their heart's content.
17. The Bunny Do Hutch
This IKEA furniture piece was repurposed once again, with the aim of blending in seamlessly with the owner's existing decor.
One notable feature of this hutch is that it has two levels, which adds to its appeal. Additionally, pulling the drawers downward allows for the hutch to be opened entirely, making it easier to clean and care for the rabbit.
18. A Large Outdoor Rabbit Hutch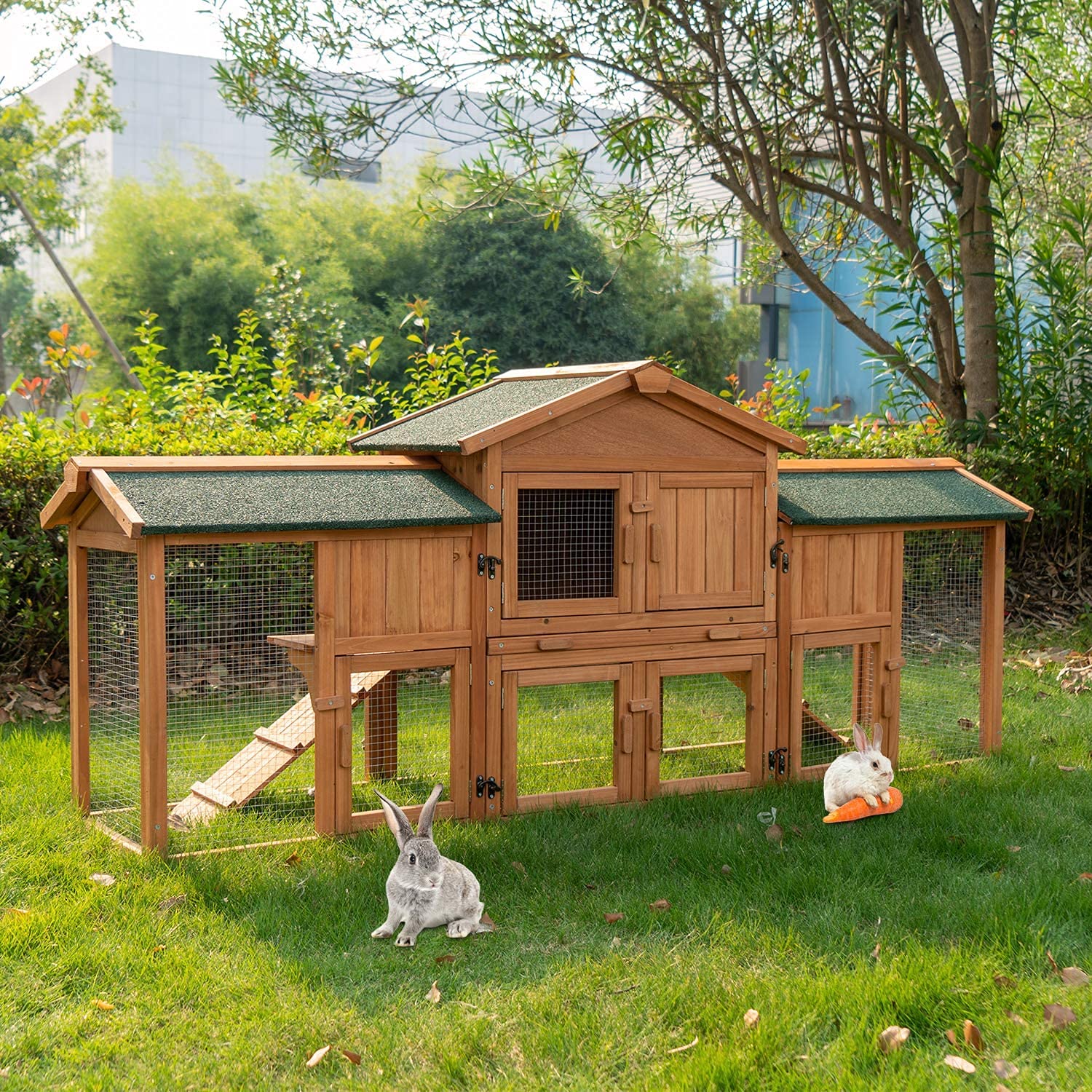 This rabbit hutch is exceptionally spacious and has been elevated for the safety of the rabbit. One of the standout features of this hutch is the large doors, which make it easier to catch your bunny and clean the hutch.
Having large doors in your rabbit hutch is a must, as it simplifies cleaning and maintaining the hutch, which is essential for maintaining the health of your furry friend.
19. Hanging Wire Cages
Here's a unique rabbit hutch design that's perfect if you have a pergola with nothing underneath it. This design involves hanging wire rabbit cages from a small roof that's built under the pergola.
This is a great feature as it provides protection from the weather and keeps the rabbits off the ground, away from predators. The large pergola also provides shade, which is important for keeping the rabbits cool during hot weather.
20. The Kid-Friendly Rabbit Hotel
If you have young children who want to help raise rabbits, safety should be a top priority.
Commercially available rabbit cages typically have large lids that can be dangerous for children to lift, as they may accidentally fall and injure their hands.
That's why this hutch design is perfect for families with young children. It's not only beautiful but also much safer, making it easier for your little ones to get involved in raising rabbits without any worries.
21. The Small Rabbit Hutch
This rabbit hutch has very few frills yet is extremely functional. It's a box that's made out of wood pieces put together. The box is then split into two halves.
The rabbit hole is situated on one side of the box that has been completed. The rabbit can view out of the other side, which also makes cleaning up a breeze. For safety reasons, the rabbit hutch must be elevated off the ground.
Yet, for easy care of your rabbit friend, this rabbit hutch should be quite inexpensive and simple to construct.
22. The Outdoor Rabbit Hutch
Here's another simple yet practical rabbit hutch design that includes a rabbit hole and a large living space for your furry friend.
The rabbit hole, which is where rabbits give birth, is easily accessible via a door that provides direct access.
This design is particularly helpful for keeping a close eye on the rabbits during their early days and ensuring that everything is progressing smoothly.
23. The Mobile Rabbit Hutch
Here's a unique piece of furniture that serves as a rabbit hutch. It's lightweight and has wheels, making it easy to move around both indoors and outdoors.
The hutch is divided into two sections: one for the rabbit hole and the other for the regular living quarters. This design is very practical and convenient. There are two doors that provide access to both compartments of the hutch.
24. The Rabbit Tractor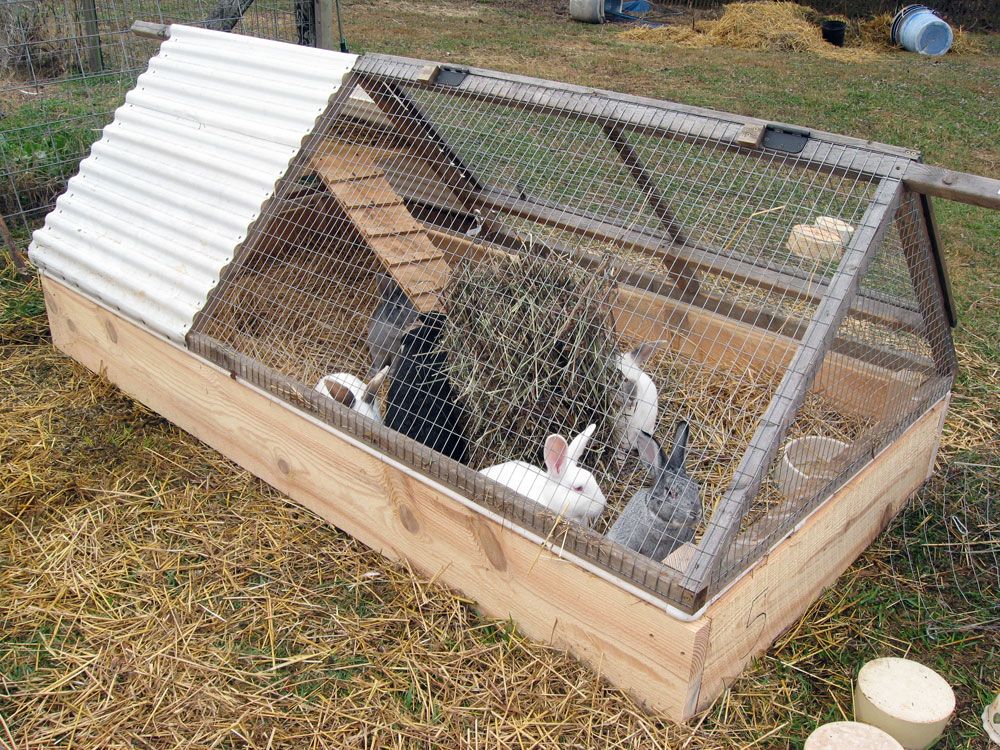 This hutch design resembles a small chicken coop and can be moved around easily, just like a tractor.
The rabbits can stay on the bottom level and graze on the grass underneath them, or they can use the ramp to access the second level where they can play, rest or eat.
This could be an ideal option for those who want a smaller hutch.
25. The 2-Story Outdoor Hutch
Here's another outdoor hutch that spans two levels. It gives your bunnies ample space to roam around and enjoy the vegetation on the ground level.
With a ramp leading to the second level, the rabbits can also take in the view from above. Whether they need food or a secure place to rest, they have the freedom to choose what they want to do.
26. Basic Outdoor Rabbit Hutch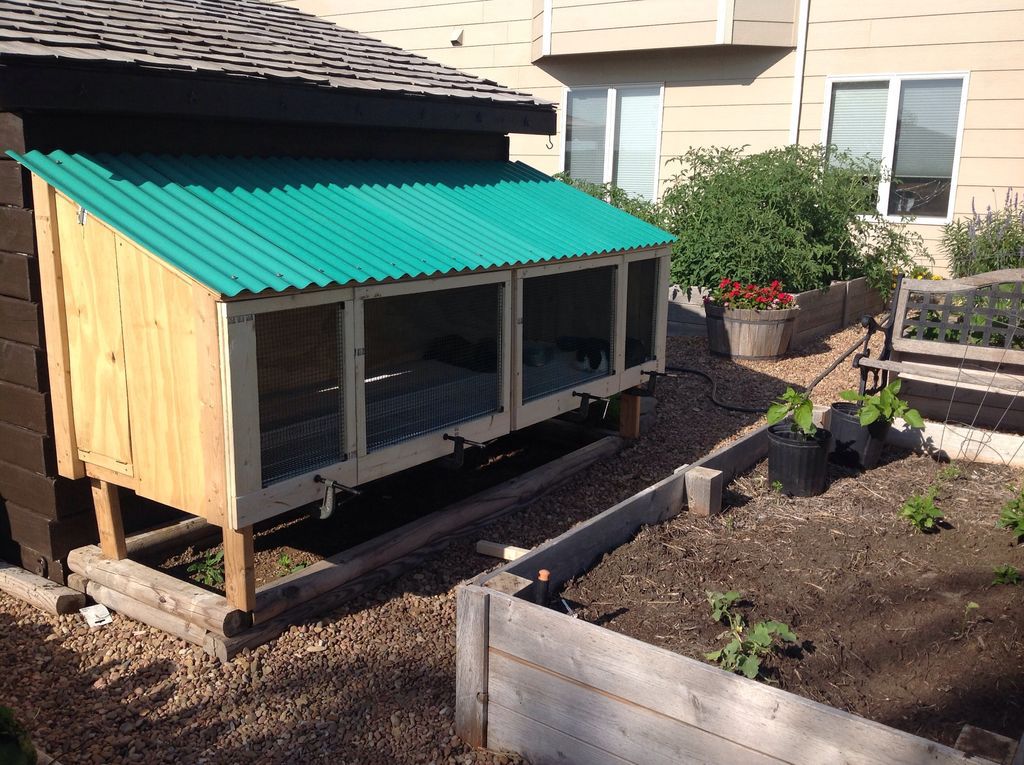 This outdoor hutch design provides rabbits with the opportunity to breathe fresh air while enjoying the comfort of their wired section.
In addition, the hutch features a covered area with a door where rabbits can have some privacy to rest or give birth.
27. Single Or Double Decker Hutch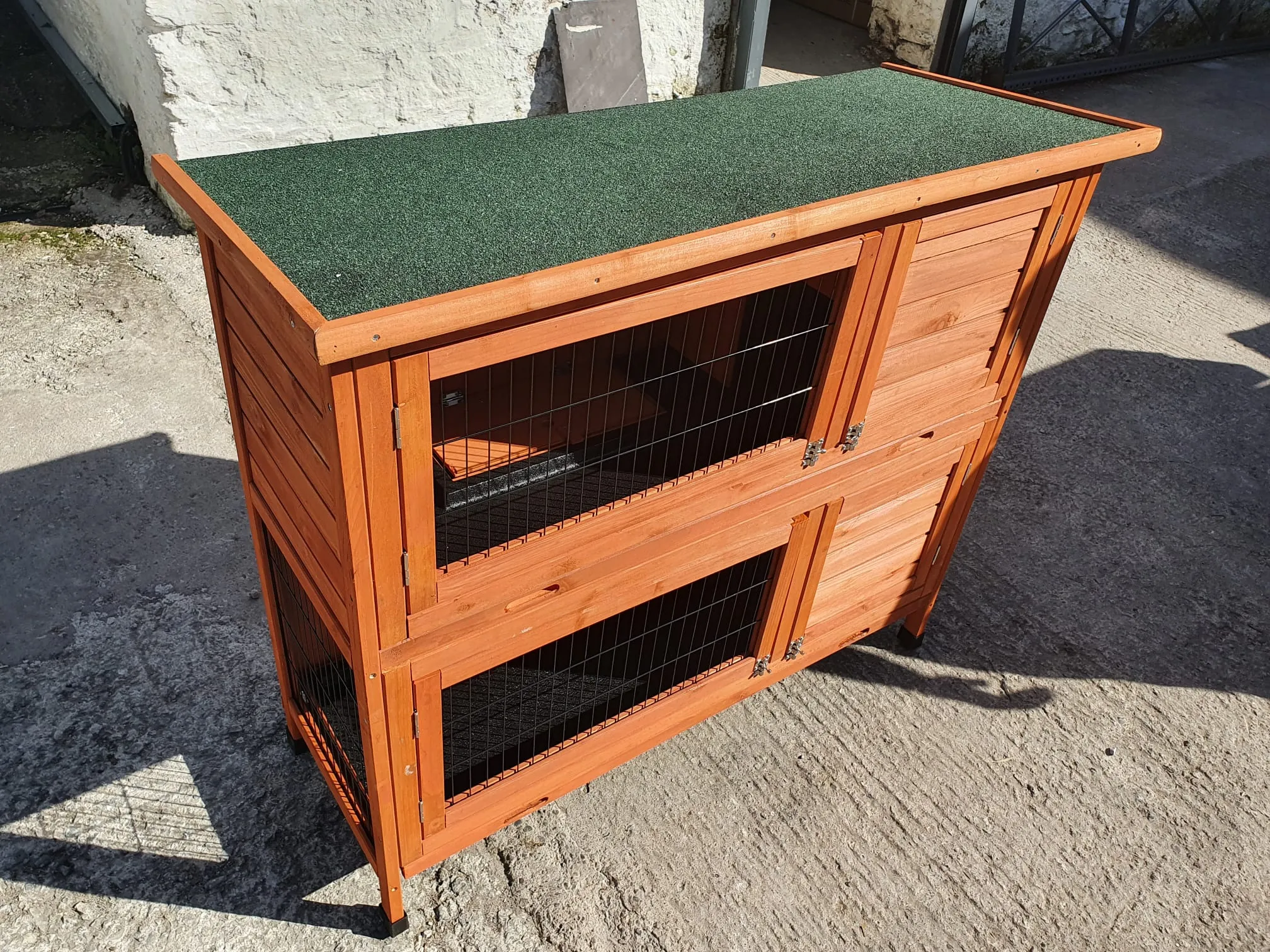 If you're looking for a challenging carpentry project and have some experience in building, this multi-level rabbit hutch plan is perfect for you. The instructions are very detailed and easy to follow, making it an excellent option for novice builders.
This plan includes a multi-level hutch, which is very practical for rabbit keepers who want to save space and keep their bunnies in one location. However, if you have more rabbits, you can always modify the plan and build a double-decker hutch to accommodate them all.
28. The A-Frame Rabbit Tractor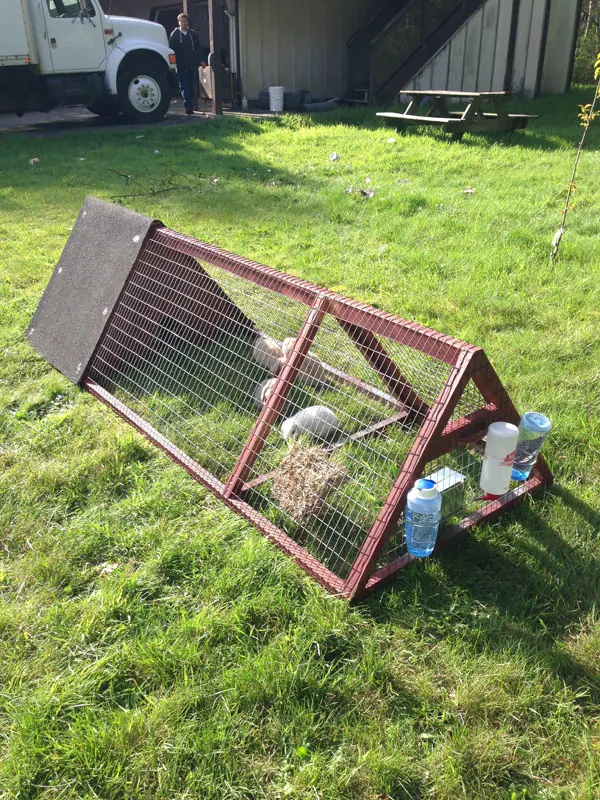 This portable A-frame rabbit hutch is designed to give your rabbits a lot of room to move around. It provides an open area for the rabbits to hop about because of its unique design.
In addition, if the rabbits want to take a break from the heat or if they feel threatened, there is a covered area where they can find some privacy. This hutch is also great because it can be easily moved around on the ground and your rabbits can graze on fresh grass.
However, you need to be cautious about predators like dogs that may be attracted to the rabbits. It's important to keep the hutch secure and keep a watchful eye on your furry friends.
29. 5 Rabbit Housing Plans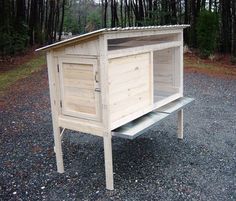 On this website, you can find five unique designs for rabbit housing that cater to different needs. One of the designs is particularly useful if you plan to raise rabbits for meat, but there are other options available for those who prefer not to. Regardless of your preference, these designs aim to ensure that your rabbits are safe and comfortable in their living space.
30. PVC Portable Rabbit Hutch
If you're into rabbit breeding for exhibitions or selling purposes, you might be interested in this design featuring a six-wire rabbit cage that's supported by a PVC frame.Its mobility is perfect for indoor use as it is built with wheels. Plus, it's made with materials that are affordable yet durable.
31. The 3-Tier Rabbit Cage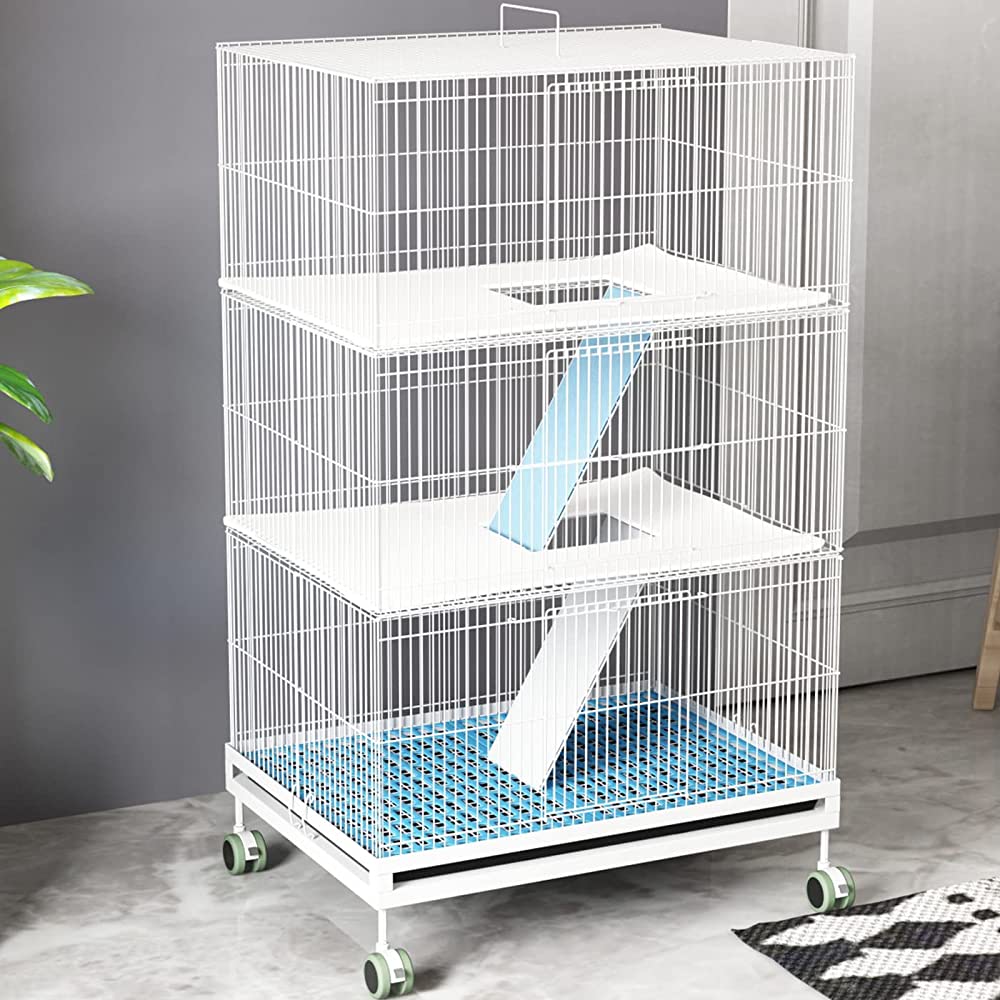 This innovative indoor rabbit hutch offers the rabbits two cozy sleeping areas that also function as landing pads, while their litter box is situated at the bottom.
It's a perfect design for rabbits, who are curious creatures that like to explore their surroundings. The hutch is reminiscent of a cat tree, which provides cats with numerous levels to climb and play on. With this hutch, your rabbits will have the opportunity to explore and play, which will undoubtedly provide you with hours of entertainment.
32. The PVC Frame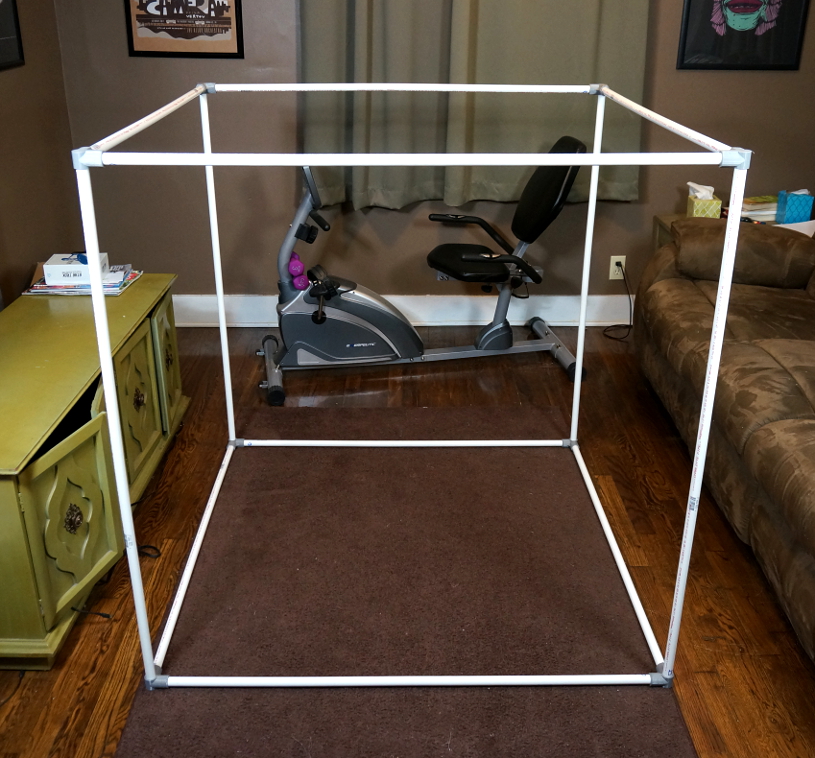 This design uses a PVC pipe frame to hold an indoor rabbit cage. The primary objective is to make cleaning easier for the pet owner.
Unlike other indoor cages with slide-out trays, which can be messy when disposing of the bedding, this design allows for easy cleaning of the entire cage.It prevents litter from scattering around the house during the cleaning process, making it a convenient and efficient option.
33. The 3-Tier Wire Cage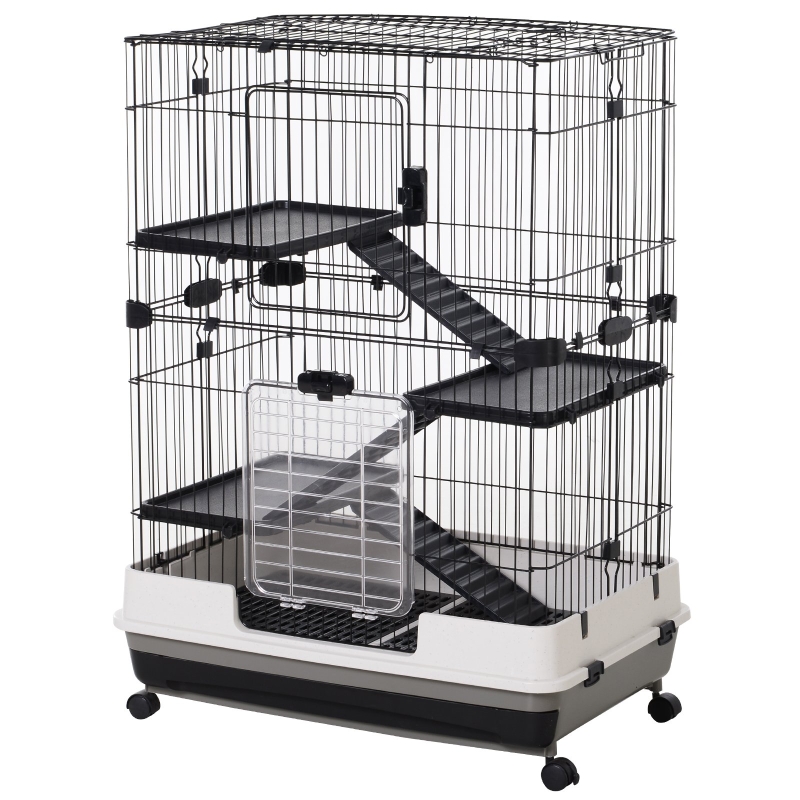 This is a very creative and lovely concept for a rabbit hutch. The designer has taken three wire cages and combined them to create a multi-level hutch with ramps for the rabbits to easily move from one level to another.
The bottom level can be designated as the eating and toilet area, while the two upper levels are perfect for sleeping and playing. This design provides the rabbits with ample space and opportunities for exercise and play.
34. The Upcycled Rabbit Hutch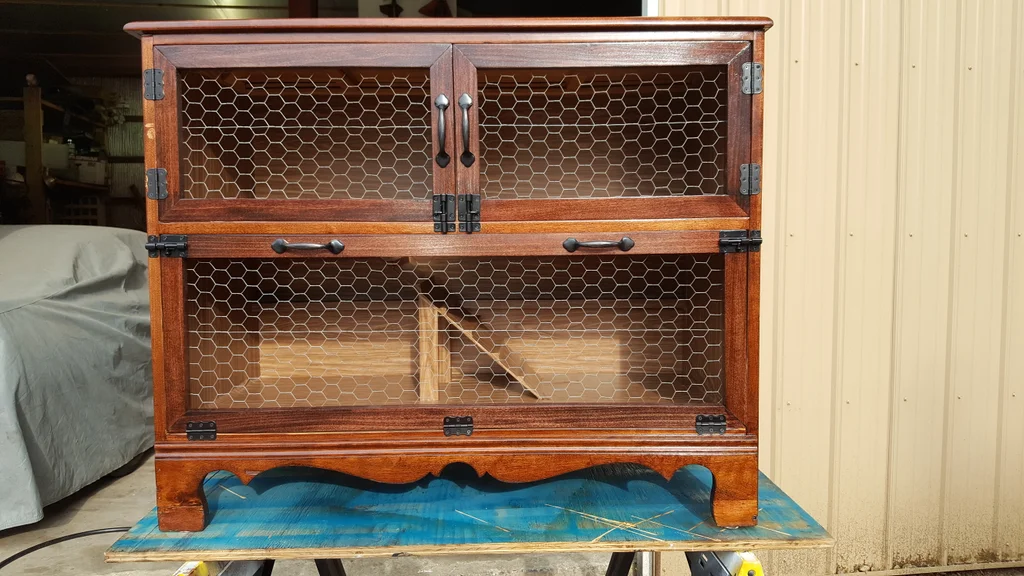 If you're on a tight budget, this DIY rabbit hutch made of pallet crates and center blocks could be perfect for you. However, there are a few suggestions to consider and accommodate in these blueprints if you decide to build this hutch.
For instance, more space between the elements is needed. The top rabbit is using the bathroom all over the bottom one, which is not ideal. Additionally, New Zealand rabbits are larger than other breeds, so making the hutch a bit bigger would be a good idea.
35. The A-frame Rabbit Tractor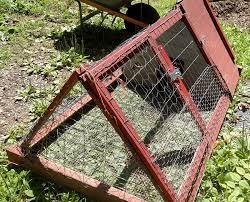 This hutch is smaller than the previous rabbit tractor but still a great option as the rabbit can enjoy grazing on the grass beneath it.
However, it is important to use caution with rabbit tractors as they can be easily tipped over and dogs may be a threat to the rabbits.
36. The Double Door Rabbit Hutch
The design of this rabbit hutch looks great to me. It has everything a bunny would need, including a cozy sleeping area, ample living space, and a window to look out while munching on food.
What I find most appealing about this hutch is its practicality. The double doors provide easy access to the rabbit from any angle.
Checking on the nesting box will be a breeze if there are kits. The cleaning process would also be effortless since both doors open up. Overall, this appears to be a user-friendly hutch.
37. The Bunny Hole Tractor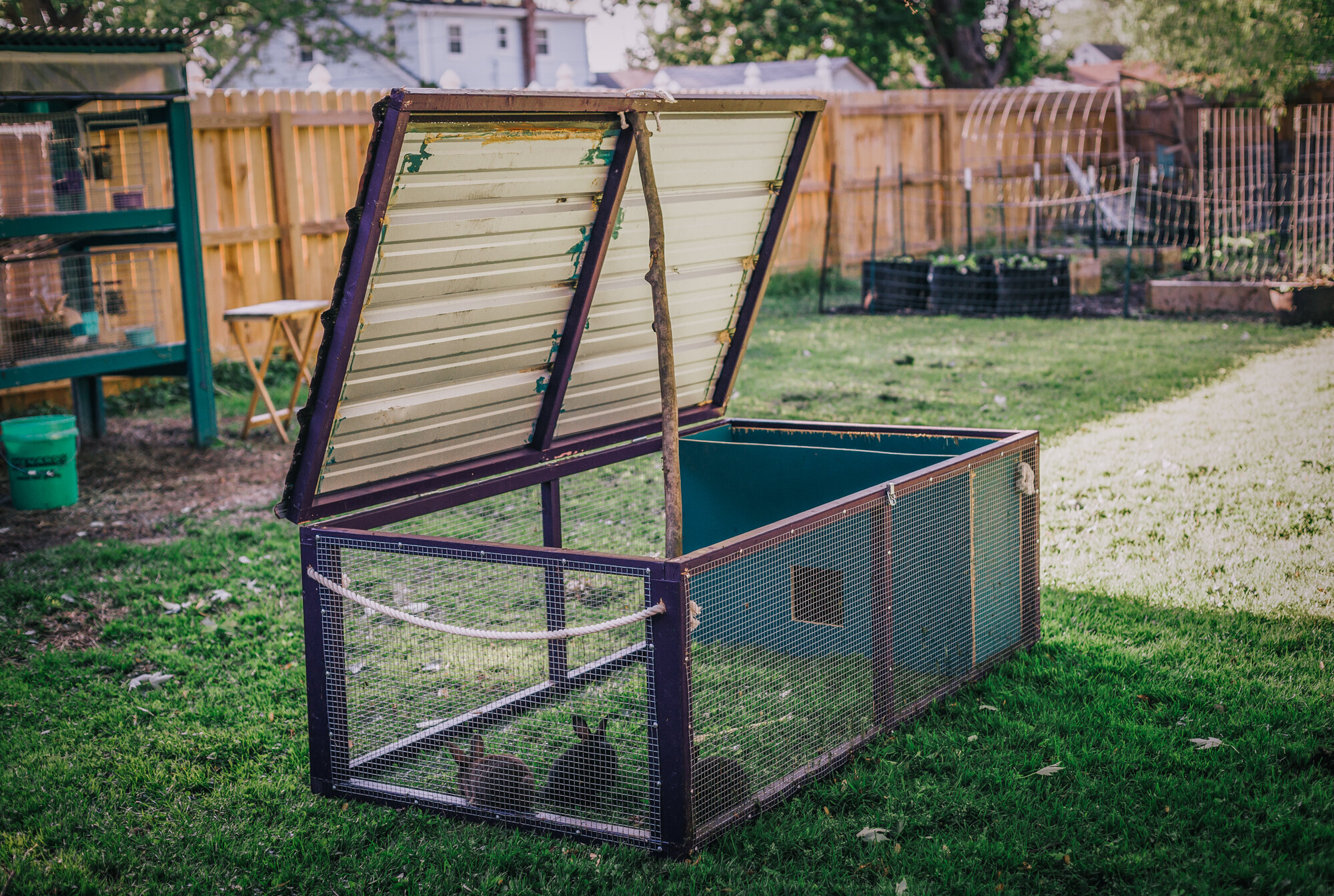 This tractor design caught my attention as it has a rectangular shape, unlike the usual A-frame design. What stands out to me the most is the large rabbit hole, which is crucial for protecting the rabbits from predators and providing them with some sun exposure.
The size and accessibility of this tractor make it a great choice for anyone looking to keep a larger number of rabbits. It also appears to be easy to move around, which is a plus.
38. The Double Door Rabbit Hutch #2
The raised legs of this rabbit hutch make it more secure from predators. In addition, it has two sets of doors, providing the rabbit with ample living space while also being convenient for the owner to access and clean.
The straightforward design appears to make construction easier, which is a major plus.
39. The Bunny Hutch On Wheels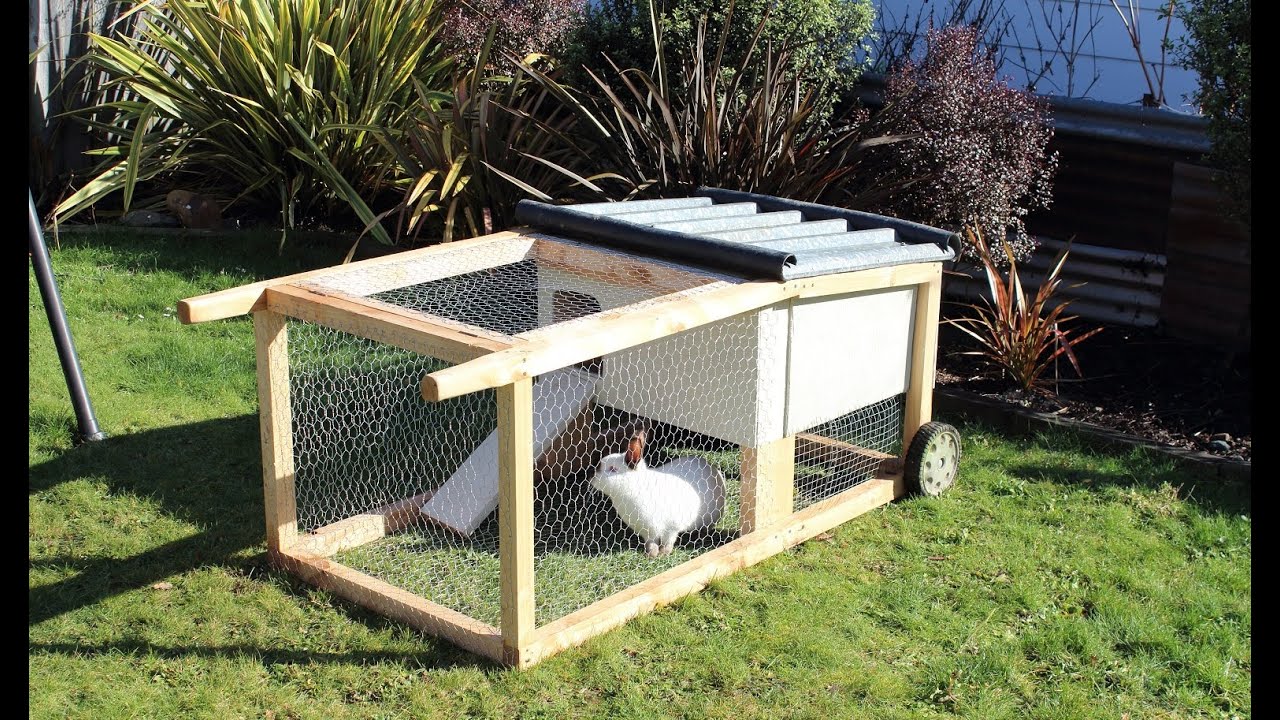 This unique bunny cage has a cute and charming appearance, complete with a handle that resembles a small pushcart.
The hutch also includes several designed windows that allow the bunny to see out, which is a great feature. Additionally, the hutch has a rabbit hole and ramp, making it easy for the rabbit to enter and exit the hutch.
40. The Extra Ventilation Rabbit Hutch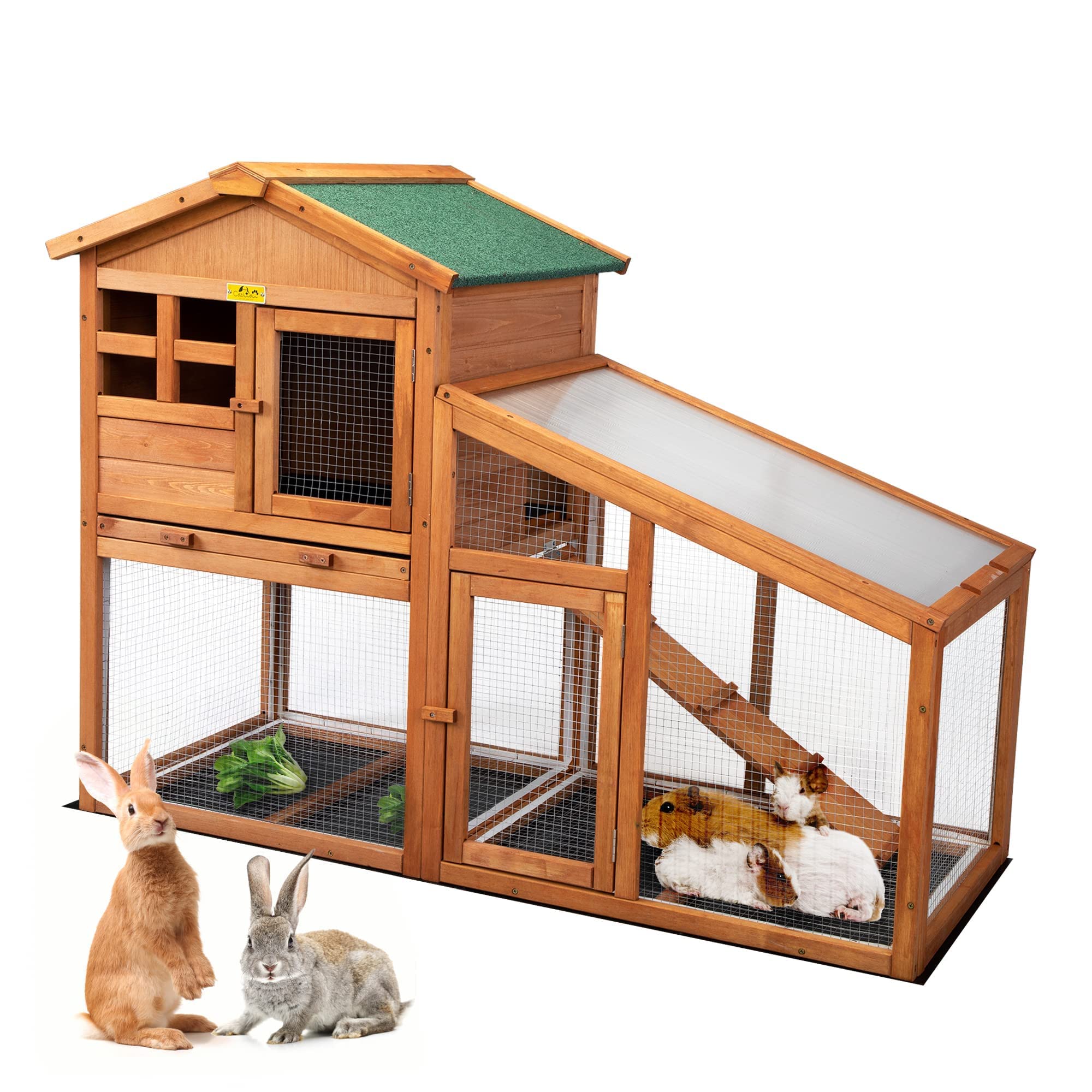 This blueprint is straightforward to follow, and the instructions are well-written and easy to comprehend, which is a plus. What's also interesting is how the design takes a classic approach but adds a little twist to it.Instead of screwing down the sideboards, they can be hung from hinges to provide your rabbit with additional ventilation on days when you feel it's necessary.
41. The Urban Rabbit Tractor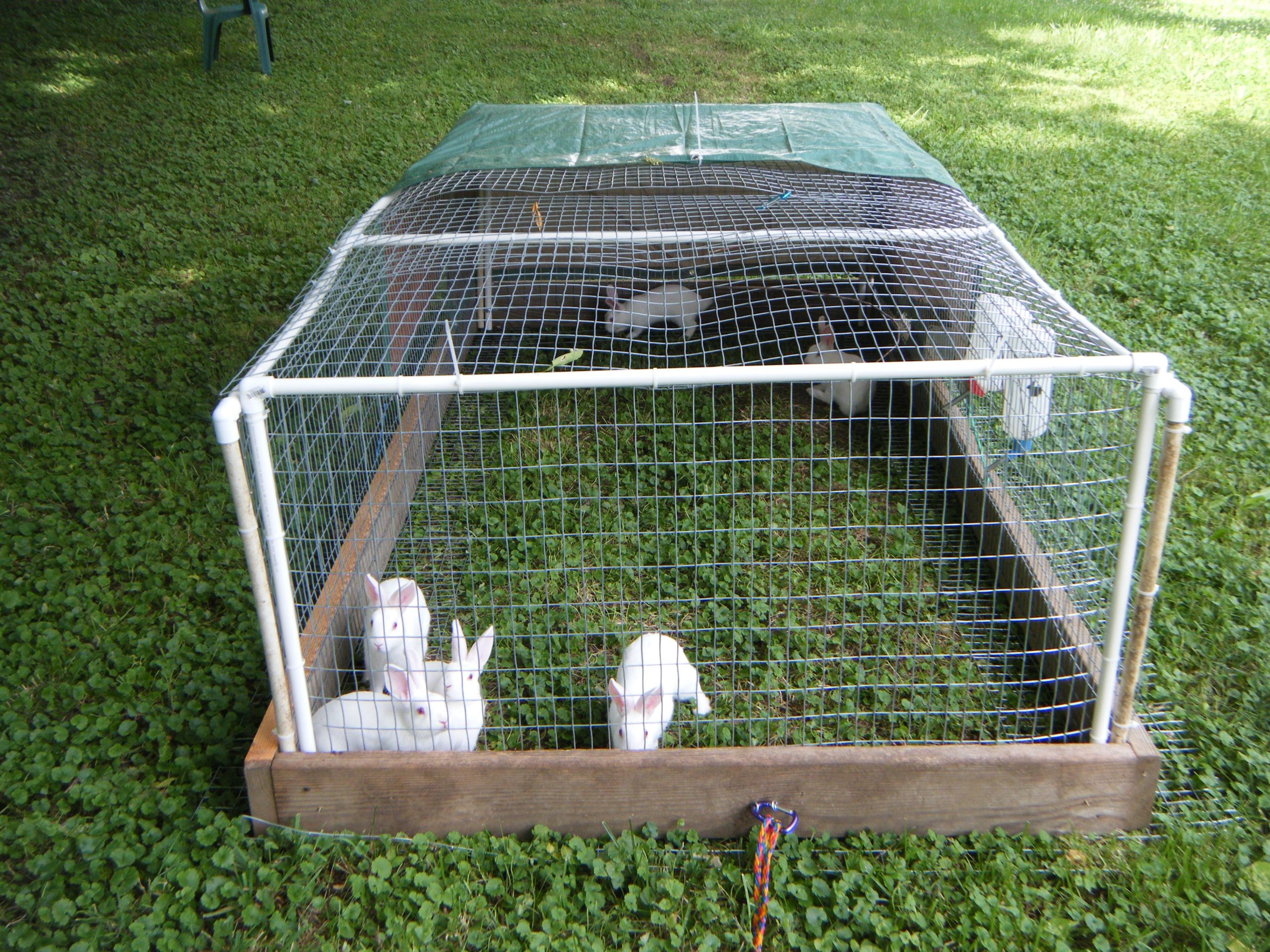 This design is perfect for those who have limited space in suburban or urban areas. The rabbit tractor design allows for fresh greens every day, while still being easy to move around without damaging the lawn.
The rabbit hutch sits directly on the ground, providing the rabbits with shelter from the sun on hot days or protection from the rain. It's a great option for those who want a small, portable hutch for their rabbits.
42. The 3-Tier Rabbit Race Course
This wire cage design provides a three-level living space for your rabbit to move around and play. With ramps connecting each level, your bunny can hop and run up and down as much as they desire.
This is an excellent method for indoor rabbits to get some exercise and keep active. The hutch's spacious design may also accommodate a small group of indoor rabbits, making it ideal for those who have multiple bunnies as pets.
43. Double And Single Decker Multi-Housing Plans
These are practical designs that appear easy to follow even for those who are not skilled in DIY projects. Unlike blog articles, they are structured as proposals to simplify home repairs.
If you have plans to raise a large number of rabbits, these designs could be of great help.
44. Rabbit House Plans
These plans are straightforward and not presented in a blog format, which may make them more challenging for those with limited carpentry knowledge to comprehend.
However, if you have the skills or experience with building, these plans can be an exciting project to take on. Rabbit hutches provide a secure space for your furry friends and make it much easier to care for them.
45. Basic Rabbit Hutch Plans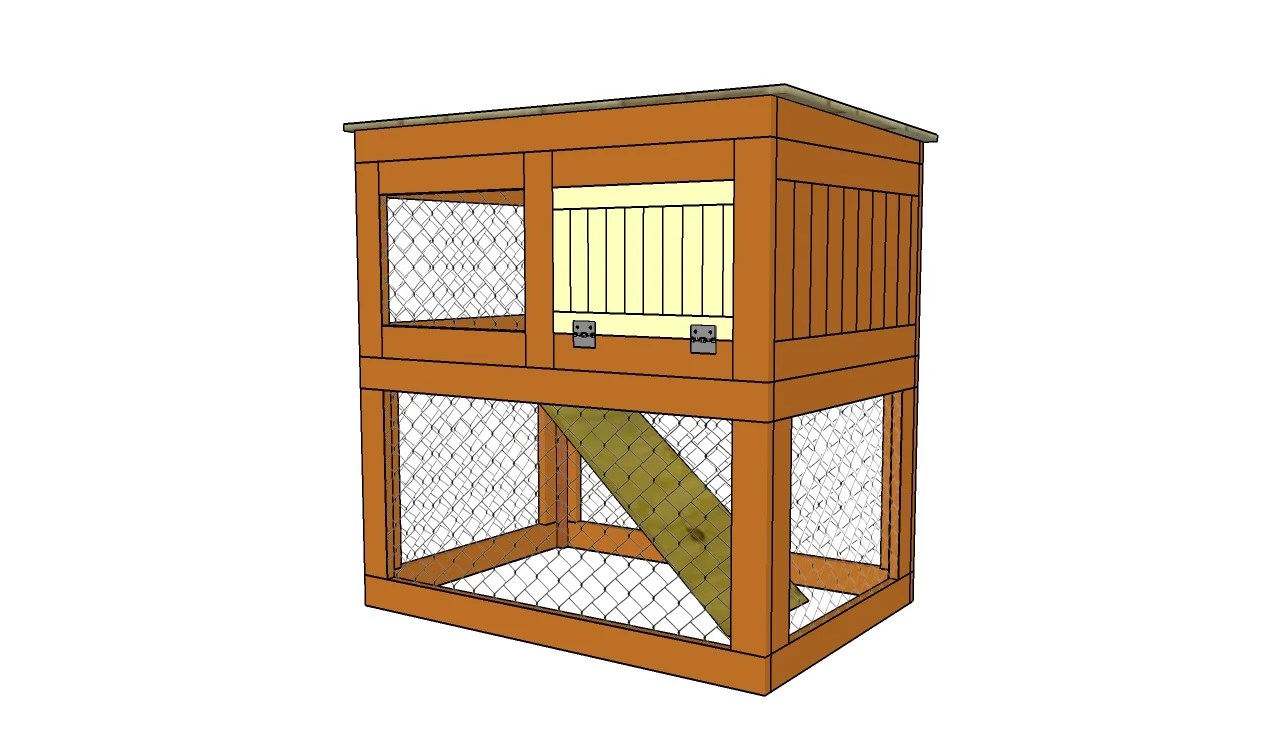 Additional plans are available, which are straightforward and easy to comprehend. These are basic blueprints for a single rabbit hutch that should provide sufficient space and protection for outdoor rabbits against predators and harsh weather conditions.
46. 2 Bay Rabbit Hutch Design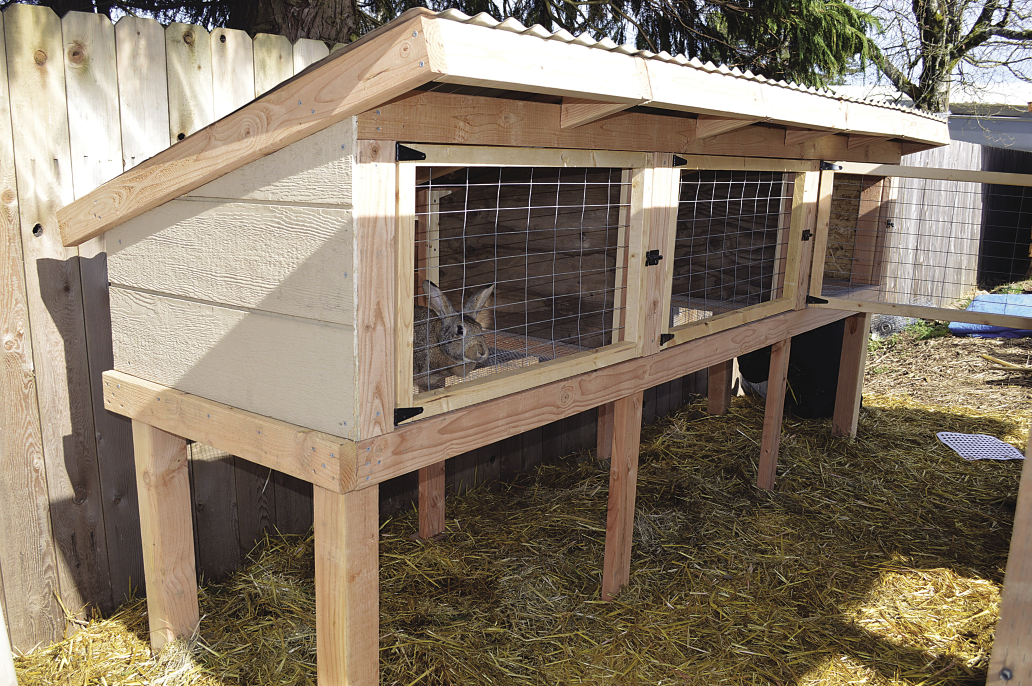 These plans offer a variety of options and can even be used to build a large-scale rabbit keeping operation. This particular hutch design was created with the goal of making it as easy as possible to care for and maintain, and it has the capacity to house multiple bunnies.
47. The 'Everything You Need' Hutch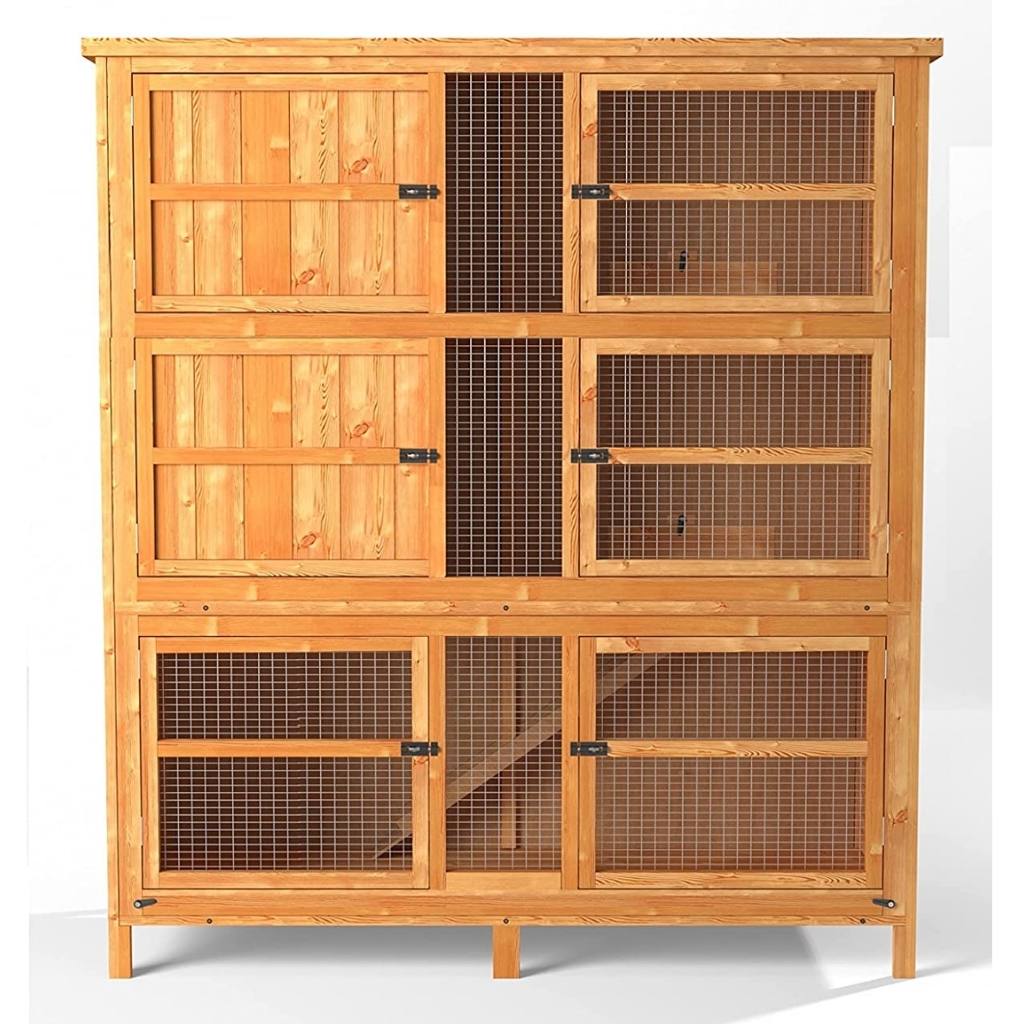 If you're planning on raising a significant number of rabbits for meat production, this hutch has everything you need. These designs are comprehensive and offer a multitude of solutions that will be very useful.
Starting with a large number of double-decker cages, this hutch also includes a big roof that will keep your rabbits safe from the elements. One of the best features is the addition of a storage compartment, ensuring that you always have feed, bedding, and anything else you might need right at your fingertips.
48. The Rabbit Tractor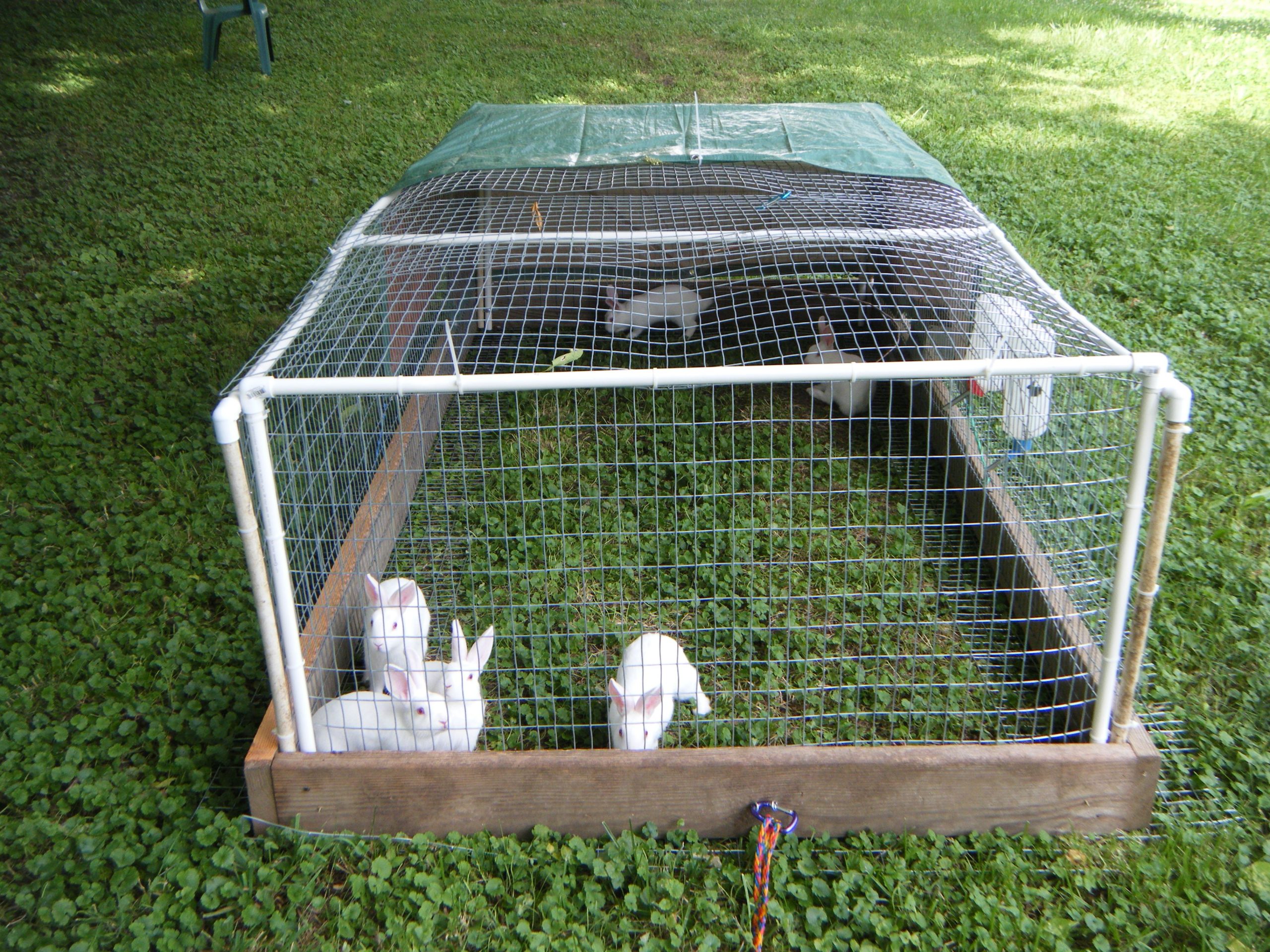 These designs showcase different ways to build a rabbit tractor, with options for both traditional rectangular styles and non-traditional rounded shapes.
Rabbit tractors can be an excellent choice for those who want to give their rabbits access to fresh grass and a variety of outdoor spaces. With these designs, you can create a safe and mobile environment for your rabbits to thrive in.
49. A Traditional Hutch
This collection also includes a traditional-style hutch that is elevated off the ground for added protection. Its rectangular shape features a slanted roof, which will keep your rabbits safe from the elements.
If you're looking for a simple and basic hutch that can accommodate a single bunny, then this design would most likely meet your needs.
50. The Indoor Hutch Transformation
This hutch is an example of how you can repurpose an old piece of furniture to create a functional rabbit cage. By removing the front doors and adding mesh wire and a frame for a new entrance, they were able to transform it into a fully functional rabbit hutch.
This design shows that rabbit cages don't have to be fancy or complicated to provide a comfortable home for your pets. As long as they have access to a sunny spot, a nesting box, food and water, and the opportunity to stretch their legs, rabbits can be happy and content. Whether you are raising them for meat or as pets, rabbits are wonderful animals that can bring hours of joy and entertainment.